The Truth About Dolly Parton's Tattoos
Suzanne Cordeiro/Getty Images
In a recent interview with Good Morning America, the legendary Dolly Parton talked about everything from her status as one of country music's greatest, to how she fights for equal rights, to what inspired some of her tattoos, and more. But it was that tattoo confession that really caught people's attention. Parton told GMA's Robin Roberts why she got her butterfly and flower tattoos over the years. 
"I got them to cover scars or things," Parton explained to Roberts. "If I have to get a scar for any reason, I never can kind of get rid of that purple look. So I thought, 'Well, I'm going to kind of decorate these with some flowers or little butterflies or whatever.'" 
This isn't the first time interest has been piqued over Dolly Parton's tattoos. But why is there so much talk about them?
Dolly Parton's tattoos remain elusive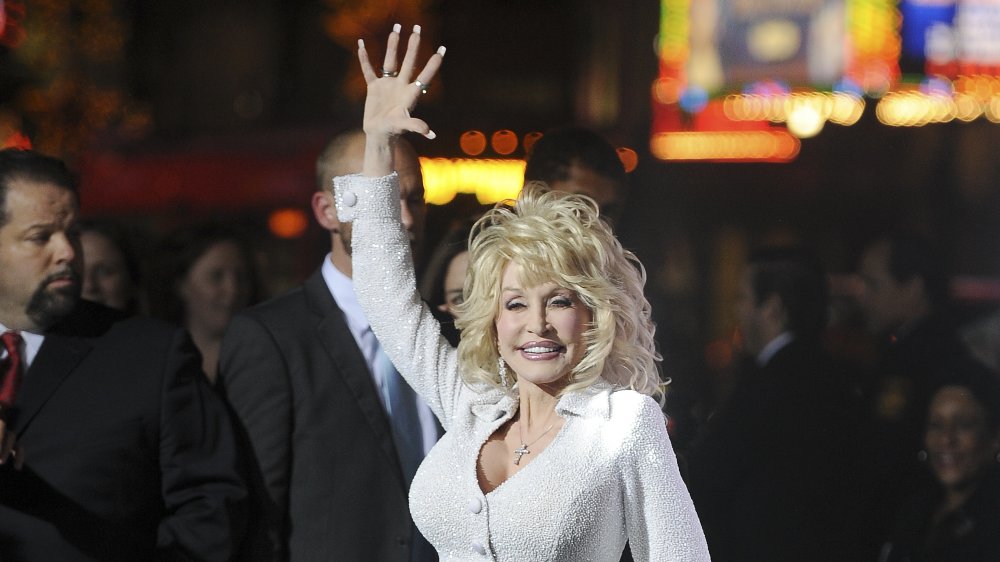 Robyn Beck/Getty Images
While very few people have actually seen Dolly Parton's infamous body art, she and other celebrities have confirmed she does have several. On an appearance on The Tonight Show in 1996, host Jay Leno caught a glimpse of a couple on her arm through a cut out in her dress (via Closer Weekly). Parton told Leno that she had a little butterfly and a guardian angel. And they aren't your typical tattoos with black lines or script lettering — they're pastel-colored! "I have a tendency to scar easy... So I started having little pastel tattoos — pastel butterflies or little things — just to cover scars," she told Sounds Like Nashville, again echoing the same reason for getting them. 
Controversial comedian Roseanne Barr revealed to Craig Ferguson in a 2011 interview that she had seen Parton's many tattoos, saying, "She showed me. She's got all these awesome tattoos all over her body — no black or blue lines, all like, pastel gorgeous bows all over everything" (via Fox News).
Butterflies hold a special meaning in Dolly Parton's heart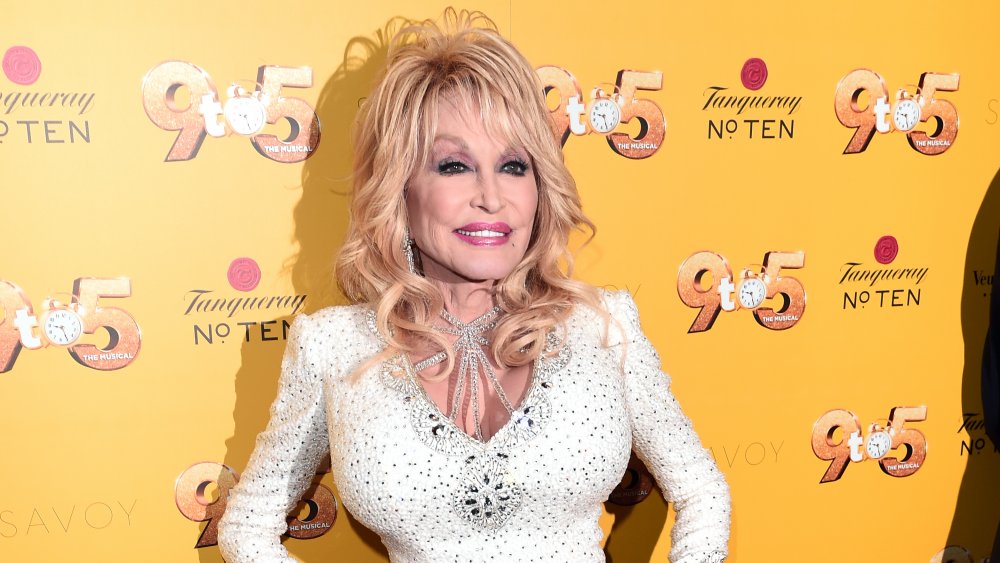 Eamonn M. Mccormack/Getty Images
Parton told Good Morning America that the butterflies she has tattooed, the same ones that adorn the logo for Dollywood, are truly special to her. "[My family would] tell stories about me getting lost in the woods, and getting in trouble chasing butterflies," she mused. "I wrote a song called 'Love Is Like a Butterfly,' and it became a big hit in my early years." 
The addition of the butterflies all around her Tennessee amusement park was part of how she and her team "Dolly-ized" everything (via USA Today). On top of the butterflies, she has some of her sayings (also known as "Dolly-isms") placed around the park, as well as a whole layout of her album covers. "It's in good taste," she told the outlet. "There's a fine line between taste and gaudy."