The Reason Some Counting On Fans Are Upset With The Duggars On Instagram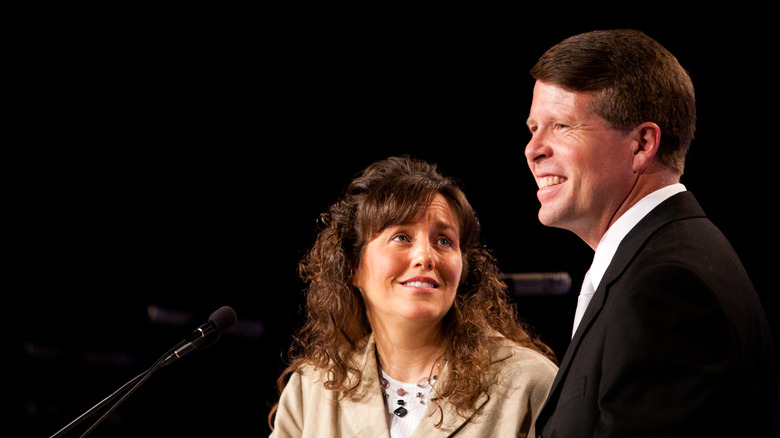 Brendan Hoffman/Getty Images
Fans have been poring over the Duggar family's endlessly fascinating home life for more than 10 years on their super-popular TLC shows, 19 Kids and Counting and Counting On. The most recent season of the latter sees the Duggar kids, many of whom definitely aren't kids anymore, coming into their own as they establish lives separate from parents Jim Bob and Michelle.
As the incredibly fertile couple's own children start expanding their families, too, viewers have started questioning whether it's necessary to continue bringing so many kids into the world, and at such a fast pace, too. Jim Bob and Michelle Duggar may have gained fame for having 19 children themselves, but surely their offspring aren't looking to follow in their footsteps?  
The Duggar family is expanding rapidly
Earlier this month, Josiah and Lauren Duggar welcomed baby girl Bella Milagro, which means "beautiful miracle," according to People. "After a long and difficult labor, our girl arrived. When we finally got to see and hold our precious Bella Milagro all the pain instantly went away. We can't believe she is ours — she is so perfect!" the happy couple, who sadly miscarried their first child, gushed. 
Elsewhere, less than a week beforehand, Joseph and Kendra Duggar also welcomed a little girl. "Addison Renee has made us a family of four and we are already so in love with her! ... Children are each a special gift from God and we are so happy our newest blessing is here," the happy couple told Us Weekly. 
Fans are concerned there may be too many little Duggars
The extended Duggar family is busily celebrating, posting plenty of cute updates on the new arrivals on social media. And, although the response has been predominantly positive, certain fans are expressing concern over just how quickly the next generation of Duggars is being created.
"The Duggar children are reproducing like rabbits!" wrote one shocked fan under a photo of little Addison, while another worried about the strain on Jim Bob and Michelle as grandparents, arguing, "They could potentially have a hundred or more grandkids!"
Others went even further, with one fan advising, "These poor Duggar kids. Listen u guys, u do not need to keep making babies, God loves us all regardless of how many children we have," while another stated simply, "Beautiful baby don't be making 19 kids."
Still, considering there are already more Duggars on the way, with Anna and Josh Duggar expecting alongside John David and Abbie Duggar, fans will have to get used to the expanding next generation pretty quickly — their spin-off TLC show is surely in the making, too.