The Story Behind Hoda Kotb's Engagement Ring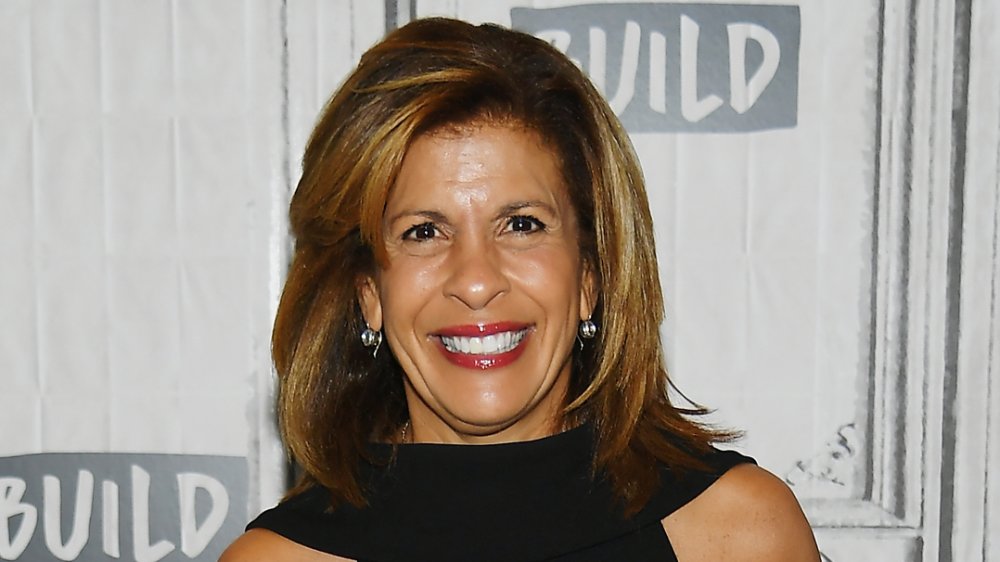 Nicholas Hunt/Getty Images
Hoda Kotb's fiance, Joel Schiffman, clearly cares a lot about her. After dropping the bombshell on November 25 on Today that she and her longtime beau were engaged, Kotb gushed about the gorgeous ring that her beloved bought for her. 
It's obvious that Schiffman put a lot of thought into the ring, and wanted it to be special and meaningful. The center stone is a massive, radiant-cut, bezel-set diamond, surrounded by gorgeous sapphires. The band of the ring is also studded with diamonds, making Kotb's ring truly sparkle on her fourth finger. Page Six reports that Kotb's new bling is estimated to be worth around $40,000, according to according to Brilliant Earth's Kathryn Money.
Hoda Kotb thinks her engagement ring 'looks like a stop sign'
While Kotb said that she loves the ring, she admitted that she doesn't know a whole lot about rings. "The diamond part is square and around it, it looks like a stop sign," she told People. "And it's blue on the edge. Sapphires? I don't know. But I love it."
Some people might care more about how much their ring cost, or how many carats it is. All Kotb cares about is that the ring comes from the man she loves. "He put it on and I was blown away by his choice, but I have to tell you I know so little about rings," she said. "I just don't. I have worn the same bracelet and earrings for a year. If someone were to quiz me on what rings are which, I would be in last place. I wouldn't know anything."
Joel Schiffman consulted Hoda Kotb's friend to pick the perfect ring
Kotb revealed that Schiffman consulted her friend, jeweler Jennifer Miller, for help in crafting the perfect ring for his future bride. "What touched me so much about this ring is that he thought about it," she said. "And he thought about what I might like. He went to [Miller] and they were sharing things back and forth unbeknownst to me. He was giving her ideas."
Picking an engagement ring can be risky, but fortunately, Kotb didn't end up hating her engagement ring. "It's a beautiful ring, don't get me wrong," she said. "If it was anything I would have been 1000 percent equally as happy — but the fact that he cared over the course of months to try to figure it out — I just assumed if it ever were to happen that he would have gone to a store and bought one. It's beautiful."
According to Kotb, it was important to Schiffman that he selected something beautiful for her. "He knows I don't care," she said. "He really does know that. But he said it was important for him to choose. And he did."