Party Snack Staples You'd Be A Weirdo Not To Offer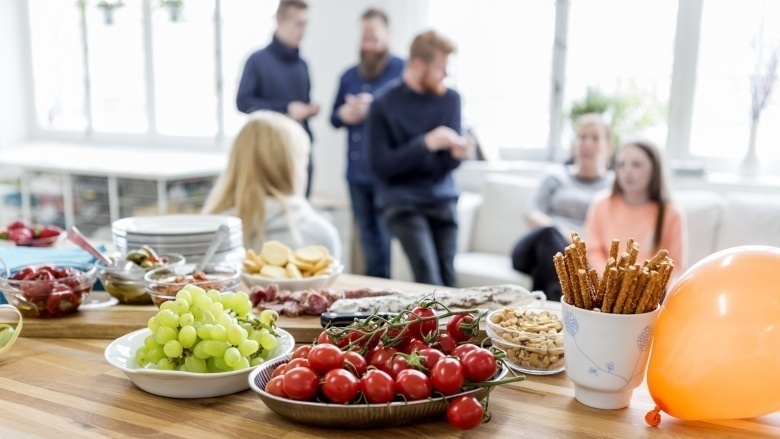 Shutterstock
Supposedly, the best parts of a party are the friends, cutting loose, and having a good time, but let's be honest: the real highlight is the snacks. In fact, a party is only as good as its available munchies. There are a couple of general rules about what food you should offer on your snack table.
Variety is important, so sweet, salty, meaty, meat-free, healthy, and unhealthy snacks should all be represented. As host, you don't want to have to tend to the snacks too much, so good choices are ones that don't require much work ahead of time and can sit out for a while and not get disgusting, congealed, ice cold (if they're supposed to be warm), or warm (if they're supposed to be cold). You don't want anything too spicy, but nothing too bland. There's a lot to consider. The best way to balance all of those concerns is to stick with party snack staples and the best things you've eaten at other parties.
In the party hosting world, imitation is the highest form of flattery. Here are some recommendations for the perfect eats that will please anyone at your shindig, fete, celebration, or gathering.
Chips and salsa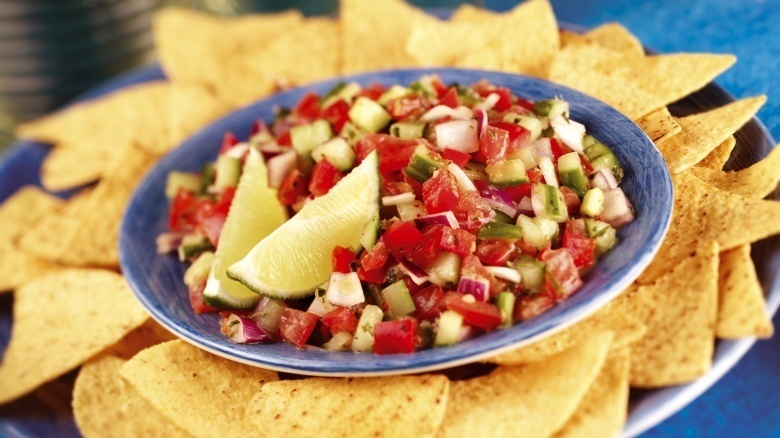 Shutterstock
If there's one thing people can't say no to, or get enough of, it's chips and salsa. Just ask anyone who has ever been to or worked at a Mexican restaurant. While you can stick to your average store-bought salsa in mild, medium, or hot, there are seemingly endless options for salsa you can make at home. Make a fresh pico de gallo with tomatoes, onion, cilantro, and lime, or go for a Southwestern-style salsa by adding corn, black beans, and some scallions. You can also serve a salsa verde, mango salsa, or chipotle salsa.
Other chips and dips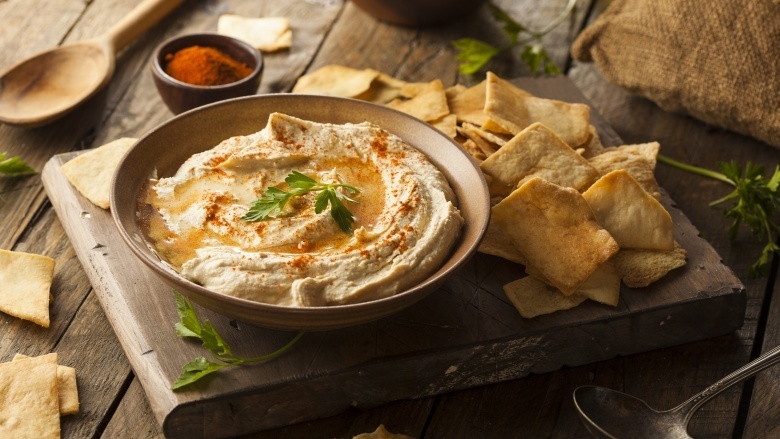 Shutterstock
Sure, salsa is great and all, but there's a whole world of dips out there just waiting to be eaten at parties. Hummus (which can double as a veggie dip), guacamole, spinach and artichoke, seven layer, french onion, ranch, buffalo chicken, the dips go on and on. They can be as healthy or unhealthy as you want them to be, and they're all customizable. One of the biggest hits I ever made for a party was a curry guacamole with ginger, curry, cumin, and garam masala. You can also get creative with your chip choices and have a variety of potato chips, veggie chips, pita chips, and crackers. Have fun with it!
Buffalo wings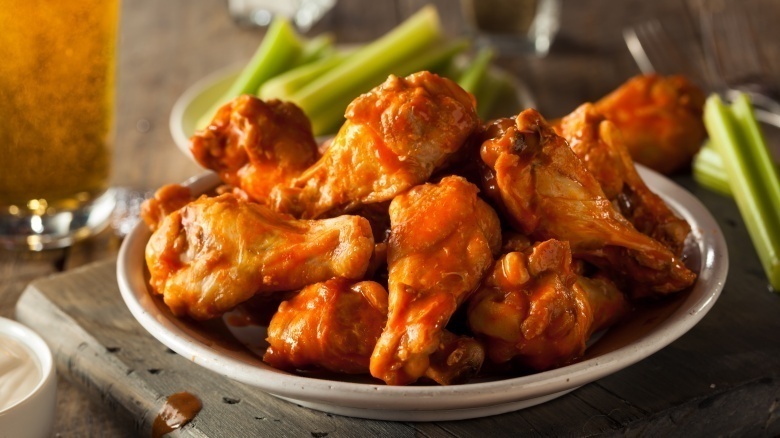 Shutterstock
There's always somebody at the party who is low-carbing, to say nothing of the passionate meat eater. That's why spicy Buffalo wings are always a nice addition to the snack table. Plus, the addition of something packed with protein to a spread full of finger food makes guests grazing at the snack table feel like they consumed a real meal.
Chex Mix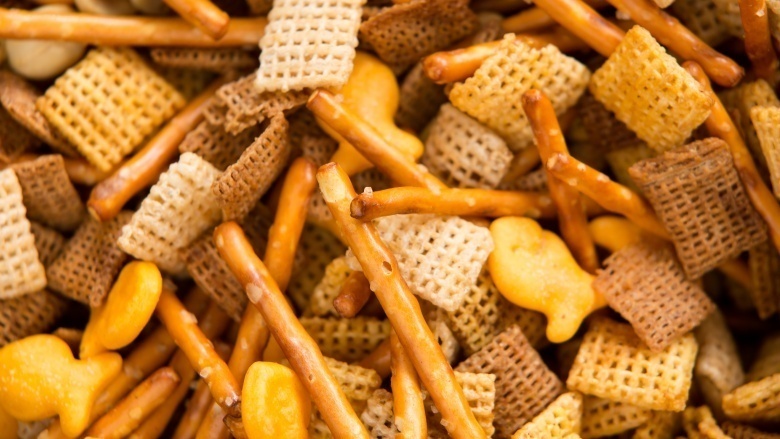 Shutterstock
It's called "party mix" for a reason. Whether you go bagged or homemade, there are all kinds of treats in there, jumbled into a colorful, textually mixed amalgam of pretzel sticks, cereal, and peanuts with a fancy Worcestershire sauce flavor. Additionally, party mix is an ideal salty foil to cold and sweet drinks. Best of all, it feels sort of healthy, because it's made from cereal.
Bacon-wrapped anything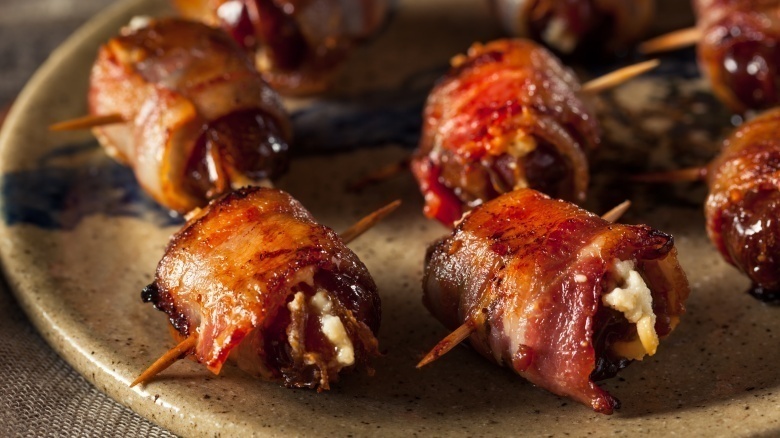 Shutterstock
Porky little tapas are a showstopper and a crowd-pleaser. If you're using mostly store-bought items for the snack spread, a bacon-wrapped dish adds a touch of homemade flair. Bacon-wrapped dates, bacon-wrapped scallops, or bacon-wrapped jalapenos will all disappear before they'll get cold.
Candy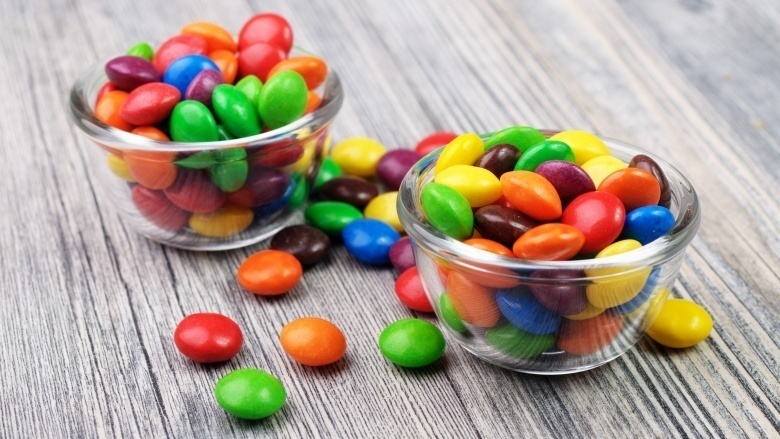 Shutterstock
It always seems like there's a bowl of M&Ms, Skittles, or some other colorful candy sitting out at every party, and for good reason. They're inexpensive to purchase by the giant bagful, everybody loves them, and they provide a rainbow of color. Even if nobody ever touches them (more for you), they look festive and fun. We suggest displaying them in small bowls or cups—you don't want your guests digging in there with their greasy paws after shaking hands with the other partygoers.
Cheese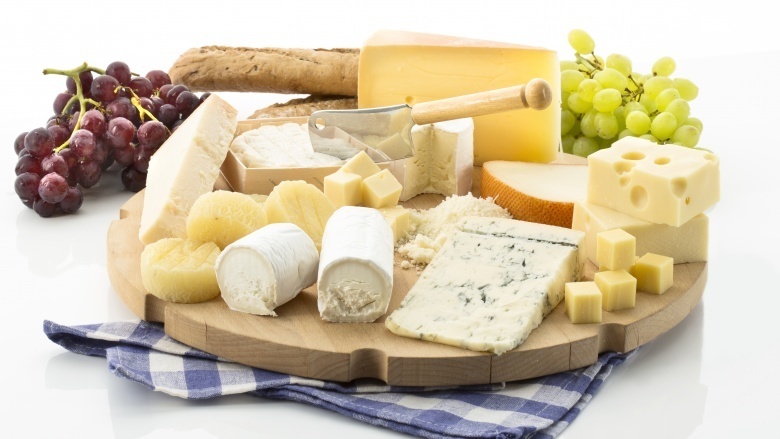 Shutterstock
Have you ever been to a party without cheese? I haven't, and it's not just because I always make sure to bring some just in case. With the exception of those poor lactose intolerant individuals or people who have chosen not to eat dairy, everyone loves a cheese platter. Cheddar cheese, spicy pepperjack, creamy brie, herbed or fruit-covered goat cheese, gouda, bleu cheese ... they all scream shindig. Don't forget the crackers.
Meat on a stick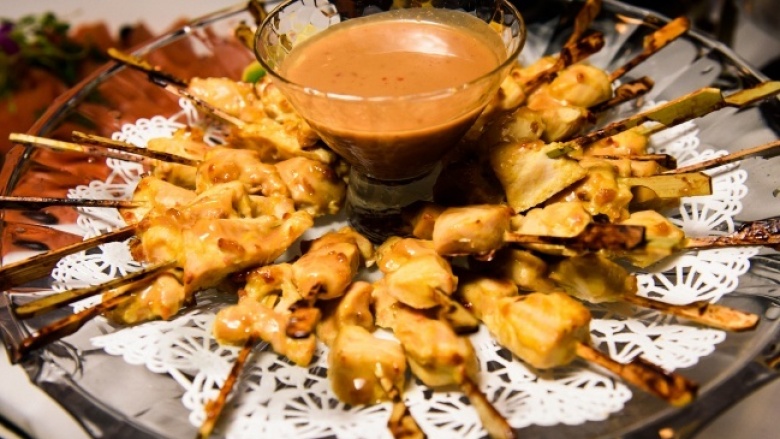 Shutterstock
Who doesn't love meat on a stick? There's a reason every fair, market, or carnival you go to offers it. Chicken or beef satay with peanut sauce will add a bold flavor to your party while corn dogs (full size or mini) will bring some nostalgia to the scene. Other fun options include candied bacon and barbecued chicken.
Salad skewers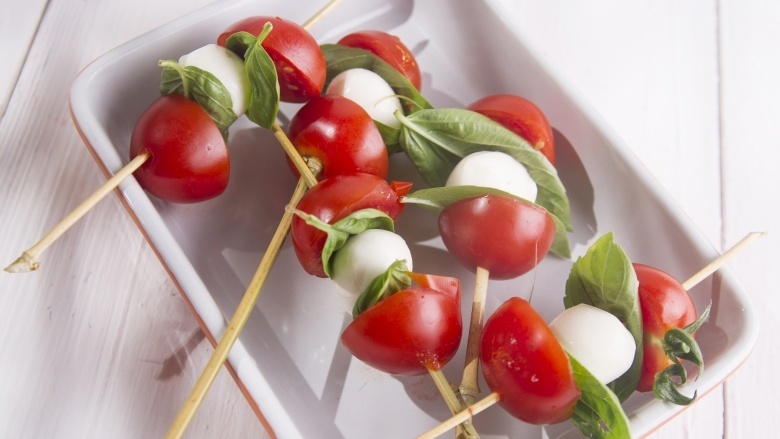 Shutterstock
Stay with me here. I'm not saying you should stick a skewer through a heart of romaine, but there are some salad flavors that translate really well to skewering. My two favorites are Greek and caprese salad. Greek salad skewers call for cucumber, feta, and cherry tomatoes (optional olives), while caprese salad skewers call for mozzarella, basil, and cherry tomatoes, drizzled with balsamic vinegar. They're easy to make, and people love them.
Fried anything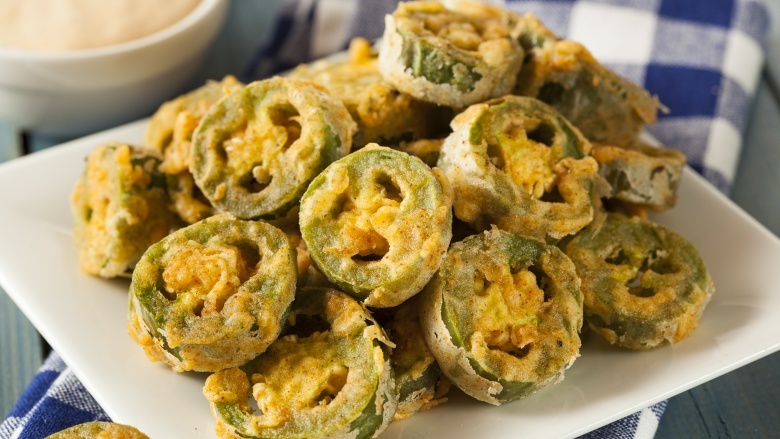 Shutterstock
Just like people love anything wrapped in bacon, they also love anything you can fry. Fried pickles, mushrooms, jalapeno poppers, potato wedges, mozzarella sticks, you name it! A lot of grocery stores even carry these in frozen form, along with crab rangoon, empanadas, and more to make your life easier. Just break out the frying pan or deep fryer and your friends will love you even more than they already do.
Crostini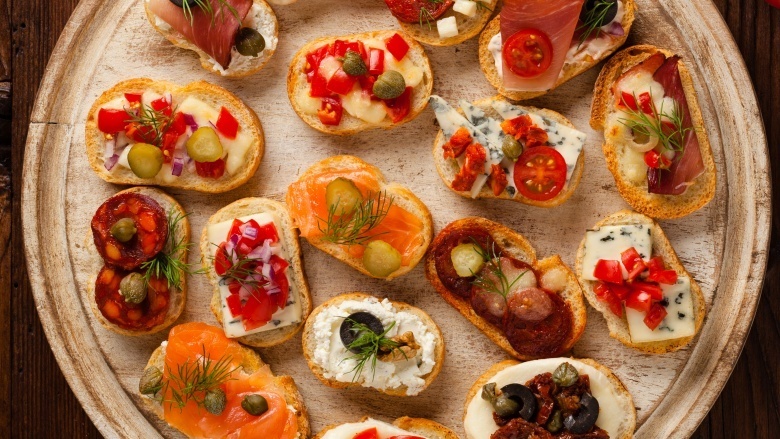 Shutterstock
People love their carbs, and you can't go wrong with the endless possibilities for crostini. Brush it with olive oil and garlic, then bake it up to a nice golden brown for something easy, or top your toasted crostini with just about anything. Bruschetta, roasted peppers, tapenade, pepperoni with marinara and cheese, pesto, and fruit are just a few of the options for a fail-safe party snack.
Crock pot meatballs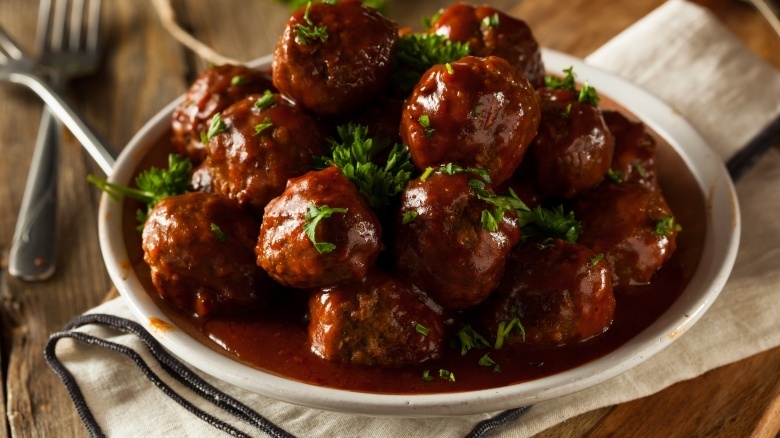 Shutterstock
When you're planning a party, the last thing you want is something that is going to take a lot of time and effort to prepare. This is where the crock pot, or slow cooker, comes in handy. Meatballs are quick, easy, and a huge crowd pleaser. Just throw them in the crock pot, add your favorite sauce (my favorite is BBQ, but a bold marinara works nicely too), set your temperature to low and you're all set! Once the party gets cranking, turn your heat to warm and your meatballs will stay the perfect temperature for the entire party. Not a fan of meatballs? This also works great for sausages (like cocktail weenies). Make a lot because these are going to go quick.
Mixed nuts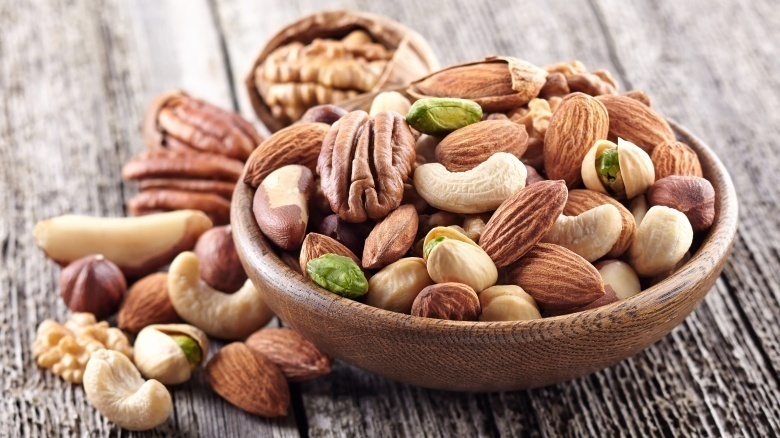 Shutterstock
One brand of nuts features a tuxedoed peanut on the package. It's appropriate because nuts just feel special, especially with a bunch of different kinds thrown together. If you're feeling particularly festive, you could even go the extra mile and add some spice or sweetness to your nuts. Savory herb and spice roasted nuts, hot and spicy chili roasted nuts, or candied mixed nuts are all great options. If you have friends with nut allergies, you can also roast chickpeas, pumpkin seeds, or sunflower seeds in the same way.
Veggie platters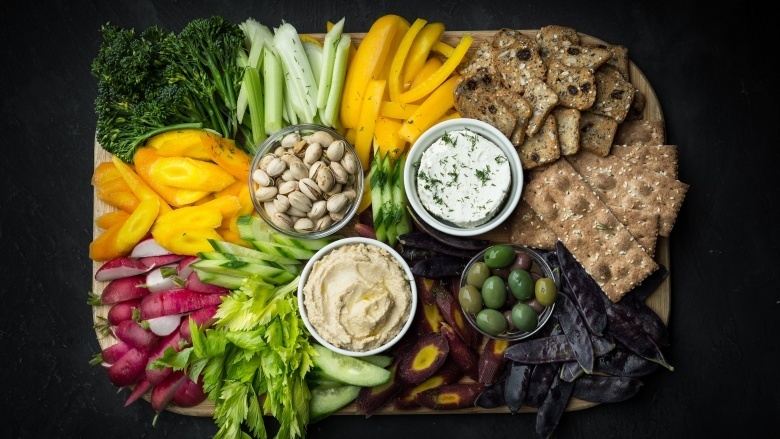 Shutterstock
Vegetables may be the last thing you think of when you think delicious party snacks, but there's more to veggie platters than the raw carrots and celery you feel obligated to serve with your Buffalo wings. While other raw veggies like bell peppers, broccoli, and tomatoes can dress up your platter, take it a step further by including a platter of pickled and roasted vegetables too, and don't be afraid to include mushrooms. This will be far more appealing to any vegetarians in attendance than the same old raw veggies they're relegated to at most parties.
Popcorn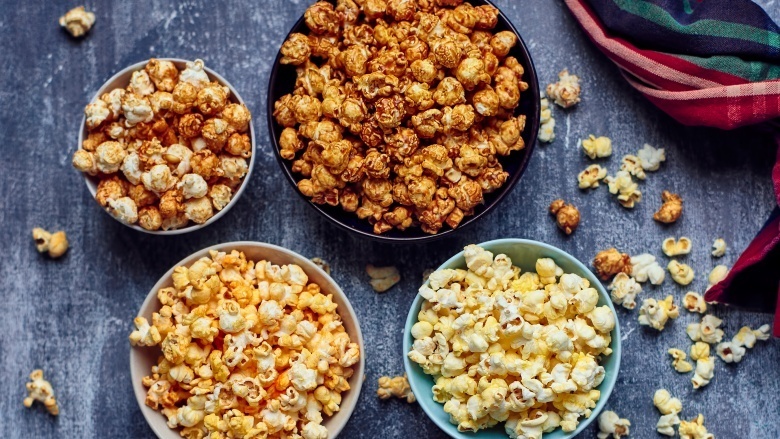 Shutterstock
You may only think of popcorn when you go to the movies, but it's a delicious and versatile snack that's loved by just about everyone. The best thing about serving popcorn at your party is that you can go traditional and serve it with butter and salt or you can mix things up and try different flavors. Whether you want to go savory with something like garlic and basil or parmesan and bacon, or if you're looking for something a little sweet with caramel, chocolate, or cinnamon, your guests won't be able to get enough.
Something chocolate-covered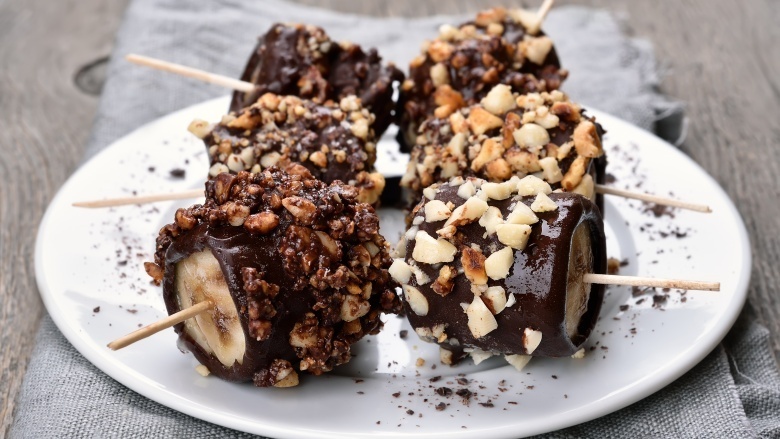 Shutterstock
Speaking of chocolate, everyone loves chocolate-covered goodies, right? People have been coating other foods in chocolate for probably as long as chocolate has existed, so you know your friends will love it. Dip pretzels, fruit, potato chips, bacon, marshmallows, anything you can think of. Trust me on this one.
Have fun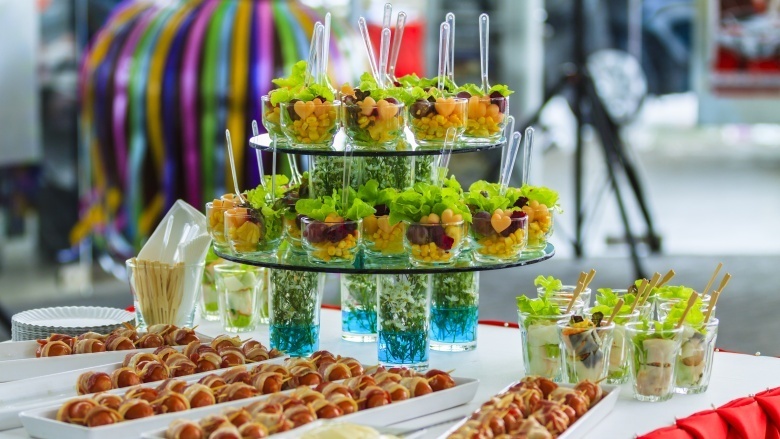 Shutterstock
Choosing the snacks for your next party should be fun, not overwhelming and time consuming. By choosing a variety of sweet and salty, raw and cooked, warm and cold, and meat or vegetarian, you'll be sure to have all your bases covered. Don't be afraid to use high-quality store-bought options for any of these, or go above and beyond and make everything from scratch. No one says party food needs to take all day to prepare. Pick your favorite from each category and get the party started!