The Most Expensive Sunglasses In The World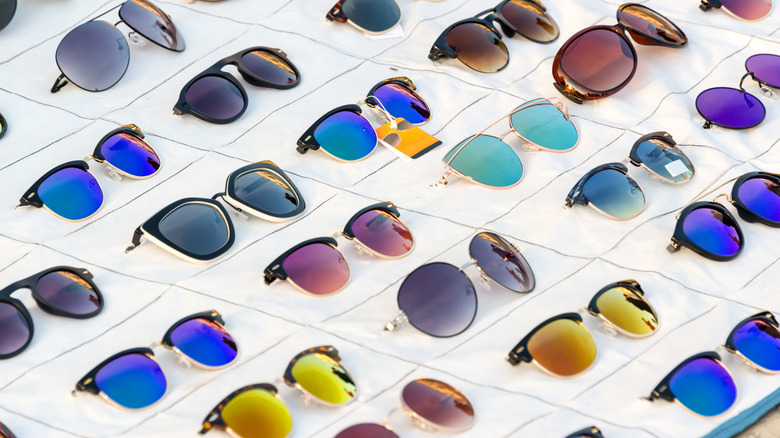 Shutterstock
If your eyes are the windows into your soul, then sunglasses would be considered their window treatment. Glasses History says sunnies were first invented for the very wealthy in China during the 12th century and made with crudely-shaped smoke-colored quartz pieces. They were a favorite accessory with judges who used them to hide their eyes — and by extension, their feelings — while they investigated the accused. 
Modern-day shades as we know them did not appear until the 20th century and became part of pop culture when movie stars used them to protect their eyes against the bright glare of movie set lights. Shades were put to military use in the 1930s when optical company Bausch and Lomb was hired to make lenses that protected pilots from glare. From there, it was only a matter of time before sunglasses crossed over into civilian life. With a design boost from popular designers, they morphed into the fashion accessory they are today.
Sunglasses have come a long way since then
Sunglasses come in just about every size, shape, and material imaginable. Some of us may be partial to metal frames while others prefer plastic. There are frames made with natural materials like wood, bone, or buffalo horn, or you can go for frameless, rimless models. Prices (and functions) can vary from a few dollars for a last-minute purchase at a drugstore or flea market, to several hundreds (or thousands) at a department store or specialty shop (via All About Vision).
As with just about everything these days, what you pay for often determines what you get, but for those with oodles of cash on hand, there are plenty of opportunities to be super extra in the sunglasses department. On Finances Online's top ten list of most expensive shades is a pair of diamond-studded Luxuriator Canary Diamond Glasses, which look like aviators with a ton of bling and can set you back $65,000. If you're looking for more traditional sunnies, Shiels Emerald sunglasses whose lenses are made with real emeralds and will set you back a mere $200,000. 
But nothing beats Chopard's bejeweled shades made by De Rigo Vision, which made their debut in Milan and cost more than $408,000. Pursuitist says the shades are made with 60 grams of 24 karat gold, and blinged up with 51 full-cut, 4-carat diamonds set in a way that makes them look as though they sit closer together. We can't tell if these shades protect your eyes from harmful UV rays, but with that price tag, we assume they do.