Important Things To Know Before Your First Spray Tan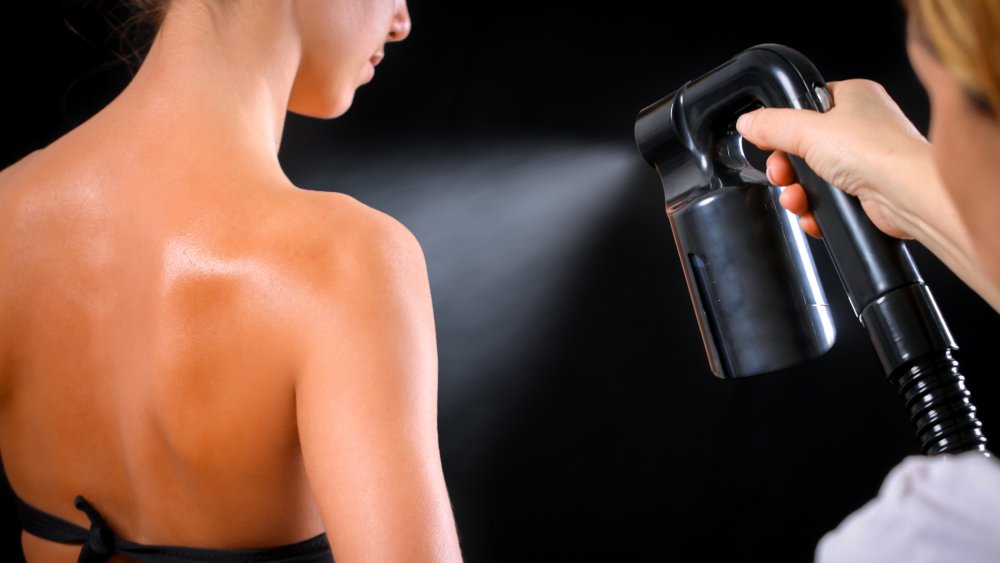 Shutterstock
A spray tan is never a bad idea. The quickest (and safest) way to get some color without spending hours in the sun, they're easy to maintain and ideal for special events or big occasions. If you're considering getting a spray tan for the first time, there's no reason to be afraid. But there are certain things you should be aware of before you head in for your faux glow.
Let's start with prep. The first thing you need to do before a spray tan is consider your hair removal wants and needs. "Waxing and shaving both strip the skin and leave pores open. Guide color from the spray solution can therefore sit in the pores and look noticeable, so shave a good 24 hours before tanning," tanning expert James Harknett told Harper's Bazaar. If you're waxing, you need to do be sure to do so even further in advance.
Your next priority is exfoliation. The key here is to exfoliate skin very gently, and at least 12 hours prior. "It's actually important that you haven't sloughed away all your dead skin as this is what DHA, the tanning agent, clings onto to darken the skin," explained Harknett. After exfoliating, it's vital that you do not moisturize. 
What to expect at your first spray tan appointment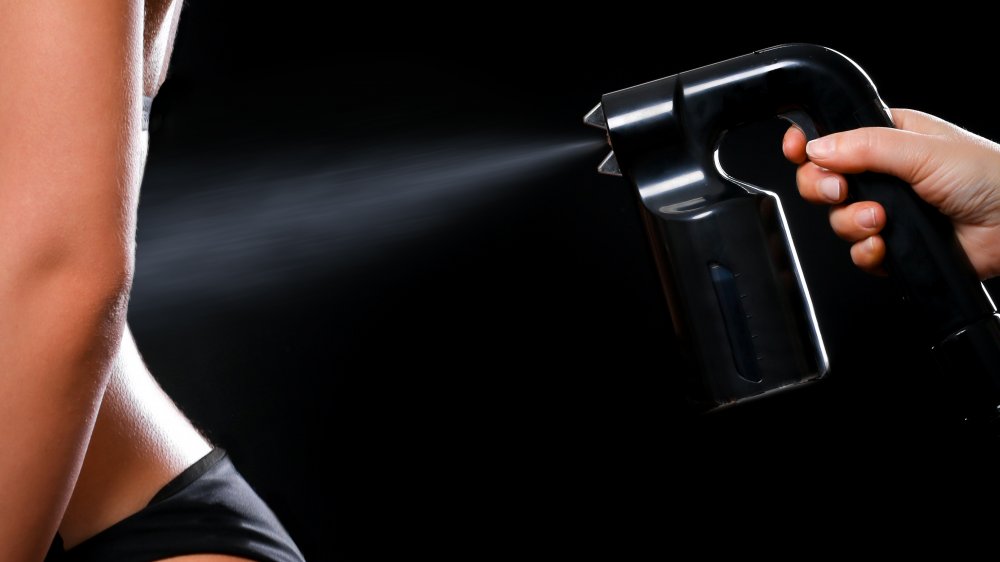 Shutterstock
On the day of your appointment, it's wise to choose your clothing carefully. Not only do you want to avoid getting tan on your favorite white tee, straps and waist bands can rub the tan before it's fully developed, leaving you with streaks. Harknett recommends leaving your bra at home and opting for clothing that doesn't hug your figure.
When you arrive at the salon, you can expect to be guided into a room where you'll most likely to be handed disposable underwear, asked to strip down to what you feel comfortable in and told to put your hair up. Next, you'll be asked how deep you want your tan to be. Talk it through with the therapist to ensure you both on the same page. Your therapist will guide you through the spray tan the entire time, letting you know when to lift your arms and turn around. 
After spraying the tan, your therapist will dry you off before letting you know that you're all done. Be sure to listen out for how long you need to leave the tan on before washing it off and don't be afraid to ask questions. It's as simple as that, and you'll be enjoying your new tan for five to 10 days after that, depending how dark you go (via Healthline).