The One Character We Want To Return In Grey's Anatomy Season 16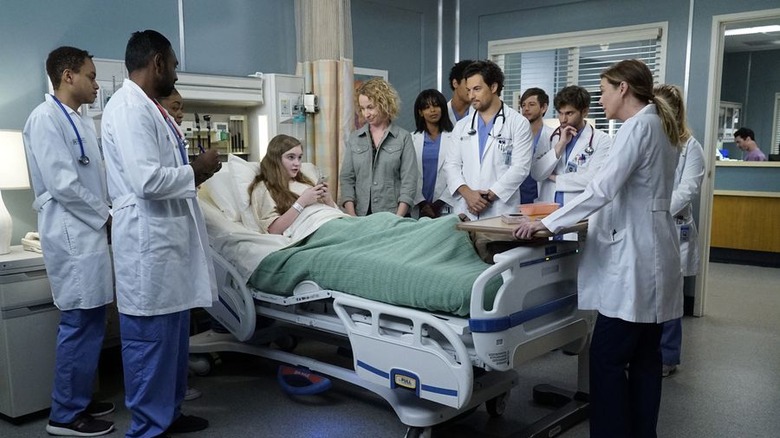 ABC
Grey's Anatomy fans know loss all too well. From losing George O'Malley, Mark Sloan, and Lexie Grey, to saying goodbye to Izzie Stevens, Cristina Yang, Callie Torres, and many more, the series has undergone some pretty dramatic cast overhauls. These departures aren't even close to the show's most controversial moment ever, and barely scratches the surface when it comes to just how much the series' cast has changed throughout the years.
The show is famous for killing off main characters and sending others to ride off into the sunset with their storylines all tidied up, but there's a fair few that could make a long-awaited return. At this point, though, there's one character we're basically begging Shonda Rhimes to bring back.
Meredith Grey needs her 'person' back
Ever since the Grey's Anatomy showrunner teased to TVLine that she was "trying to get someone back," fans have been trying to figure out who exactly that was. Fan-favorite Cristina Yang is at the top of our list when it comes to characters we'd like to see make a return, and it's not completely out of the question. 
In recent years, Bustle reported Sandra Oh has been pretty consistent in her answer to the oft-asked question of if she'd return to the long-running ABC series. And more often than not, it's a resounding "no." However, Bustle also revealed that in 2014, Oh was a lot more open to the idea, saying she told Grey's creator Shonda Rhimes of a series finale, "If you guys want to finish it out however you want to finish it out, I'd be more than happy to come back." 
The series is famously long-running, but if it is nearing its end, now is the perfect time to bring back Meredith's "person." Since Cristina's season 10 departure, her character has been mentioned several times, recently even sending Meredith a "gift" (via Refinery29). With these continued "appearances," it's not too much of a leap to think the Cardio-god could make a comeback. 
Fans will have to wait until January 23, 2020 when Grey's Anatomy returns from its mid-season break to find out if Sandra Oh will grace their screens once again (via Elite Daily).