Below Deck's Captain Lee Opens Up To Fan In Emotional Video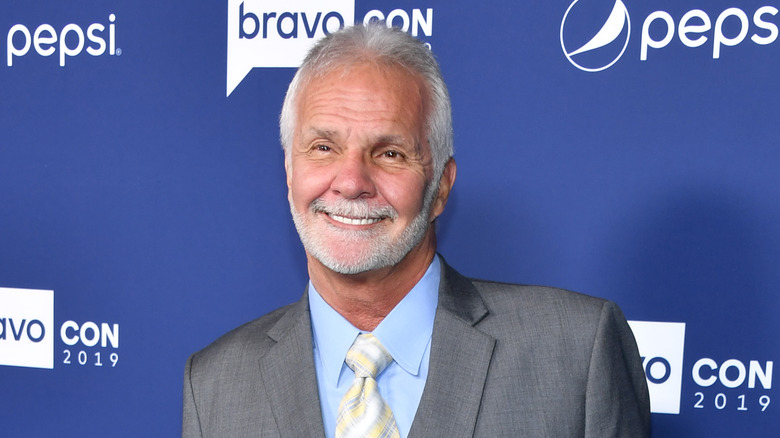 Dimitrios Kambouris/Getty Images
Below Deck's Captain Lee Rosbach may sometimes come off as a bit gruff, but it's clear that the reality star has a good heart. When recently approached by a member of social media group Bravo Junkies about another member with a terminal illness whose spirits they thought would be lifted by a message from Captain Lee, he didn't hesitate to oblige.
In a tweet, the fan asked if Captain Lee could send Kathryn Wright, a Below Deck fan dying of cancer, a tweet. Captain Lee quickly replied, "I'm sending her a video tomorrow. It's the least I can do."
Captain Lee was visibly distraught in the video
In the 10-minute long video posted on Cameo, Captain Lee not only greeted Wright but also talked about losing his son earlier this year. "I've never been in this situation before," said the Below Deck star. "I feel so badly for you. I can't tell you how terribly sorry I am that you had this extremely bad turn of luck. My son passed away this year. If it taught me anything, it taught me to appreciate not what's going to happen in the future, but what's happening in the past and what's happening right now. Because the future isn't promised to anyone."
Captain Lee was emotional throughout the entire video. "How do I cheer you up kiddo?" he said. "I wish there was something I could do, something I could say. Because it's not fair, is it? I'm not sure I would have your strength and your courage. So very admirable of you."
What happened to Captain Lee's son?
In an interview with Page Six in October, Captain Lee revealed that his son, Josh, died of a drug overdose after a long battle with substance abuse. Captain Lee and his wife, Mary Anne, had thought Josh was finally recovering when their son relapsed. "He'd been doing well," Captain Lee said. "We thought this time was the time we turned the corner."
At the end of July, Captain Lee went over to his son's home only to find that the worst had happened. "I walked in and he was sitting on the sofa with his head in his hands, and I thought he had just passed out," he said. "I felt relieved. I thought he was fine. Then I went over to give him a hug, and he was cold. He'd gone."
Captain Lee admitted that he has been struggling in the aftermath of losing his son. "I hate going to sleep, and I hate waking up," he said. "There's a hole there that can't be filled and the person who said, 'time heals all wounds,' is full of it. It doesn't. The only thing that time may do for you is allow you to learn the skills you need to cope with the situation that you're dealing with. As parents, you're not designed to bury your children."