The Surprising Celeb Queen Elizabeth Shares A Stalker With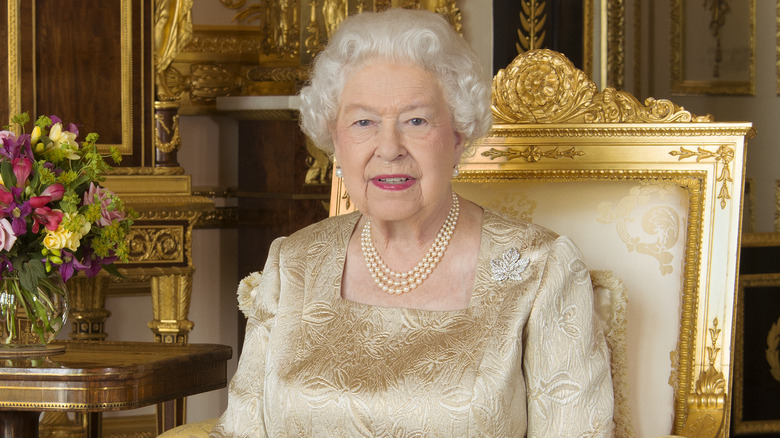 Handout/Getty Images
Being a royal isn't easy. Royals have to follow a lot of rules (especially as children), adhere to a dress code, are exposed to tabloid scrutiny, and even sometimes have to deal with stalkers. Queen Elizabeth has been stalked on more than one occasion.
In July, Town & Country reported that a man climbed over the fences around Buckingham Palace and walked towards the queen's home. While he was detained after four minutes, he got uncomfortably close and was apprehended just a few meters from the sleeping royal.
This was far from an isolated incident. In 2016, a man scaled the wall of the palace. In 2013, a man with a knife tried to enter the gate. Both were apprehended before they got too close to the Queen. In 1982, however, a man managed to scale a palace drainpipe and entered Queen Elizabeth's bedroom. They chatted for around 10 minutes before the queen's chambermaid found the intruder and called for help. The New York Times reported at the time that the man simply wanted to speak to the queen.
One of Queen Elizabeth's stalkers also stalks another royal... sort of
In a recent appearance on Watch What Happens Live With Andy Cohen (via E! News), actress Elizabeth Hurley, who played the fictional British monarch Queen Helena on The Royals, revealed that she and the real Queen actually share a stalker, although she didn't reveal their name.
"In the office in London, we have a file called 'nutters,' and every time, well, particular people send letters — they still send, you know, mail — they have to go into the nutter file," she said. "There's one nutter who — I don't even know if I'm allowed to say this — but he only stalks two people: I'm one of them and the other is the Queen of England."
According to Hurley, whenever the stalker changes location both she and the queen are notified by Scotland Yard. "I probably shouldn't be saying any of this on TV," she said. "Take it all back!"