The Truth About Leah Messer's Kids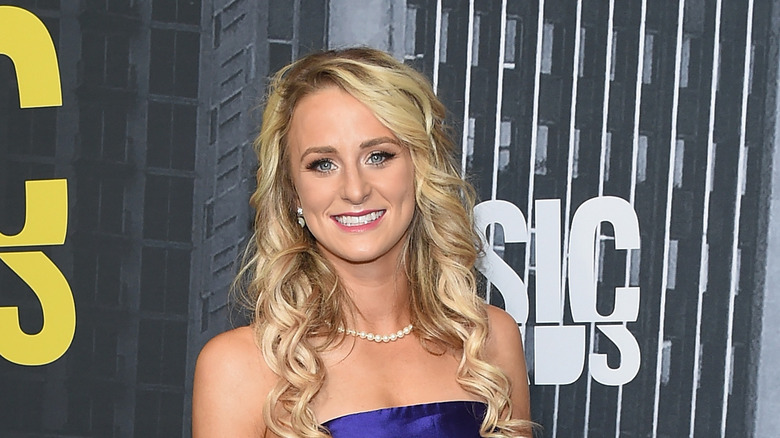 Michael Loccisano/Getty Images
Out of all the moms featured on MTV's 16 and Pregnant and its wildly popular spin-offs, Teen Mom OG and Teen Mom 2, Leah Messer has arguably had it harder than anybody else (though they've all gone through dramatic transformations). Messer had twin girls Aleeah and Aliannah back in 2009, with young Aliannah diagnosed with muscular dystrophy in 2014, just a year after half sister Adalynn was born (via Us Weekly).
From dealing with baby daddies Corey Simms and Jeremy Calvert, to struggling to maintain a semblance of normalcy with the MTV cameras watching everything, it's a wonder Messer continues to hold things together so well. At the end of the day, though, her focus is always on her girls.
Leah Messer's three daughters help keep things together
Speaking to Us Weekly earlier this year, Messer gushed about how helpful 9-year-old Aleeah and 6-year-old Adalynn are, advising, "[My daughters are] there for each other. They'll help each other. They're defending each other. That's what matters."
Although the focus was, understandably, on Aliannah in the wake of her diagnosis, Messer was quick to advise, "As time has progressed, we have found a way that works for us, giving Aleeah her attention or her own time. She's in things, then Ali's in things. We just found a way."
Aliannah's condition is a rare form of muscular dystrophy. The degenerative condition will see her eventually confined to a wheelchair and Teen Mom 2 fans will recognize watching the little girl struggle to function both in and out of a chair on the show. Thankfully, a recent appointment went well, with Messer gushing, "She told her therapist, 'My heart is great, I passed all my tests. I did an amazing job.'"
Teen Mom star Leah Messer's kids love being on MTV
As for how the girls adjust to having the MTV cameras around constantly, the Teen Mom star shrugged that they don't know any other way. "They've never known life without cameras around. It's crazy. They're entertainers, for real!" she laughed.
Adalynn, meanwhile, has recently struggled on the show with her mom's ongoing relationship with Calvert. A recent episode saw her demanding to know the truth, with Messer refusing to admit there were any feelings there. As People reported, Messer is in a difficult position because, as she explained, "All my kids want me to be with Jeremy but I don't want to rush into anything. Addy is 6 and she's not a baby. I don't want to confuse her. I don't want the fantasy of her wanting us to get back together to affect her — I want her to see us in a good place."