Does Korean Skincare Work On All Skin?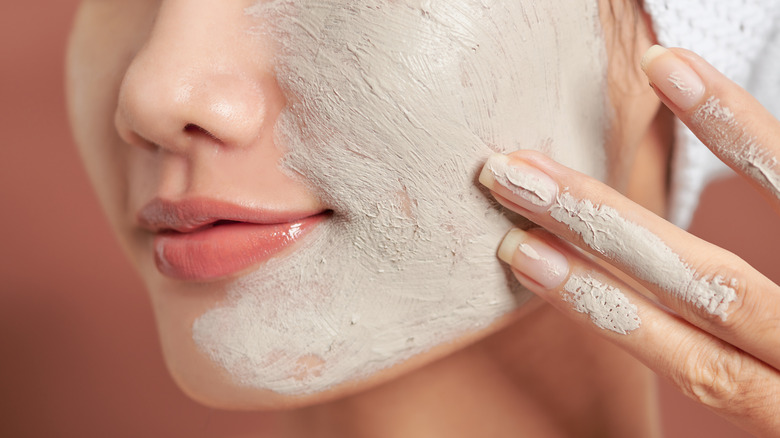 Shutterstock
Any woman will tell you that the road to perfect skin is neither smooth nor straightforward. Unless you are genetically gifted, looking flawless entails trial and error, multiple trips to skincare counters whose brands come highly recommended by friends (or endorsed by celebrities whose numbers you wish you had on speed dial), or, in a growing number of cases, trips to the plastic surgeon. Enter: South Korean beauty products, aka K-beauty to its fans, whose best ambassadors and influencers have been the flawless, ageless women who star in the soaps and singing groups that have also been making their way westward.
South Korea is a global epicenter for beauty products and cosmetic procedures. Global market intelligence agency Mintel says the facial care slice of the country's total beauty industry pie was at 51 percent in 2017, thanks to a highly active product development division within the industry. As a result, the industry's value is expected to hit $7.2 billion by 2020. Mintel's Senior Beauty Analyst, Jane Jang, notes, "The Korean beauty market remains buoyant thanks to fast-paced innovations and highly engaged consumers who don't hesitate to adopt novel products delivering new beauty experiences."
But do these new and innovative K-beauty products work?
Shutterstock
While beauty sites have bought into the hot new K-beauty products bandwagon, there are end-users and dermatologists who aren't totally convinced. Vice spoke to one former K-beauty user, Aurora Hinz, who swapped the fun packaging, volcanic masks, and 10-step beauty care for a trip to the dermatologist, along with a proper skincare regime, when her K-beauty lines failed to deliver. "It turns out I didn't have many of the issues I thought I had with my skin... it was only so irritable because of the products I was trying," Hinz tells Vice. "Honestly I think I was just a sucker for all the marketing, packaging, and branding. None of the products I tried worked as well as whatever the dermatologist has given me. My skin is clearer than it's ever been."
Dermatologist Tara Rao also tells Vice, "A skincare regimen is just one part of the bigger plan to achieving your best skin, so investing excessive time and money in products is not always that productive. Often, someone with breakout-prone or inflamed skin will incorporate additional products and steps in an effort to cure the issue ... While [they] can help manage the issue, there is a lot of ... trial [and error] that does not always have a happy ending."
Like everything else, K-beauty products, regardless of what they are made with, might work on some people, but they don't necessarily work for everyone. And unless your skin can take a few product misses and you're ok with a few breakouts, you may be better off heading to a dermatologist or buying an old faithful that works well and can deliver when you need it to.