The Most Expensive Bridal Gown In The World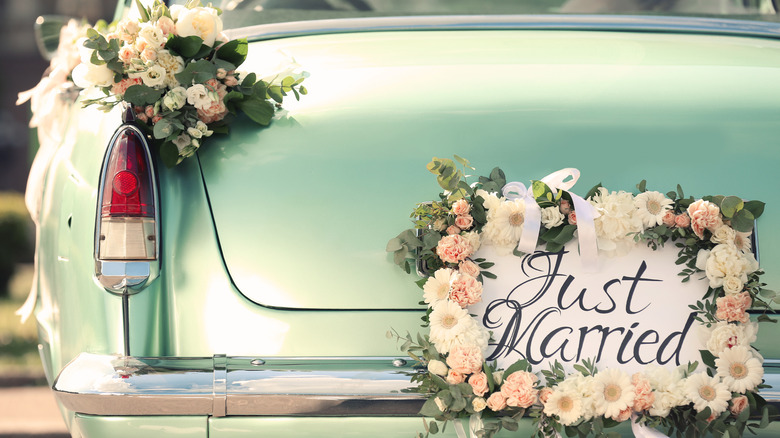 Shutterstock
Thanks (in part) to fairy tales and Disney's princess movies, many little girls dream about their "Big Day" when they will get to wear a beautiful gown that makes them feel like royalty, waltz down the aisle to meet their prince, and begin their "happily ever afters." And thanks in part to these fantasies, the global wedding market earned fashion houses an eye-watering $58.4 billion dollars in 2018, half of which were spent on wedding gowns; the other half went into buying suits and tuxedos (via PR Newswire). Grand View Research, who conducted the study, doesn't expect the trend to stop in its tracks either, because by 2025, they calculate that the bridal market will be worth nearly $88 billion.
With all that in mind, we're not surprised to see some women prepared to drop a few hundred thousand dollars, or even a million, for a chance to float down the aisle in the dress of their dreams.
The most expensive bridal gown ever made hasn't yet been worn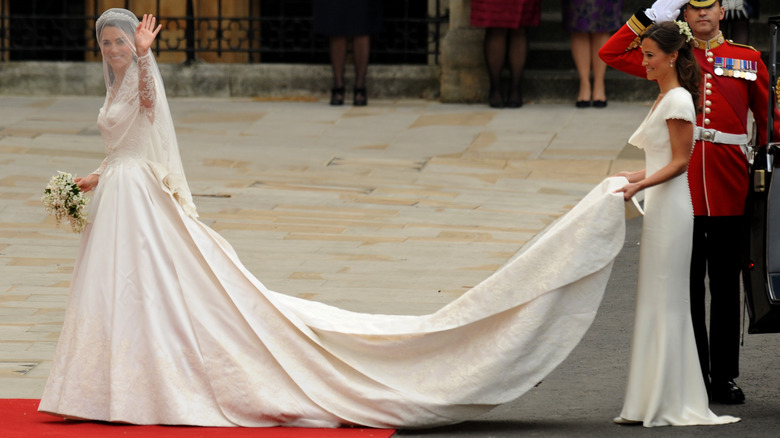 Ben Stansall/Getty Images
Kate Middleton's wedding may have been one of the most-watched events of the decade, but the dress, designed by Sarah Burton for Alexander McQueen and cost $434,000, barely cost a ripple in the list of priciest frocks, as did Hollywood royalty Kim Kardashian's custom-made Givenchy, which set her back a hefty half-million dollars. Heiress Victoria Swarovski, whose last name appears above the iconic blue crystal stores, pulled out all the stops to wear a custom made gown embellished with over 500,000 crystals and which cost a sparkling $1 million (via Brides).
And while the price of Chinese star Angelababy's gown remains unknown, Brides ranks her as having worn an ultra-expensive gown, largely because she and her husband spent a total of $31 million on their wedding (even though no one knows how much the dress cost). Her Dior silk gown needed five months to finish, and has seven petticoats, a 10-foot train, and a few dozen hand-cut Chantilly lace roses (via Forbes).
If you take silk and bling it up with pearls and gemstones, you can expect to have a creation that stuns in more ways than one. Japanese fashion designer Yumi Katsura's dress, which is made with silk and dressed up with zari embroidery is embellished with 1,000 pearls as well as a rare, 5-carat white gold diamond and an 8.8 carat green diamond. It's yours for the price of $8.5 million (via Wedded Wonderland)
Then there is the collaboration between designer Renee Strauss and jeweler Martin Katz. The Diamond Wedding Gown is also made with silk, but ups the ante by using 150 carats of diamonds. With a price tag of $12 million, it might have been a dress Angelababy could go for, but Wedded Wonderland says the most expensive bridal gown in the world is still hanging on the rack, waiting for the right bride with a fat checkbook to show up.