The Science Behind Kybella Explained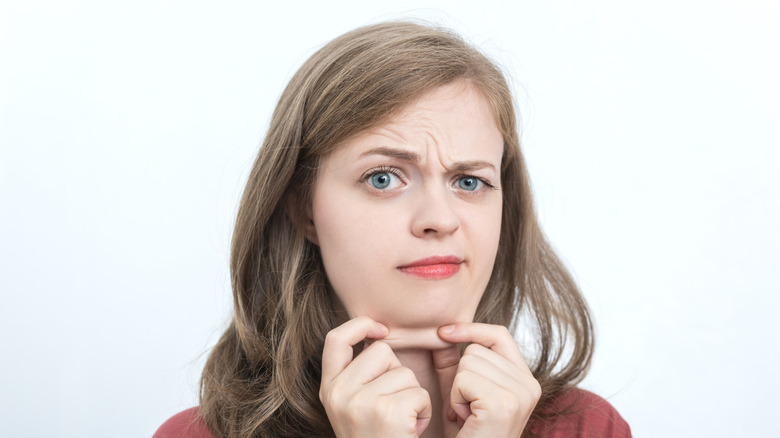 Shutterstock
Fun fact: human bile has a compound that can destroy fat, and if we can just find a way to synthesize it, it may help us target fatty parts of our bodies that refuse to shift or shrink, regardless of how much dieting and exercise we do. The good news is, scientists have already done that with Kybella, the non-surgical way to dump the double chin (via Dr. Busso).
Kybella is a synthetic form of deoxycholic acid that doctors administer, in a series of small injections, to specific areas under your chin. The acid is a dream fat-buster which attacks fat cells and dissolves them before they're expelled from your body naturally. Kybella itself is also metabolized and dumped the same way. 
Doctors say the number of times you use Kybella will depend on how much fat you want to lose, and what you want your chin profile to look like. You can expect anywhere from one to up to five sessions, which last five to 10 minutes, and are administered about a month apart.
Kybella's side effects have divided plastic surgeons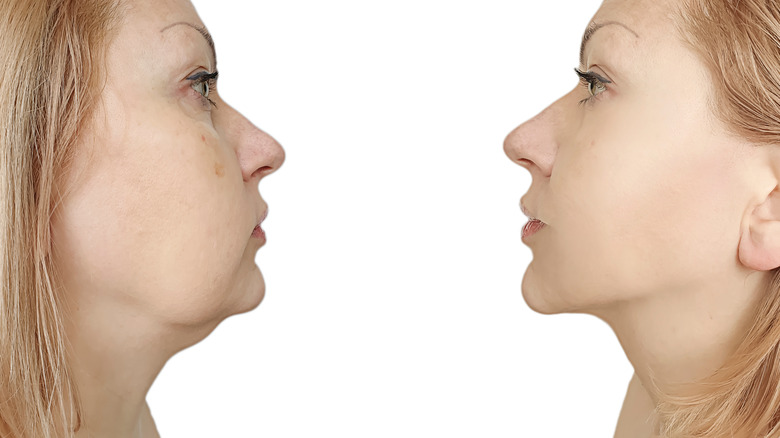 Shutterstock
While Kybella was hailed as "The Next Best Thing" when it was first released in 2015, the drug has fallen out of favor with some plastic surgeons, because patients improve much more slowly after Kybella than they do much after a chin liposuction. And while patients are warned about swelling as a potential side effect, the swelling is so dramatic that doctors tell Allure that a patient needs more time to recover from treatments.
"Kybella requires your body to do the work of breaking up fat cells, clearing them out, and then contracting the skin," Dara Liotta, New York-based cosmetic plastic surgeon said. "Some bodies do this well, and some do not — and we don't have a great way of knowing who, specifically, will have a robust response to the drug."
Not everyone is suited for Kybella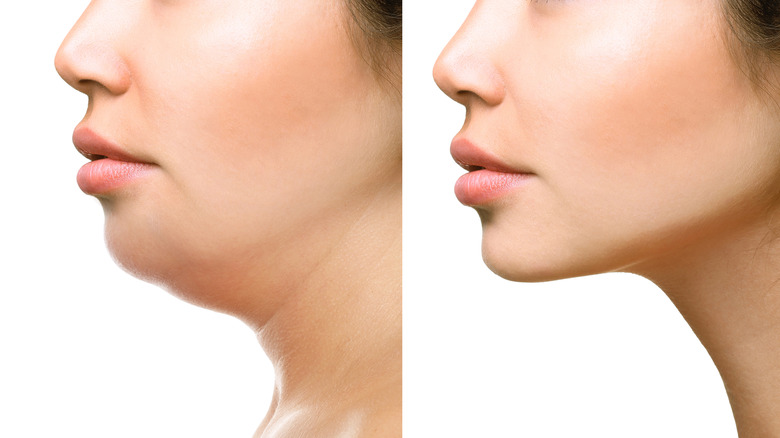 Shutterstock
So which patients are best suited for Kybella? Miami-based dermatologist Manjula Jegasothy says she's seen the best results in Kybella patients who have a BMI of 28 or less, and are able to keep their weight steady. "Ideal candidates are thin with small areas of fat that they're unable to shed despite maximizing their diet and exercise routine," Jegasothy says. "The drug doesn't remove every single fat cell in a given area, so if you gain a fair amount of weight — generally 10 pounds or more — remaining fat cells in the region can grow larger, and it will look like the fat has come back."
When done right, though, there is no doubt Kybella is a wonder treatment, says New York City plastic surgeon Sachin Shridharani, who's administered several thousand Kybella treatments. "We've been getting surgical-like outcomes with Kybella — sometimes even superior, because of the skin retraction that follows — and a big part of that is using the right dose and counseling patients on the number of treatments they need," says Shridharani. "If someone isn't prepared to have more than one treatment, she's not a Kybella candidate. And when clinicians tell me they're not getting the same types of outcomes, and then I review their notes, they're typically underdosing patients, because they're afraid of the swelling and downtime."