Chip And Joanna Gaines Recycle Their Christmas Tree In This Unusual Way
Chip and Joanna Gaines may be experts when it comes to home decoration and design, but it looks like they're also pretty talented in the field of recycling. The Fixer Upper couple naturally decorates their gorgeous home to the nines for the holidays, but when it comes to taking down their decorations, their attention to detail doesn't waver.
While most people who use live trees instead of artificial trees for their holiday decorating needs throw them out after the season is over, Chip and Joanna have found a more sustainable way to dispose of their Christmas tree.
Chip and Joanna Gaines feed their leftover Christmas tree to their goats
In an Instagram story posted on December 27 (via House Beautiful), Joanna Gaines revealed that she had already dismantled her gorgeous Christmas tree. That seems a little early to end the festive cheer but hey, at least she and Chip had a good use for it. After Joanna stripped the tree of its ornaments, Chip could be seen dragging it out to an open spot on their farm for a herd of goats to eat.
"They've been waiting for this all year," said Joanna as the goats excitedly started chowing down on their post-Christmas feast.
Chip and Joanna Gaines aren't the only people turning Christmas trees into goat feed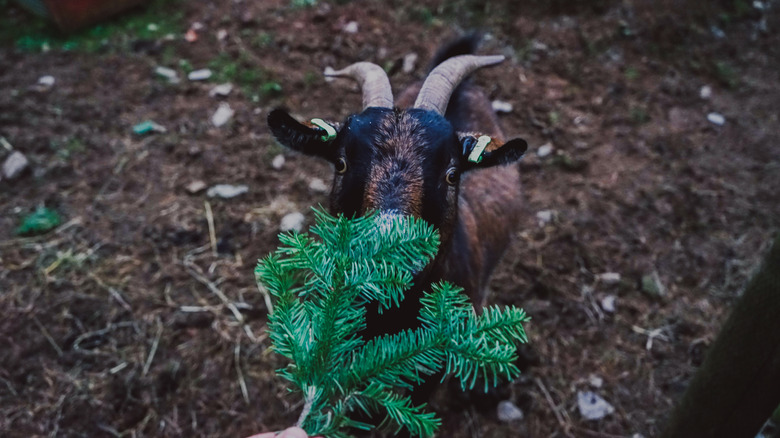 Shutterstock
It turns out that feeding leftover Christmas trees to goats is part of a growing trend. In January 2019, the Associated Press reported that one farming couple, Bill and Tami Fulcher Millaway, collect discarded Christmas trees from their neighbors every year to feed to their goats. "Instead of being chipped and thrown away, this way the trees are actually feeding my goaties," said Tami. "It takes them a day or two, or sometimes just hours. They eat the bark and everything. I had a 14-foot tree last year. They stripped it down. It took them three hours."
Tim O'Connor, executive director of the National Christmas Tree Association, told the Miami Herald that a live Christmas tree is better for the environment than an artificial one. "A Christmas tree is a living plant so it has many other uses even if it just decomposes naturally," he said. "We know fake Christmas trees will last 1,000 years in a landfill. So the people who don't want to use a plastic straw at Starbucks realize there are benefits to recycling a real tree."