The Truth About Awkwafina's Stage Name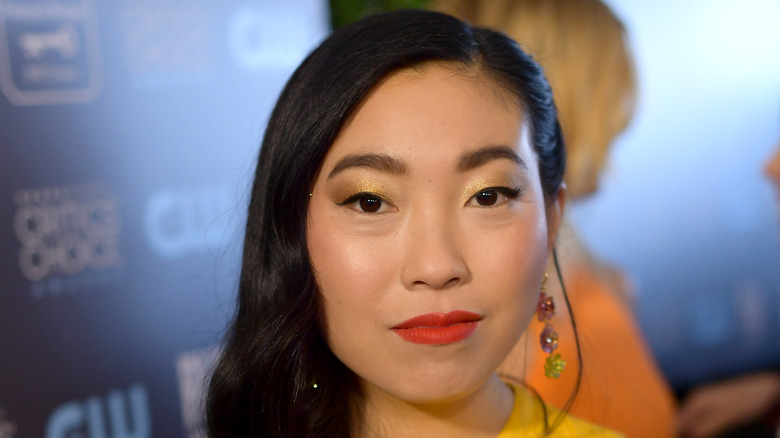 Matt Winkelmeyer/Getty Images
Now that Awkwafina (real name Nora Lum) has a Golden Globe under her belt (per The Hill), it's safe to call her a bona fide star. Does that mean it's time to ditch her stage name and start going by Nora? And what made her start using a stage name in the first place?
Awkwafina released her first music video, "My Vag," in 2012 on YouTube. She used her high school nickname, Awkwafina, because her video was a little bit risqué and she didn't want to get in trouble at work. "In my first video, I wanted to be anonymous," she told Time Out in 2019. "That's why I wore glasses, which was really stupid because I got fired from my job because of it anyway."
Awkwafina has said she couldn't perform without her stage persona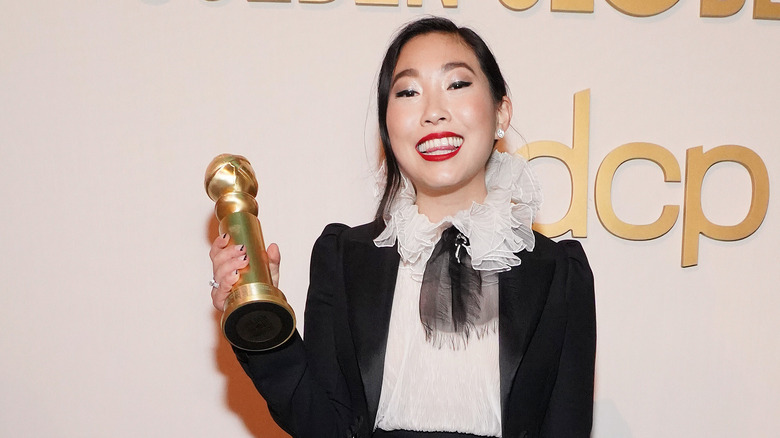 Rachel Luna/Getty Images
While Awkwafina was initially seeking anonymity through her stage name, it quickly became a shield. "I would not be able to perform onstage without Awkwafina; Nora could not perform," she told NPR in 2018. "All the neuroses, all the self-consciousness that comes with adulthood, Awkwafina doesn't have that."
Just a couple years ago, she said that she had plans to drop the stage name... one day. "I don't think an 85-year-old Awkwafina will be the most normal look," she told The Guardian in 2018. "By then people will be laughing at me, not with me — I will be coughing loudly and yelling at birds."
Will Awkwafina drop her stage name?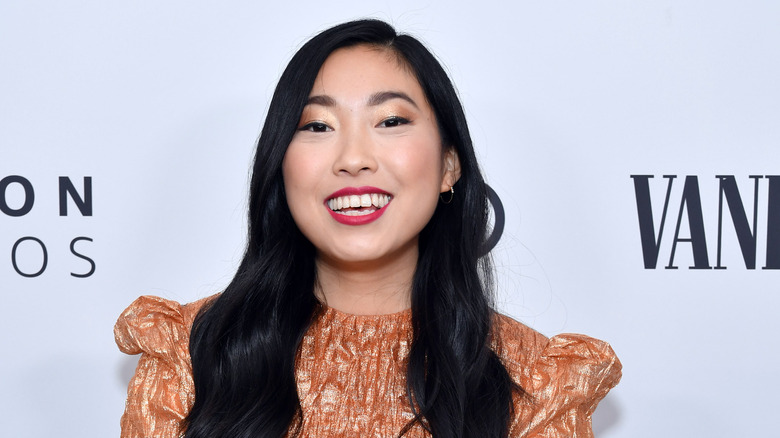 Amy Sussman/Getty Images
Now that she's cemented her place in Hollywood as a rising star, many might think it's a good time for Awkwafina to ditch her stage name. She says she's still holding on to it, though. Awkwafina has started to feel less like a persona and more like her true self. "When I first started as Awkwafina there was a more distinct duality, where this is the one that's performing and this is the one that's at home having a panic attack," she recently told Vanity Fair. "But as I get older, I think they're the same person. This is the one that this one hides behind, you know?"
In a recent interview with The New York Times, the star said that she's proud of how far Awkwafina has come. "I created Awkwafina when I was a kid," she said. "What she represents to me is more than a persona — in the very beginning, I did see her as the confident one, the side that comes out that gives Nora the panic attacks."
She added, "But as I've grown older I've come to really be grateful for that name and what I've seen it written on. To see her name on a chair back or on a call sheet, that means a lot to me. I don't think that I could shed her right now."