Why Hydro Flasks Are So Expensive
You see them everywhere. They're pops of bright color found on office desks, in students' backpacks, in gyms, and in the great outdoors. Hydro Flask may have made its debut in 2009, but even in a space crowded by other brands and copycats, Hydro Flasks have become a must-have, thanks to the support of millennials, Gen Zs, and VSCO girls... even though they come at a hefty price of between $30 and $60 each, depending on its size (via CNN).
Hydro Flasks aren't just your grandma's old Thermos, even if the technology that it is based on is fairly similar. Popular Mechanics would like to remind you that the vacuum technology, which Hydro Flask uses, is more than 100 years old and was first introduced by Stanley Thermos (yes, that Thermos). What Hydro Flask did was to adapt that technology so that it might be used in a different way.
Hydro Flask is built on 'nothing'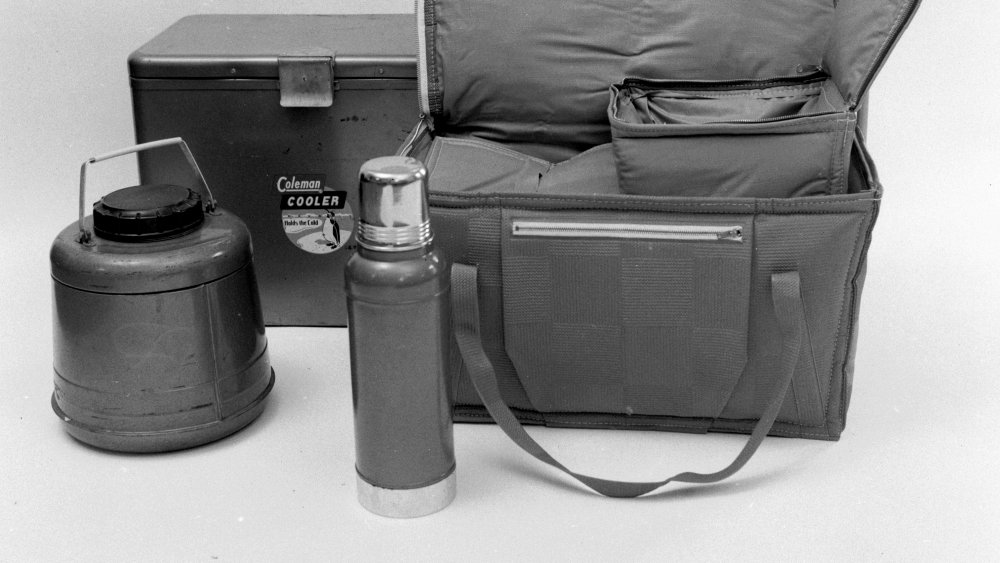 Three Lions/Getty Images
When Popular Mechanics asked Hydro Flask general manager Scott Allen what the secret of his company's success was, his answer was "nothing." That "nothing" is the space that sits between Hydro Flask's funky-colored exterior steel bottle and its inner steel bottle. Also known as vacuum technology, "nothing" is what keeps cold beverages cold and hot beverages hot for the time that it does.
Even today, Thermos is synonymous with the concept of keeping hot beverages hot. What Hydro Flask wanted was to become known for keeping cool beverages cold. "That is the novelty of the innovation, and no one had connected those dots," Allen says. "There was a large water-bottle market, but if you think about ice water, it wasn't keeping it cold."
Hydro Flask updated the Thermos technology
Hydro Flask brought the Thermos vacuum technology into the 21st century in a number of ways. They created caps with a honeycomb pattern and steel lugs, which allowed the bottle to maintain its internal temperatures more efficiently. And the sometimes cutesy, always powder-coated exteriors? Hydro Flask says that the outer shell is meant to make the bottles durable enough to live in the wilderness for a few days and to make a marketing statement at the same time. The vacuum-sealing technology, paired with the durable exterior coloring, are two factors that up the price point of the product itself.
In order to stand out in a crowded water bottle market populated by brands including S'well, Yeti, and the once-favored Nalgene, Hydro Flask's marketing guys filled their insulated bottles with ice, then shipped them to different parts of the country where the climate was hotter. They then asked recipients to give Hydro Flask a call when the ice melted. 
To explain the innovative marketing ploy, Allan says, "We had to get people to experience the product, and we couldn't do that by telling them or through a picture." It wasn't long before Hydro Flask was partnering with outdoor companies like Patagonia and REI to become the water bottle force that it is today.
Is Hydro Flask worth the money?
Technology and innovation aside, Hydro Flask does more than just keep beverages cold and drinkable for 24 hours. As anyone would tell you, Hydro Flasks, like other water bottles that came before them, (yes, we're talking to you, Nalgene) are social signifiers. 
"With Millennials, fitness and health are themselves signals," says NYU marketing professor Tülin Erdem (via The Atlantic). "They drink more water and carry it with them, so it's an item that becomes part of them and their self-expression." At their price points, Hydro Flasks are also seen as occupying a sweet spot for teens who want to be seen to be affluent enough to afford a pricey water bottle, but not showy enough to be flashing truly high-end branded items that their parents might be associated with. Why? Because they're teens and because such materialism is beneath them (via Eater).
Hydro Flasks have a practical purpose
To those of us who aren't still in high school, Hydro Flasks still meet a practical need. They allow us to keep our water at temperatures we are most likely to want to guzzle. Also, they don't sweat into our work bags or gym bags so there is no chance important documents or changes of clothing are soaked by cold water sweat. 
At a time when bottled water has become an environmental luxury none of us can afford, paying up to $60 to permanently avoid the purchase single-use plastic bottles of water makes a durable Hydro Flask seem like an almost cheap, worthwhile investment, especially considering that a Hydro Flask will last far longer than cheaper options.