The Truth About Selena Gomez's Tattoos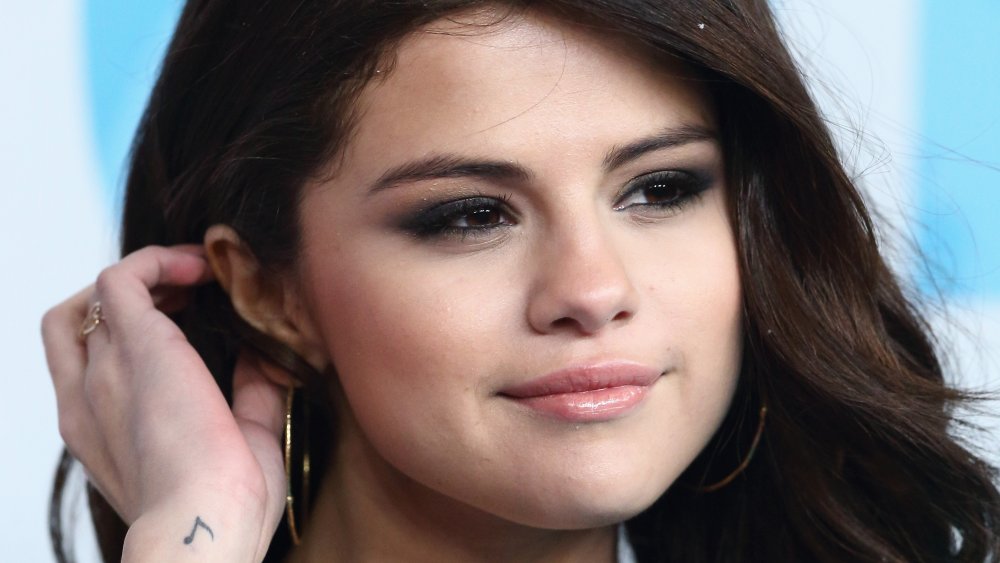 Andreas Rentz/Getty Images
Former Disney star Selena Gomez is all grown up, and she's got the tattoos to prove it. The star got a brand-new neck tat in early 2020, making for a grand total of 13 tattoos.
Gomez's latest tattoo, on the side of her neck, says "Rare." Rare is the title of Gomez's newest album, and the singer seems to have gotten the tattoo to commemorate its release. Gomez flaunted her newest ink in an Instagram video with the caption, "Did it again."
Gomez's "rare" tattoo comes less than two months after she got a thigh tattoo of a pair of hands in prayer holding a rosary.
Selena Gomez has several matching tattoos with her friends
The actress and singer seems to get tattoos that have personal meanings for her. In November 2019, Selena Gomez and singer Julia Michaels got matching arrow tattoos. Gomez posted a picture of the tats on her Instagram story (via Cosmopolitan), writing, "My arrow points to you forever."
In August 2018, she and her closest friends all got tattooed together. In an Instagram post she wrote that she got a #4 tattoo "because these women have stayed by my side for 7 years... 4, because you are my 4 for the rest of my life. I love you ladies. You all inspire me to be better, stronger, closer to god and we have lived the most INSANE story together already. Can't wait for 50 more!!"
That same night, Gomez also got a #1 tattoo with her best friend, posting a picture of their matching tattoos on Instagram.
Gomez and some of the 13 Reasons Why cast members have semicolon tattoos, which represent suicide prevention nonprofit group Project Semicolon. According to the New York Daily News, Gomez is an executive producer on the show and got the tattoo along with Alisha Boe, who plays Jessica on the show, and Tommy Dorfman, who plays Ryan.
Selena Gomez hasn't revealed the meanings of all of her tattoos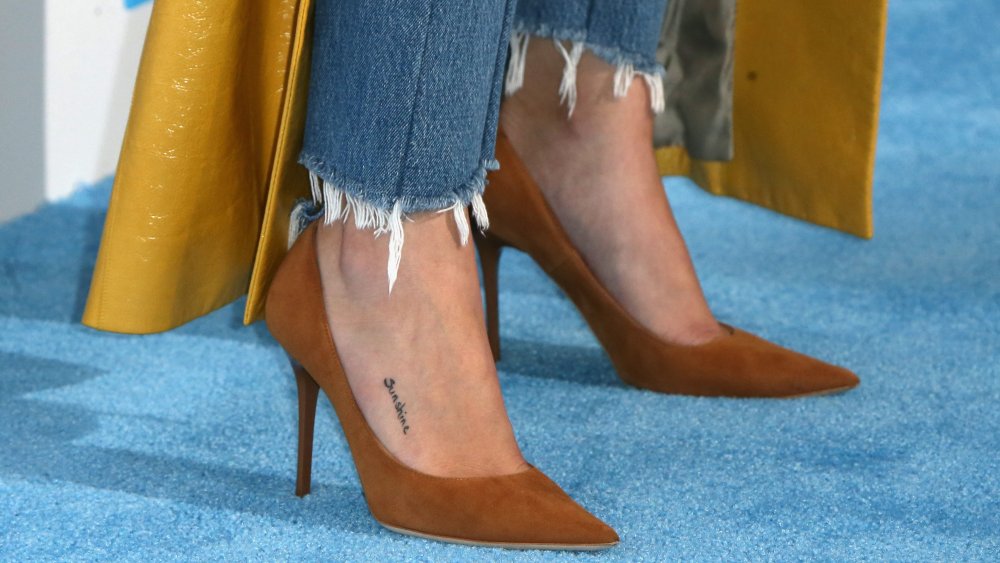 Frederick M. Brown/Getty Images
While Selena Gomez hasn't revealed what all of her tattoos mean, Cosmopolitan has some pretty educated guesses. She has a "g" tattoo that many think is for her sister, Gracie. The word "sunshine," on her foot, is thought to be a tribute to her grandmother, who she once called her sunshine on Twitter. Another family tribute is the "LXXVI" tattoo on the back of her neck, which is 1976 in Roman numerals. This is likely in honor of Gomez's mom, Mandy Teefey, who was born in 1976.
Gomez's remaining tattoos are mostly self-explanatory. She has a music note tattoo on her wrist. "It's a music note," she told Access Hollywood. "Everybody thought that it was a heart for some reason, but music is a big influence in my life. I was named after a singer, I'm a singer and a lot of other personal reasons. So, that's what I got."
Gomez also has a tattoo of the words "love yourself" on her side in Arabic, the words "God strengthens me" on her upper thigh, and a mystery tattoo on her hip that fans think might be an om sign.