The Best Dressed At The 2020 Grammy Awards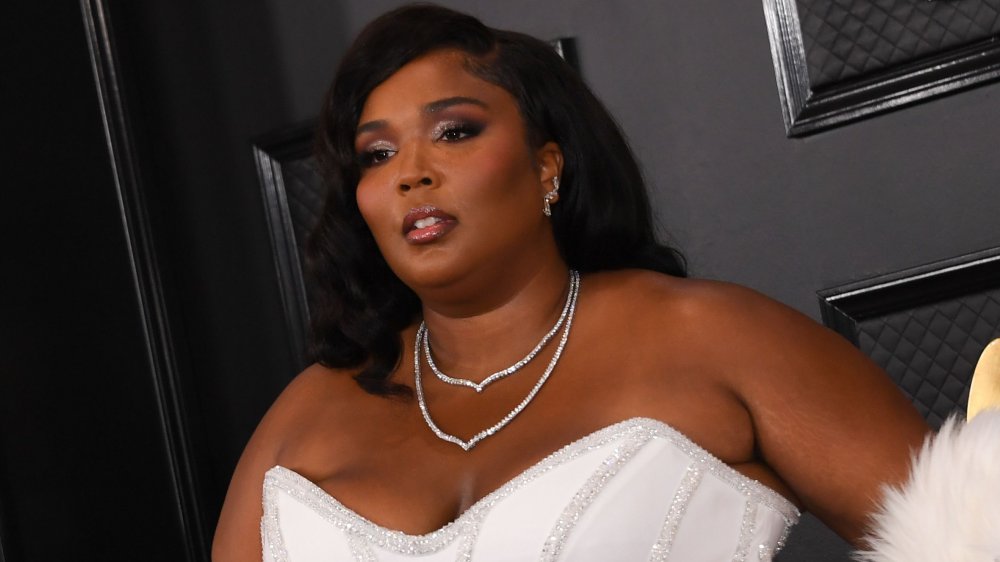 Valerie Macon/Getty Images
The 2020 Grammy Awards took place at the Staples Center in Los Angeles, Calif. on Jan. 26, 2020, and was hosted by superstar Alicia Keys. While the Grammys is always an exciting event filled with A-list musicians and incredible performances, this particular evening featured more than the award show's usual fair share of emotion. Nipsey Hussle's memory was honored with a performance by John Legend, DJ Khaled, Meek Mill, Roddy Ricch, Kirk Franklin, and YG. In addition, Boys II Men joined Keys for an emotional musical tribute to Kobe Bryant and his daughter Gianna, who were among the victims of a fatal helicopter crash earlier that day.
And while these artists may have brought viewers to tears with the memory of Bryant and Hussle, these celebrities also dazzled fans with their remarkable talent, well-deserved awards, and, of course, show-stopping fashion. Musicians know that the Grammys is a perfect place to show off their best looks, and they definitely didn't disappoint. Here's a look at the best dressed celebrities at the 62 Annual Grammy Awards.
Ariana Grande was gorgeous in gray at the 2020 Grammy Awards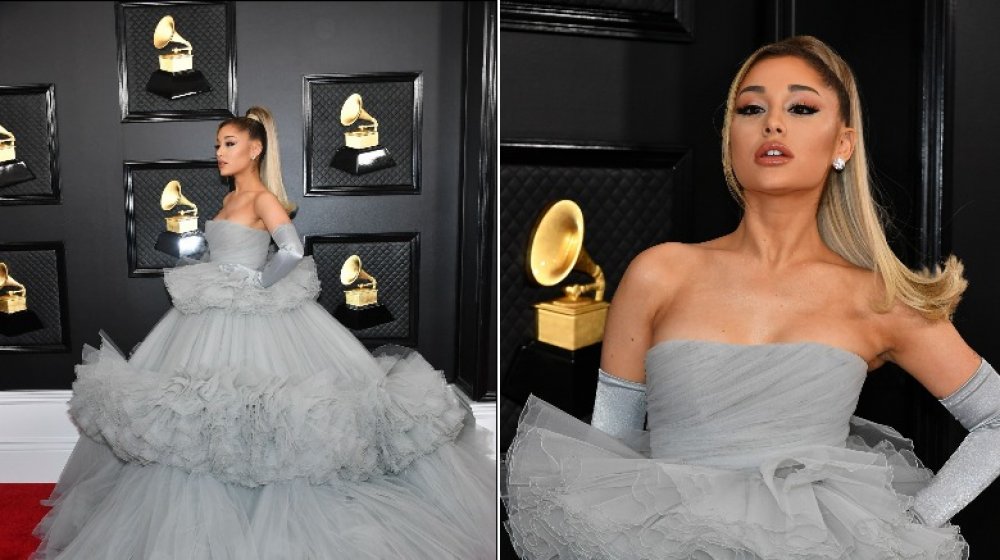 Amy Sussman, Amy Sussman/Getty Images
From long hoodies to baby doll dresses, Ariana Grande can seemingly pull off any look, but her 2020 Grammy Awards gown — a custom Giambattista Valli gray tulle dress (via Today) — was on a whole other level. While this large Cinderella ball gown easily could have overwhelmed the petite singer, Grande owned the look with gray opera-length gloves and her signature ponytail. There's nothing not to love about this stunning look.
Maggie Rogers impressed at the 2020 Grammy Awards with a simple, star-studded dress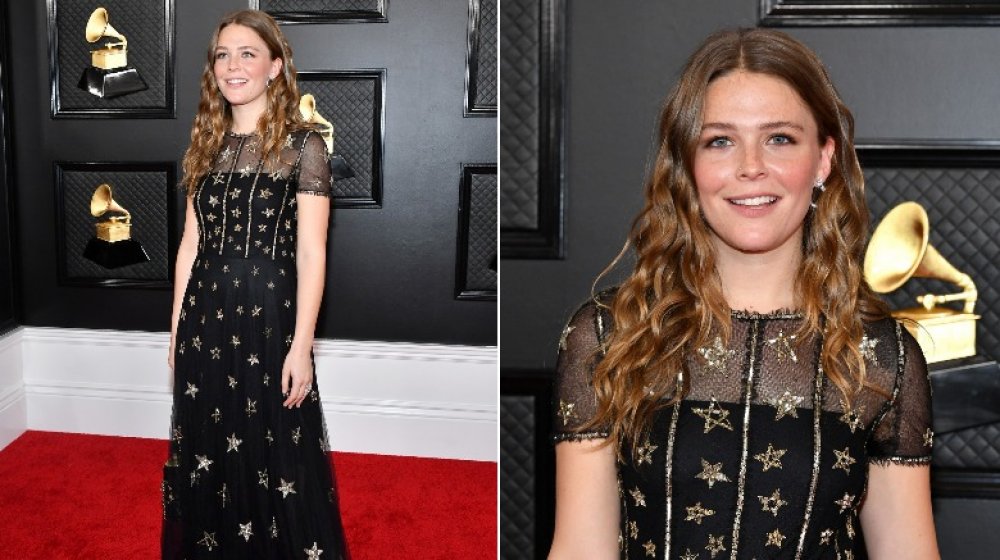 Amy Sussman, Amy Sussman/Getty Images
Best new artist nominee Maggie Rogers showed up to the 2020 Grammy Awards in an understated silk tulle Chanel gown, as reported by Vogue, with gold stars covering the bodice and skirt. Instead of a classic clutch, Rogers toted a Chanel water bottle in a leather sleeve with a gold chain. It seemed this "Alaska" singer wanted to look hot and hydrated! 
That Chanel dress came all the way from the designer's pre-fall 2014 collection, so it's not a new design, but this dress had meaning to the artist. She explained to E! News on the red carpet that her hit song "Alaska" is about a hiking trip she took in 2013, and wearing a dress from that time made her feel like she was still "telling the, sort of, full circle story."
Billy Porter went all out with a motorized hat at the 2020 Grammy Awards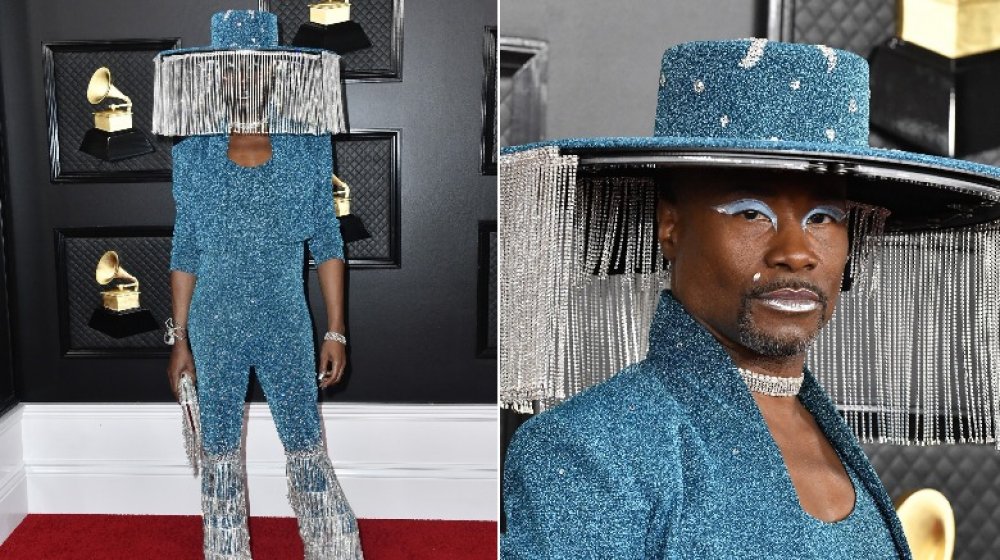 Frazer Harrison, Frazer Harrison/Getty Images
Billy Porter didn't disappoint with his 2020 Grammy Awards look. Not only did the Pose actor show up to the red carpet in a turquoise and silver jumpsuit by Scott Studenberg of Baja East, as noted by USA Today, but he paired it with a bedazzled, motorized hat. That's right — the hat's sparkly fringe opened, like curtains, at the touch of a button. The look featured plenty of glamour and it had a whole lot of drama. What else could we expect from Porter?
Bebe Rexha glittered in a suit at the 2020 Grammy Awards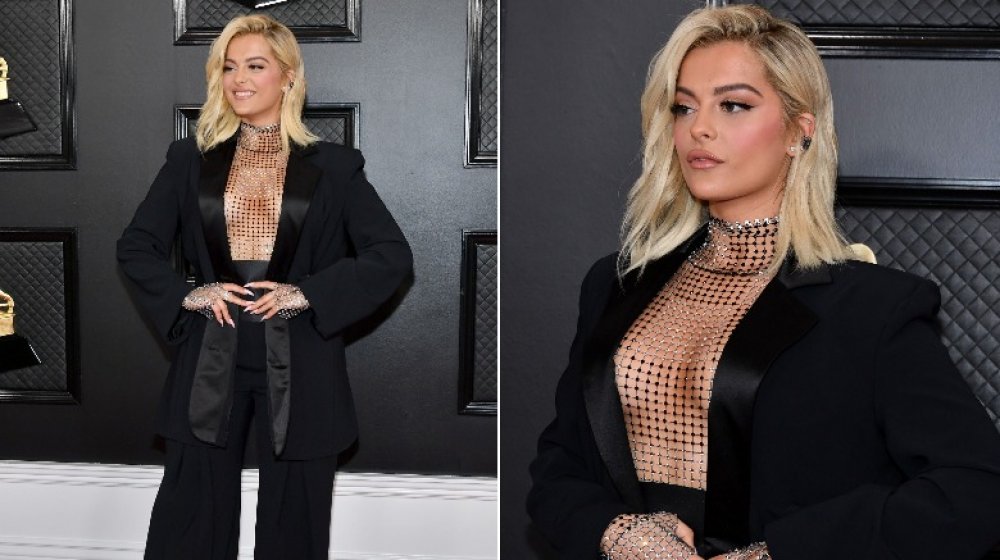 Amy Sussman, Amy Sussman/Getty Images
Bebe Rexha showed up to the 2020 Grammy Awards in an oversized black suit paired with a sheer, chainmail top. The high-fashion turtleneck added just the right amount of sparkle to the singer's ensemble, making her look pop.
While the "Meant to Be" singer may have had a "Cinderella moment" in a glamorous red Monsoori gown at the 2019 Grammys, this princess is all grown up now, and has clearly transformed into a sexy, powerful queen.
Chrissy Teigen made a strong case that orange is the new black at the 2020 Grammy Awards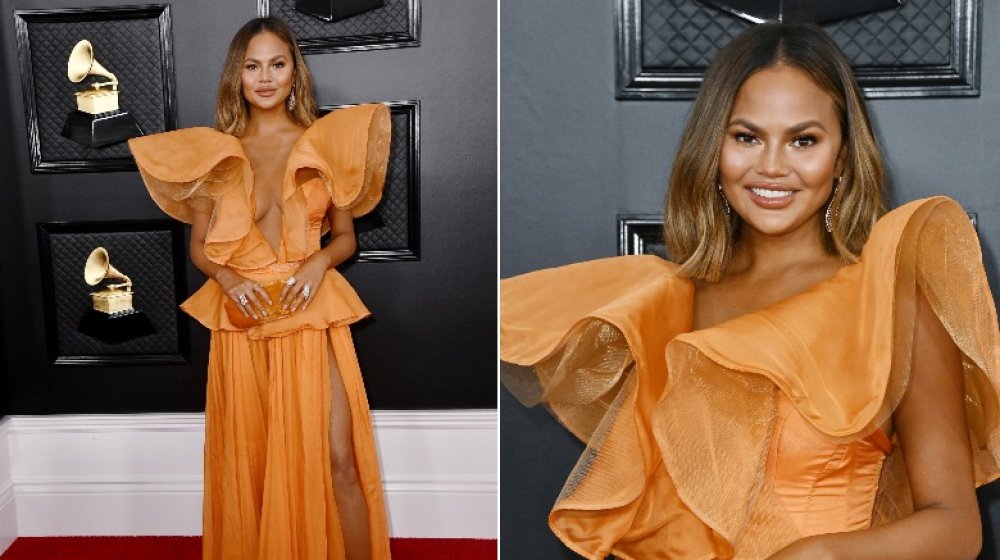 Frazer Harrison, Frazer Harrison/Getty Images
While John Legend may have stollen the show during a musical tribute to Nipsey Hussle, eyes were on his other half, Chrissy Teigen, on the red carpet. The Cravings author wore an orange peplum gown, as reported by People, with a sexy plunging neckline and a high slit over her left leg. But perhaps one of the most show-stopping features of the dress was the oversized tulle ruffles at the shoulders. 
Teigen certainly took some risks with her 2020 Grammy Awards dress, but it paid off: Teigen glowed in this color, and the gown showed off her gorgeous figure perfectly.
Lizzo proved she looks beautiful in everything at the 2020 Grammy Awards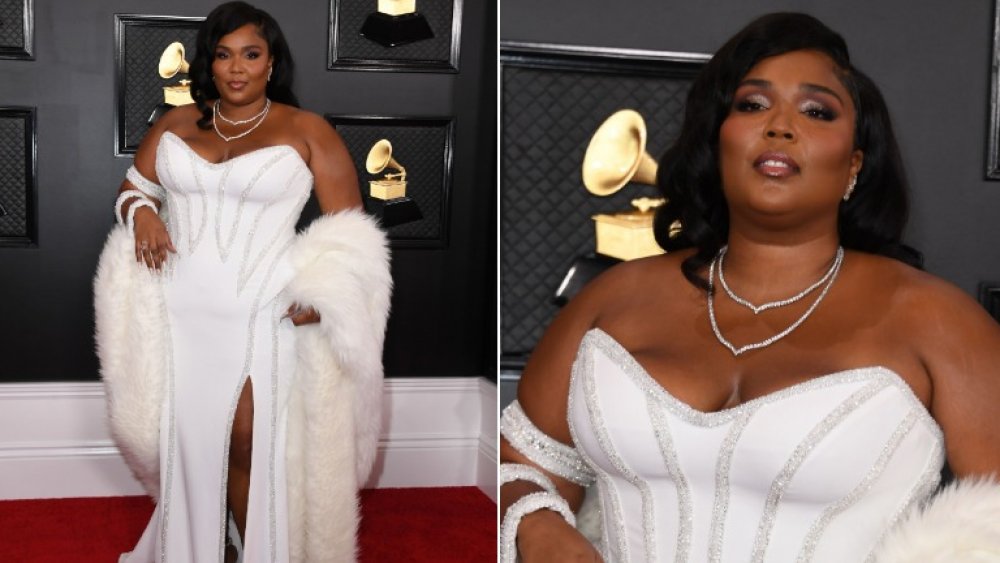 Valerie Macon/Getty Images
Lizzo may have won a Grammy for best pop solo artist, but maybe she should also claim an award for best dressed at the 2020 Grammy Awards.
On the red carpet, she dazzled in a white strapless dress by Atelier Versace, which she paired with a white faux fur stole (via Vogue). The "Truth Hurts" singer later changed for a performance. She began her set wearing a custom off-the-shoulder Christian Siriano gown, becoming a sparkly vision in black. Then, she changed into a fabulous skin-tight suit by Zigman that her stylist, Brett Alan Nelson, described as "LED ballet dancer."
Shawn Mendes rocked a berry-colored suit at the 2020 Grammy Awards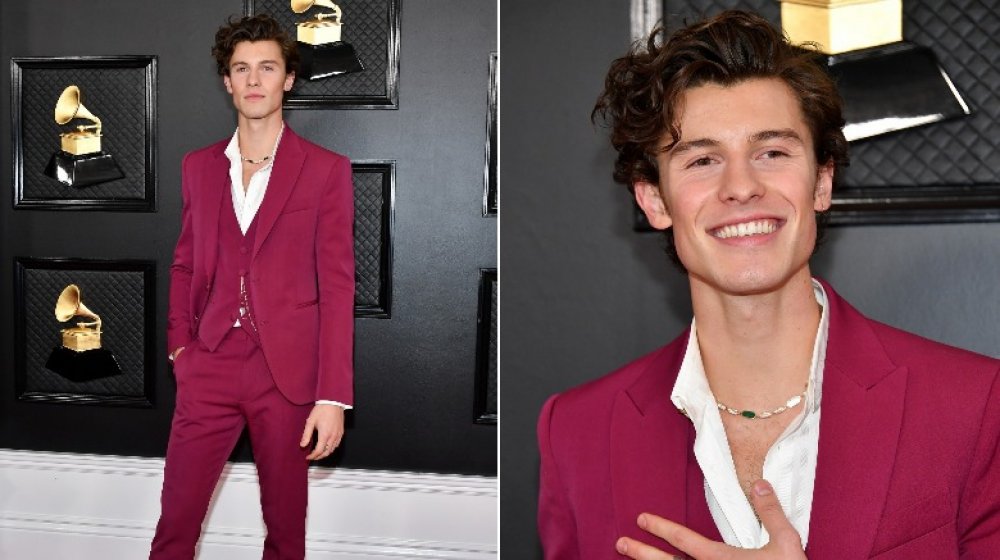 Amy Sussman, Amy Sussman/Getty Images
Shawn Mendes and Camila Cabello received a 2020 Grammy Awards nomination in the category of best pop duo/group performance for their hit song "Señorita." Though Mendes and Cabello have been dating since July 2019, they surprisingly didn't walk the red carpet together, as noted by People. But that's okay — because Mendes held his own in his custom berry-colored Louis Vuitton suit. He gave off a casual, beachy vibe with messy hair, an unbuttoned white shirt, and a green and white necklace.
Lil Nas X was the edgiest cowboy the Grammy Awards has ever seen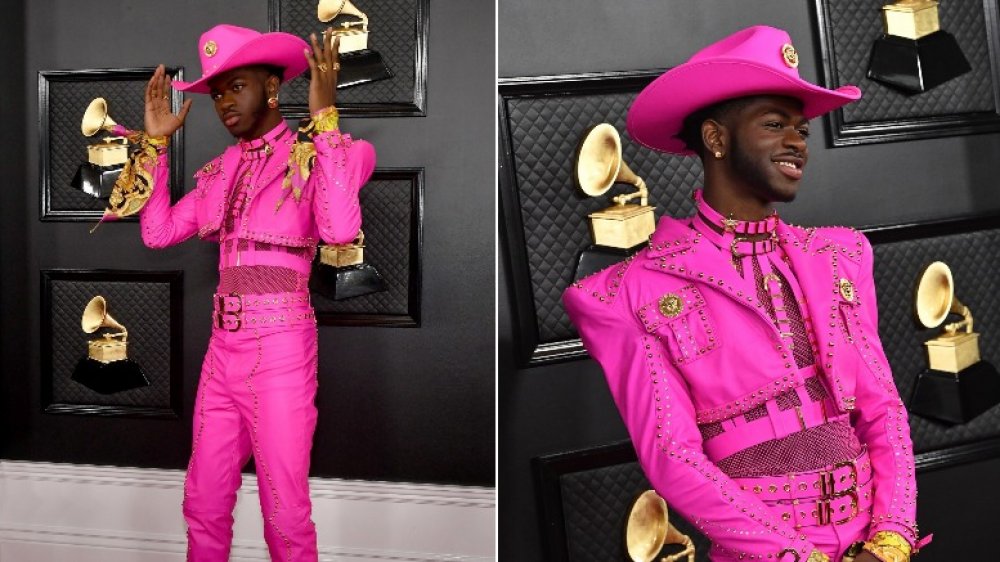 Amy Sussman, Frazer Harrison/Getty Images
Lil Nas X has been known to give a modern spin to the classic cowboy look, so it was perhaps no surprise when his western-chic style turned heads at the 2020 Grammy Awards. His bright pink Versace ensemble was made even edgier with a matching pink mesh shirt and harness under his cropped blazer (via Billboard). The look really came together when Lil Nas X matched his gold scarves (which he wore around his wrists) to his suit's gold studs. The look was certainly extra, but if you can't be extra at the Grammys, when can you be?
Lana Del Rey shopped at the mall for her 2020 Grammy Awards gown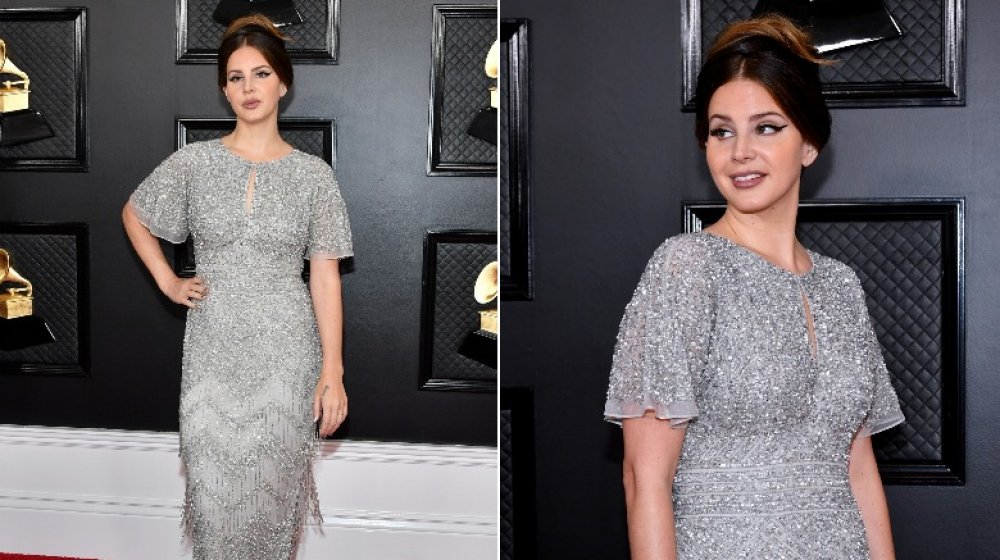 Amy Sussman, Amy Sussman/Getty Images
Lana Del Rey was a vision in silver at the 2020 Grammy Awards, thanks to her vintage-inspired gown. The dress, with all-over sparkles and '20s-style fringe at the bottom, was, according to Del Rey, purchased at the mall. In interview with Entertainment Tonight on the red carpet, she explained, "This is a last-minute dress, but I love it."
She brought the style together with some dark eyeliner and a sleek up-do. It may have been a last-minute look, but it looked pretty polished.
Ella Mai rocked the Old Hollywood glam look at the 2020 Grammy Awards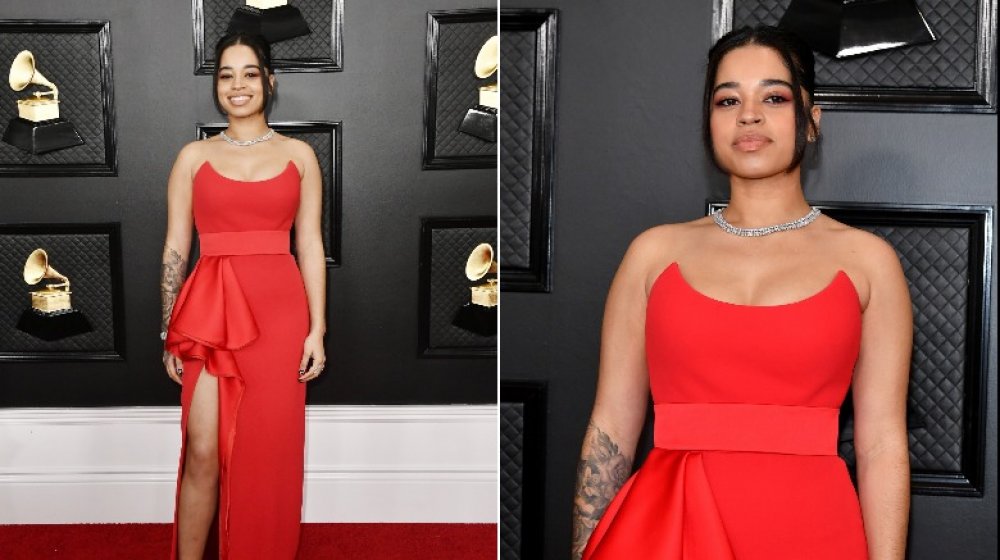 Frazer Harrison, Amy Sussman/Getty Images
There's nothing quite like a classic sexy, red gown, and Ella Mai pulled off the look perfectly at the 2020 Grammy Awards. The "Boo'd Up" singer rocked an old Hollywood glam style by pairing her dress with a simple up-do and a sparkly, yet simple, necklace.
To finish off the look, the Grammy winner sported a smoky eye that was just the perfect shade of red. Her eyeshadow complimented her dress, but it didn't pull attention away from the beautiful gown.
Alicia Keys showed off her style as she hosted the 2020 Grammy Awards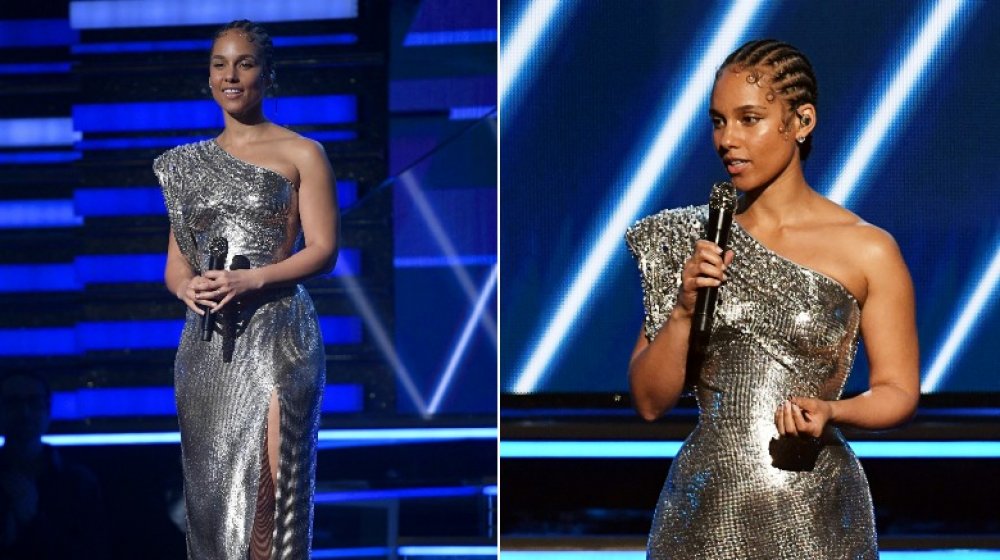 Kevork Djansezian, Kevin Winter/Getty Images
For the second year in a row, Alicia Keys hosted the Grammys, impressing with speeches, songs, and style. The artist wore a total of five outfits during the evening, as reported by Entertainment Tonight, with looks ranging from jeans and a t-shirt to a chic corset top. One stunning look, though, was Keys' silver Atelier Versace mesh gown she wore for the opening of the 2020 Grammys. The asymmetric dress featured beautiful draping over Keys' right shoulder and a high slit.
The gown was a perfect choice for Keys: sexy, classy, and modern all in one.
Trevor Noah proved he knows how to pick a suit at the 2020 Grammy Awards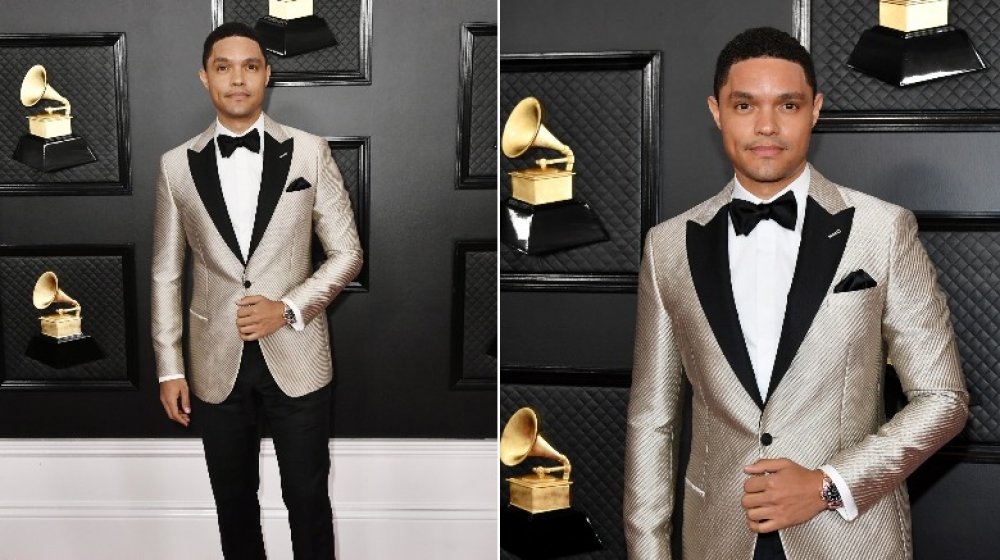 Frazer Harrison, Amy Sussman/Getty Images
Trevor Noah's fans are used to seeing this Daily Show host sitting behind a desk. He's usually in a conservative suit and a professional tie, but, at the 2020 Grammy Awards, Noah walked the red carpet in a flashy silver suit jacket with a black bow tie and black pants.
Though Noah didn't win best comedy album for Trevor Noah: Son of Patricia, he sure looked great at the Grammys.
JoJo was stunning in a silver dress at the 2020 Grammy Awards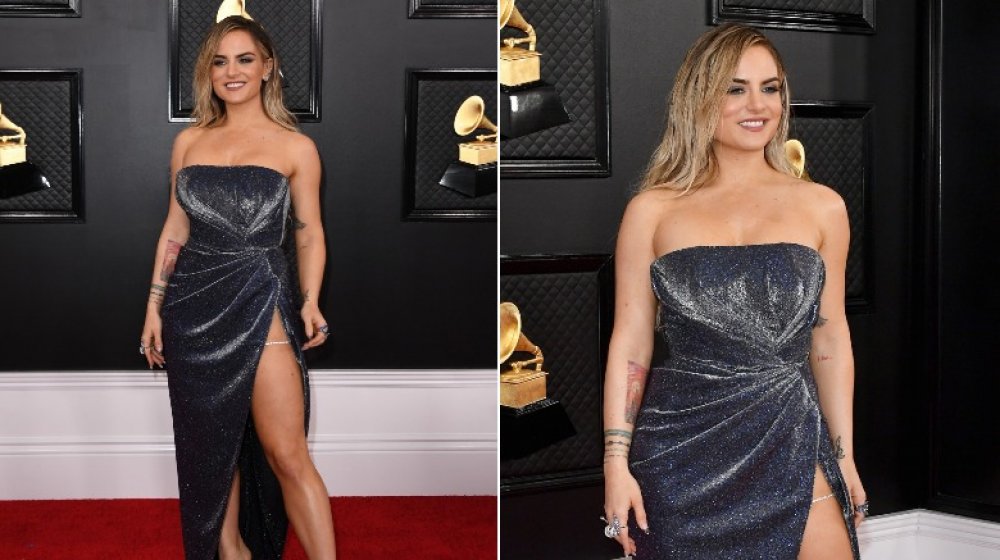 Valerie Macon, Amy Sussman/Getty Images
JoJo showed up to the 2020 Grammy Awards in a sleek and sexy silver gown. The strapless gown was understated, though it had a long slit up the left leg. The dress gathered on the side, giving the "Say So" singer a gorgeous hourglass shape, but perhaps the best feature of the dress was the small sparkly detail near the top of the gown's slit. The extra sparkle made the dress extra even sexier, while still keeping it classy. JoJo wore this look well.