The Weirdest Food Preference Sheet On Below Deck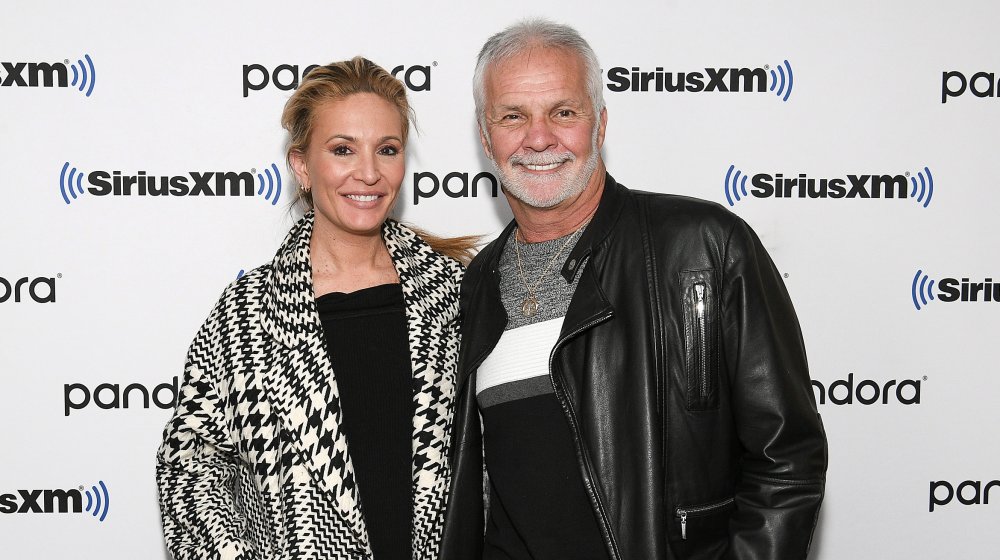 Dia Dipasupil/Getty Images
Below Deck charter guests get to enjoy a yacht vacation for a discounted price while possibly witnessing some of the explosive drama that makes the hit show such a must-watch. Most tantalizingly, the onboard chef ensures that guests are in seriously good hands when it comes to all things food and dining. Charter guests can also establish preferences prior to heading onto the high seas, which run the gamut from normal to downright bizarre, and are all laid out in extensive "preference sheets" that the crew gets prior to their arrival.
You may think the craziest moments on Below Deck revolve around fighting, hooking up, and behaving inappropriately in the workplace, but some of these food preferences suggest the guests may be even nuttier than the wild crew members themselves.
There was a Below Deck guest who only ate berries
A post on Reddit revealed a particularly fussy preference sheet, which dismisses broccoli and olives as "highly overrated," suggesting vegetables are ranked on some kind of scale akin to movies. Is there a Rotten Tomatoes-style site that ranks actual tomatoes, perhaps?
But the weirdest preference sheet of all? Below Deck Mediterranean chief stew Hannah Ferrier revealed to Bravo's The Feast that the craziest thing she's ever come across was a woman who "only ate berries." As Ferrier elaborated, "All food was basically eliminated. But I would still do like a three-course meal, but different berries for each course."
Although the reality star tries not to judge, she admitted, "I think she needs to go under a microscope and be studied." Ever the professional, Ferrier pretended like it was a reasonable request, advising, "You've gotta make them feel like it's normal when it's not."
Below Deck guests can make cooking difficult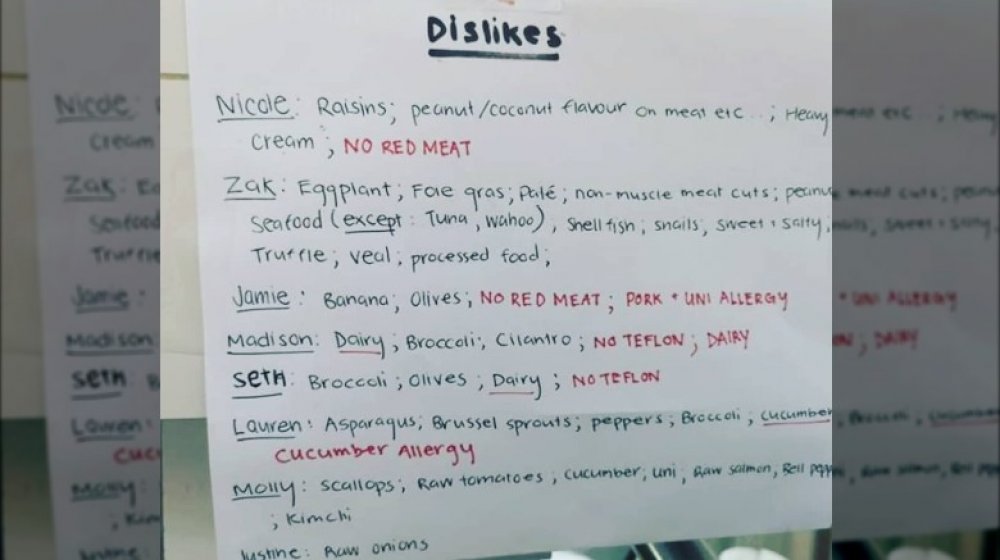 Instagram
Below Deck chef Kevin Dobson previously shared a now-deleted "cheat sheet" on Instagram that Courtney Skippon had helpfully created for him after a number of dodgy incidents with guest preferences. Skippon jotted down their dislikes in red, so they'd stick out for Dobson. He complained on the Below Deck After Show about picky guests refusing to allow cooking in a Teflon pan, for example, arguing, "How am I supposed to make your f***ing omelet without like a non-stick pan?" 
Below Deck Med boss Captain Sandy Yawn told Bravo's The Feast all preference sheets are challenging, revealing, "People may want fresh truffles flown in that same day from Paris." However, her main issue is, "Each guest thinks that we have a stash that's in the galley and they can pick each meal."
So, if someone is vegan, for example, it makes it more difficult to provision out the food from their limited supplies. "There's a lot of prep work. And I think the most difficult or crazy thing is when a client goes, 'Oh, I don't really care for this — could you make something else?'" she argued.