Why The Crown's Final Queen Elizabeth Looks So Familiar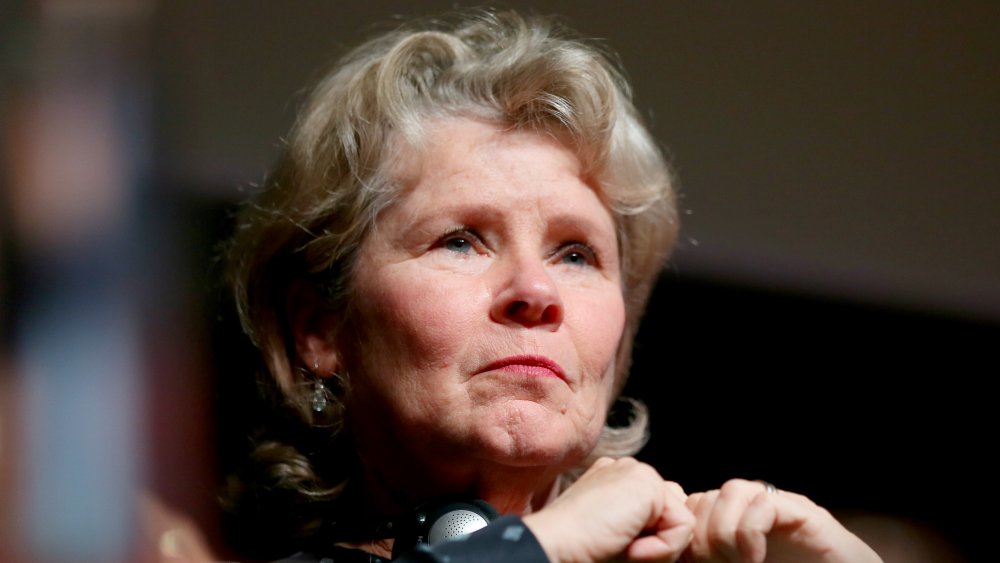 Ernesto S. Ruscio/Getty Images
Netflix just announced via Twitter that they will be wrapping up their historical drama The Crown based on the life of Queen Elizabeth II earlier than expected. The show, which is currently filming its fourth season, was originally projected to last through six seasons. Perhaps in light of stiff competition from the real-world reality show that is the modern royal family, Netflix has now decided that season five of The Crown will be the series' last one. They also announced, in that one multi-purpose tweet, the name of the third actress who will be playing the part of Her Royal Highness: Imelda Staunton is preparing to step into the role previously filled by Claire Foy in seasons one and two and Olivia Colman in seasons three and four (via WTHR).
Imelda Staunton has a lengthy IMDb resume, having played numerous roles on both small and large screens dating back to the '80s. She was even a one-time Oscar nominee for her leading role in the historical drama Vera Drake. Audiences here in the U.S., however, are probably most familiar with her for her role as the evilly banal, or perhaps banally evil, Professor Dolores Umbridge from the Harry Potter film series.
Imelda Staunton goes from Hogwarts to Buckingham Palace
While it might seem a bit of a stretch to go from Muggle-hating witch to beloved monarch (not to mention swapping pussycat plates for corgis), some Twitter users remarked upon the fact that Umbridge and the Queen do seem to share a similar fashion sense. Others were gleeful at the thought of a showdown between Queen Umbridge and Meghan "Hermione" Markle. Those fans are doomed to be disappointed, however, as the show's producers have stated that they do not plan to move past the early '00s (via Bustle).
Anyway, it's nice to see Dolores — er, Imelda — out of Azkaban at last and preparing to take her little pink suits to the palace.