Silk Press: What You Should Know Before Getting One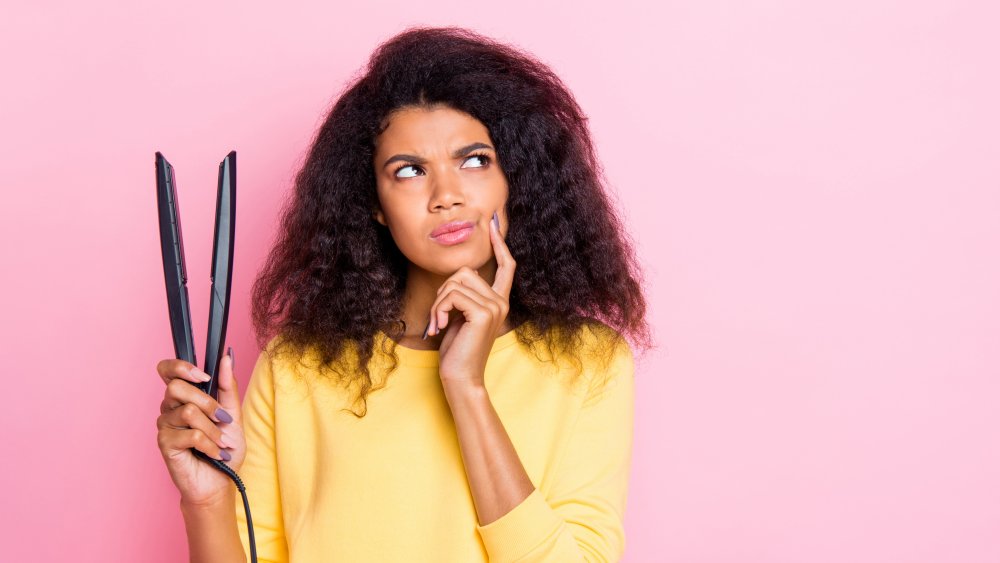 Shutterstock
The silk press is the hottest trend for ladies looking for sleek, no-nonsense locks. But, in spite of its fancy-sounding name, the technique is similar in nature to that of the infamous "press and curl" of the '90s, and could even reasonably be compared to the use of a hot comb.
Put simply, the silk press involves utilizing the correct hair products and hot tools to create a super straight, almost silk-like hairstyle, even on the unruliest of heads. There are several truths about natural hair no one understands, including how to style it correctly, but the silk press aims to eliminate a lot of the guesswork.
Silk press is like straightening your hair
First and foremost, there's no hot oil required, never mind a hot comb, so you can relax. As Cosmopolitan explains, the silk press predominantly involves the use of those all-important smoothing shampoos and conditioners, to ensure hair is adequately prepped for the high temperatures. It's then towel dried, a primer is applied, and finally it's blown straight. A thermal or glossing product is applied before a styler, set to about 392 degrees Fahrenheit, is utilized to straighten it to perfection.
As hairstylist Le'Ana McKnight told Byrdie, "The term silk press has been around forever, but the method received its name from a play-on-words: using a pressing comb and having the ability to see an individual's hair go from a coily to a silky look in one sitting without the use of chemicals or hair smoothers." It'll work on thick or coarse natural hair and shouldn't cause too much damage, provided you take care of your hair in general.
The effects of a silk press should last a while
How long a silk press lasts is dependent on lifestyle, so if you're hitting the gym on a daily basis, expect it to sweat out quicker, according to Cosmopolitan. Otherwise, it should last until your next hair wash, so anything from a week to a month. Talisha Cox, owner of the UK's Elite Hair Lounge, advised, "A silk press can usually last 2-3 weeks depending on how well it's maintained. If you're ensuring your hair is wrapped at night and avoiding water and steam it'll last." 
Cox notes, "The use of heat is never the best thing for natural hair but if used correctly your hair will be absolutely fine. My motto is you can use heat just don't abuse heat." As for how often you can go back to the salon, McKnight advised Byrdie, "One can receive a silk press every three to four months to maintain the health of their hair and to retain length without heat damage."