The Surprising Benefits Of Watermelon On Your Skin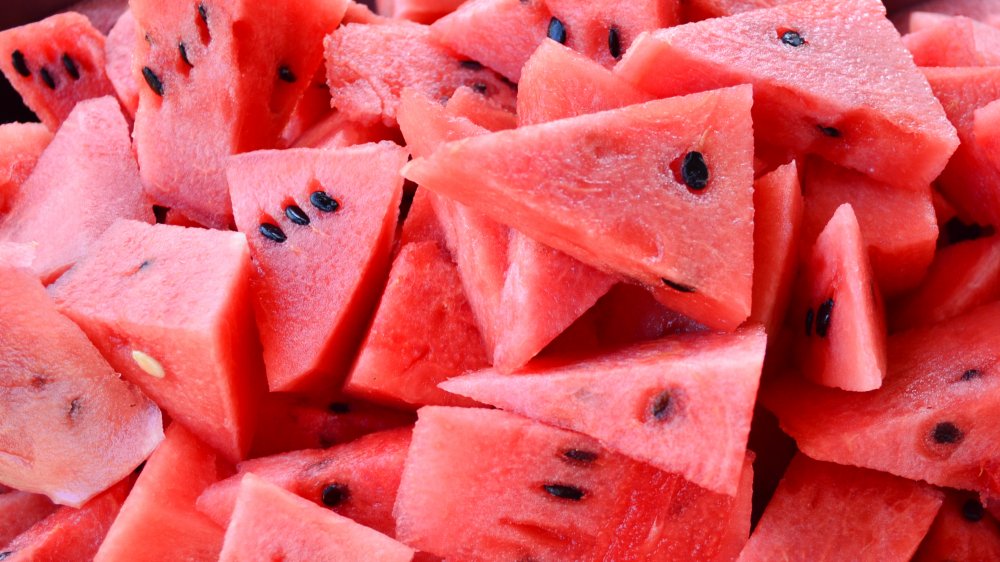 Shutterstock
Fruits are nature's gifts that just keep on giving. We love them because they can be sweet enough to cut a craving for sugary snacks, simply because they're sweet enough to satisfy while also being packed with vitamins, nutrients, and antioxidants. And we love them when, as in the case of the watermelon, its component parts — from the flesh, to seed, and rind — are as just as good as the whole.
Because watermelon consists of 92 percent water and six percent sugar (via Science Made Fun), eating watermelon is a great way to stay hydrated, which is one way of saying eating watermelon can (indirectly) do wonders for your skin. Perricone MD says staying hydrated means your skin maintains its elasticity and can fight the appearance of wrinkles, while a lack of hydration can leave your skin looking dry and tight.  
Also, it's not just all about that sweet pink fruit, either. Instead of sending watermelon seeds to the compost pile, you might consider eating them instead. "Watermelon seeds contain protein just like other seeds," Beverly Hills-based dermatologist Harold Lancer says (via Business Insider). "They also have fatty acids, plumping linoleic acid, hydrating oleic acid, and a variety of ceramides."
Watermelon can help treat sunburn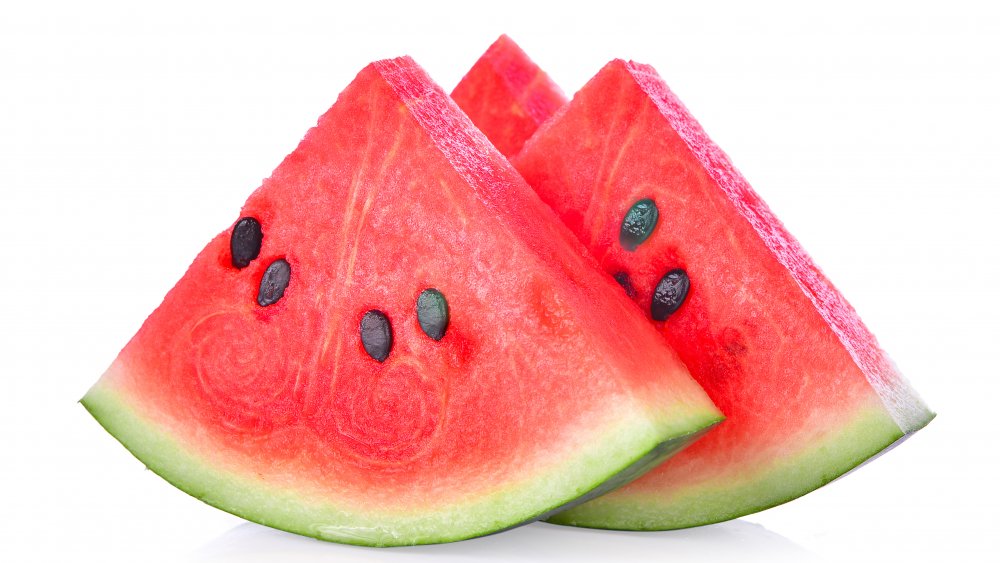 Shutterstock
But as it also turns out, watermelon (flesh and rind) is a Korean beauty secret that's just only made its way to the west. "The vitamins A and C found in watermelon can help restore damaged skin after it's exposed to sun, wind, or even stress," California-based dermatologist Anne Guanche tells Business Insider. Because the fruit also has Vitamin E, watermelon can also help deal with problems like hyperpigmentation.
Glow Recipe co-founder Sarah Lee tells Vogue, "My mother used to grate cold watermelon rind to put on my face as a cooling mask." To make your own mask, slice the watermelon so that you are left with 2-inch thick wedges shaped like triangles. Remove the flesh so that only a bit is left on the rind. Put the rind in the refrigerator for at least ten minutes, before slicing into paper-thin slices, and apply to irritated skin until the cooling sensation disappears.