Louis Vuitton's Most Expensive Items Ever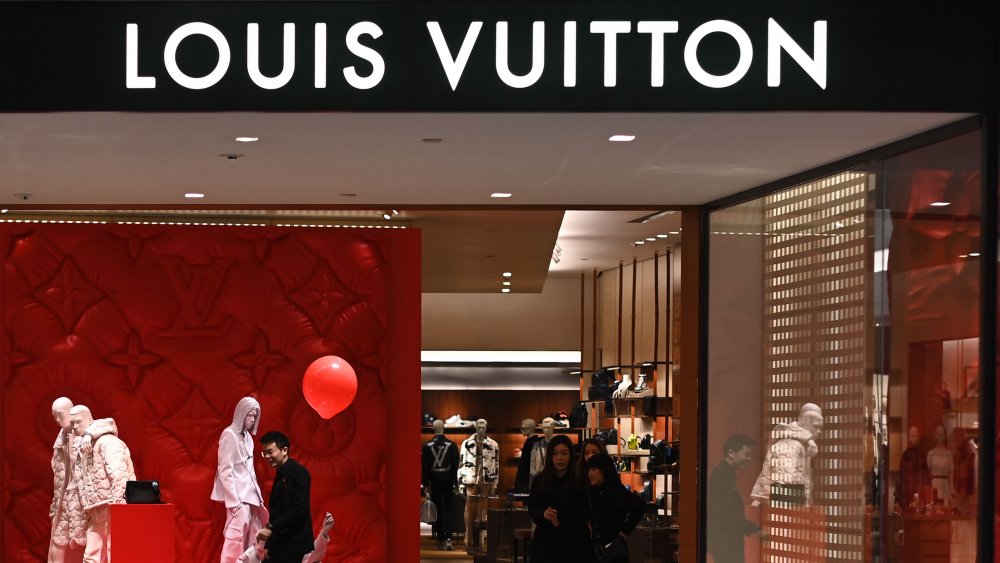 Philip Fong/Getty Images
It's one of the world's most recognized (and most copied) designer brands. Its designs are produced in factories located in France, the U.S., Spain, Germany, and Italy. The World Customs Organization has ranked Louis Vuitton the sixth-most counterfeited brand, which valued at $28 billion in 2015. From a Parisian box maker and packer, Louis Vuitton became a skilled craftsman who could make boxes that could hold anything. So when he opened his own shop in 1854, Louis Vuitton positioned himself as the man who could safely pack even the most delicate of things (via Quartz).
Vuitton became known for his steamer trunks, which were equipped with drawers, compartments, and hangers which allowed travelers to transport their belongings without having to unpack them. His cases were also special because, as Vogue says, they were — and continue to be — waterproof. Vuitton's early cases didn't carry the distinctive monogram — that came in 1896, and courtesy of his son Georges, who wanted to brand the Vuitton boxes with a flower and monogram so no one else could copy it (via Vogue).
From there, the company made cases with the distinctive LV logo that carried everything from a spare tire to tea sets. Aside from its best known (and widely copied) handbags, LV continues to make bespoke luggage at its production factory in Asnières-sur-Seine, which is managed by Louis Vuitton's great-grandson, Patrick today. The only thing that the factory won't do, Quartz says, is an exact replica of an existing Louis Vuitton traveling case.
Louis Vuitton's most expensive items
Louis Vuitton today is a fashion giant. Some of its more recent designs, like the critically panned Urban Satchel, cost a hefty $150,000 and sits in the closets of singer/designer Victoria Beckham and Vogue's formidable editor Anna Wintour. While it is executed in leather, it looks like a collection of discarded rubbish (via Abouticles).
Another costly creation is a custom-made trunk made for Australian cricketer Michael Clarke. The trunk is made with oak and bound with Italian leather, and it features internal compartments that hold cricket gear, a few bottles of wine, artwork, and chess sets in place. Clarke paid a hefty $170,000 for his Vuitton, and it has said to have doubled in price since he commissioned it.
But the luxury fashion house's most expensive product is a teddy bear, which today is housed at the Teddy Bear Museum in Jeju, South Korea (via Extravaganzi). The bear was the product of a collaboration between Vuitton and German toy manufacturer Steiff. This one-of-a-kind bear's eyes are made of diamonds and sapphires and it wears a Louis Vuitton hat and coat with solid gold trim. If you want to lure it away from its original buyer, you have to be prepared to fork out at least $2.1 million, which is how much Jesse Kim paid for it when it went under the hammer in Monaco in 2000.