The Real Reason LPBW's Matt Roloff Hasn't Proposed To His Girlfriend
Marriage isn't for everybody; just look at Kurt Russell and Goldie Hawn, arguably the coolest couple in Hollywood for decades and still without rings to "prove" their love. Little People, Big World star Matt Roloff appears to be taking a leaf out of their book, in spite of sending fans into a tizzy by recently writing, "It's official!" on Instagram.
Fortunately, or unfortunately, depending on your perspective, Roloff was actually referring to the upcoming season of the hit show, which drops March 31. He and the rest of the cast have been busy filming for over six months, but fans only have to wait another few weeks to see what they've been up to. And as for another walk down the aisle for Roloff? He's holding off on a proposal to girlfriend Caryn Chandler for a sweet reason that involves his ex-wife, Amy.
LPBW's Matt Roloff is planning to remarry some day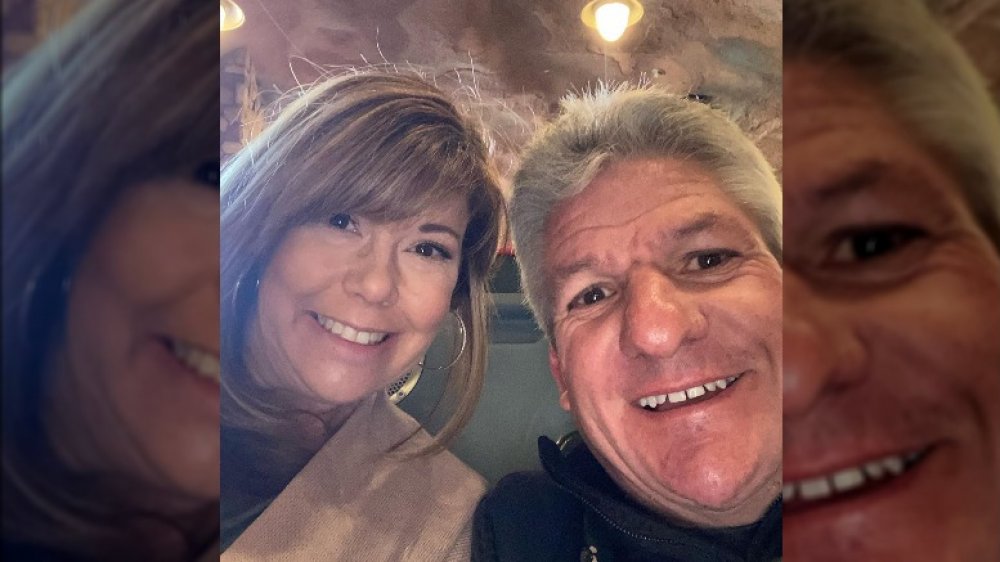 One of Matt Roloff's thousands of followers complained after being convinced of his impending nuptials by the post that they thought they "were going to have a new Mrs. Roloff." "Lol Lol," replied the reality star, explaining, "Well that's coming down stream I hope ...We don't want to step on Amy and Chris' excitement — but you never know what might happen next!" For anybody worrying he isn't moving quickly enough, Roloff noted, "For now @carynchandler1 and I are living a very happy and our very best life together ...Enjoying our kids and my grandkids. A wonderful season of life!"
Roloff's paramour, Caryn Chandler, was previously employed as the farm manager at Roloff Farms. His ex-wife, Amy, took some time getting used to the new arrangement once they made things official but the group has since moved on. She and Marek got engaged last September, with Roloff gushing on her Instagram Story (via In Touch), "I was so surprised. So shocked. I am so, so very happy. He's an awesome guy. I love him to death. And I'm so looking forward to this new journey of us."
People exclusively revealed the trailer for the new season of Little People, Big World, which will follow the Roloffs post-divorce. "My goal is eventually to get married to Caryn," Matt reveals in one scene, while his lady later confirms, "I'm here for the long haul."