What Kylie Jenner Typically Eats In A Day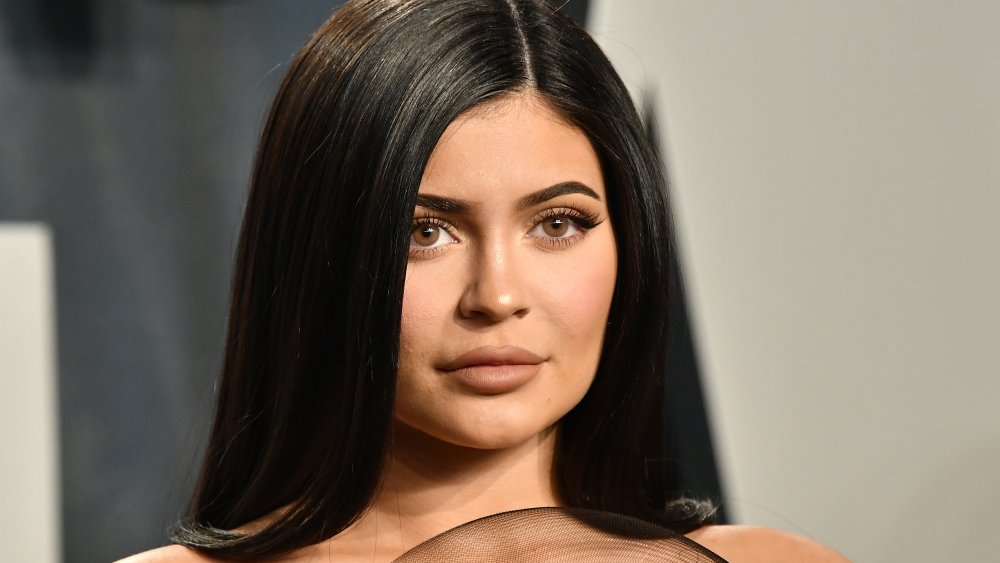 Frazer Harrison/Getty Images
What Kylie Jenner typically eats in a day may surprise you. Her diet is vastly different from that of her famous sisters. "We all have such different eating habits that sometimes when we're trying to choose a restaurant I wonder if we're even related," Khloé Kardashian opined on her blog. Khloé went on to reveal that she abstains from both dairy and red meat whereas her sister Kim Kardashian is all about that low-carb, low-sugar life. Kendall Jenner subsists on fast food and pizza, and Kourtney Kardashian is the complete opposite, as she sticks to a strictly organic diet. And then there's Kylie. "Kylie eats like a typical teenager but she's also super aware of what she puts in her body when it comes to fresh and organic foods," wrote Khloé. "It's all about that moderation, boo!"
If you're curious to know more details about the self-made billionaire's diet, we've got you covered. This is what Kylie Jenner typically eats in a day.
Kylie Jenner typically eats this after waking up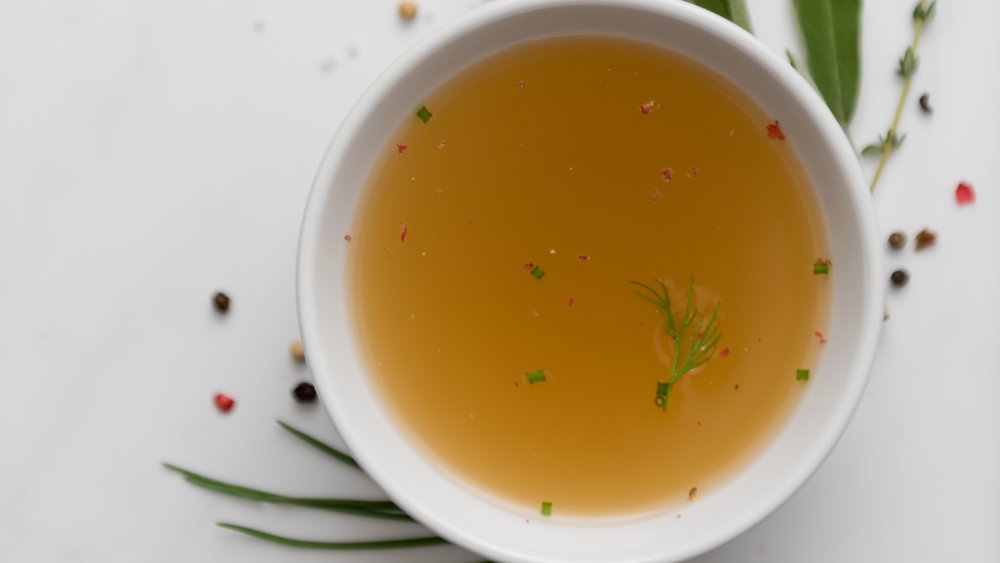 Shutterstock
Kylie Jenner is an early riser with a typical wake-up time of 7 a.m. "I like to bounce out of bed. I can't just stay there and hang out," she told Harper's Bazaar in 2016. An hour later, it's time for her to get some fuel. "I've never been a breakfast person," Jenner told the publication. "If I do eat breakfast, it's at home, and it's not healthy at all. I just don't like granola or cereal or anything like that, so I'll do hash browns or bacon or banana pancakes."
In the years since, though, Jenner has made quite the change to her mornings. In February 2020, Jenner revealed in an episode of Harper's Bazaar's "Food Diaries" that she starts her day with bone broth. "It's mixed with lavender and lemon," she explained. Jenner further divulged that she doesn't drink bone broth solely in the morning. Instead, she "[sips] on bone broth all day" and goes through two large jars on a daily basis.
Kylie Jenner often drinks fresh celery juice each morning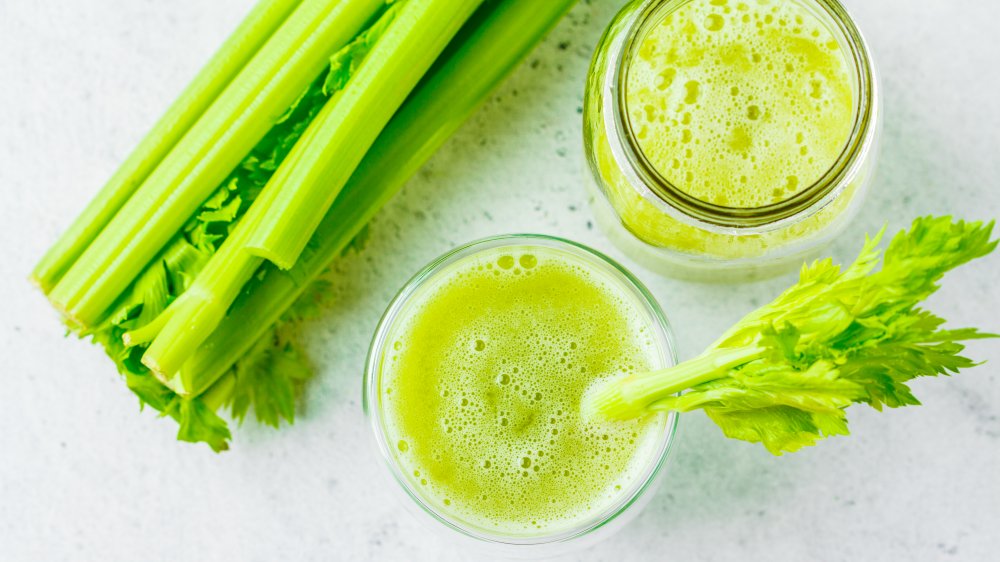 Shutterstock
Although bone broth is one of Kylie Jenner's go-to morning drinks, she also enjoys starting the day by drinking celery juice. She revealed to Harper's Bazaar's "Food Diaries," "I have a whole drawer in my refrigerator of just raw celery. So, I will juice it fresh."
In an Instagram story (via Daily Mail), Jenner revealed that she drinks roughly 16 ounces of the fresh juice in the morning. Jenner listed off some of the health benefits of celery, including its ability to aid weight loss. "I drink it for the health benefits not the weight loss," she clarified in a follow-up Instagram Story, "but wanted to add that in there."
There's also a very good reason behind Jenner's decision to make celery juice herself and drink it fresh. "Consuming celery shortly after it's been chopped or blended preserves more of its nutrients," registered dietitian Cynthia Sass explained to Health. Of course, you could also just eat celery. "You'll get similar benefits from eating celery and plenty of other fresh veggies in a variety of ways throughout [the] day," the expert continued.
Kylie Jenner usually eats the same thing every day for breakfast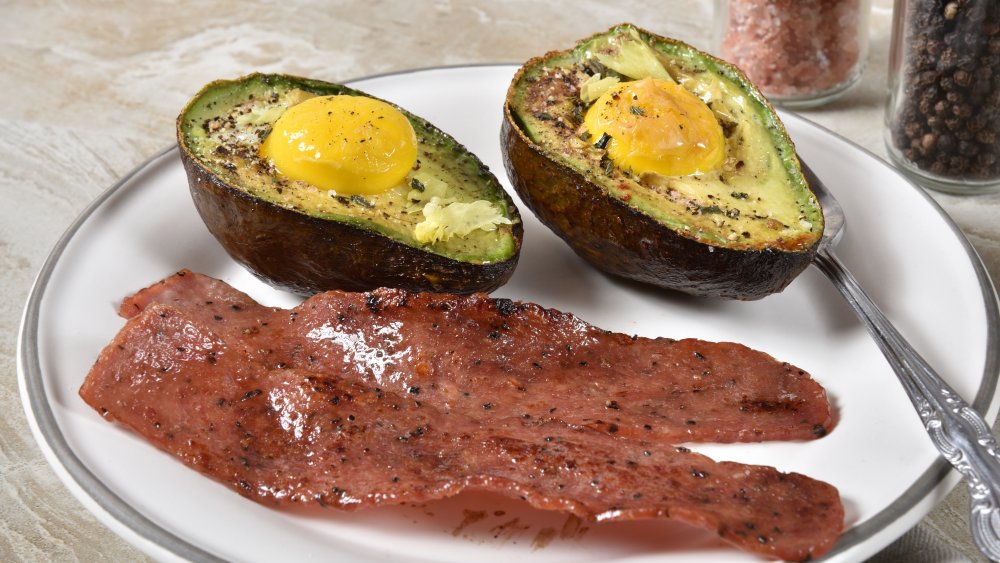 Shutterstock
Kylie Jenner has a number of routine breakfasts she enjoys. "Lately every morning I've been eating the same thing," Jenner revealed in an Instagram Story, as reported by So Yummy, featuring a picture of her typical breakfast. "Eggs, Avocado, Turkey Bacon," she explained. As So Yummy pointed out, there's some science behind Jenner's unwavering breakfast choice. 
"According to research, eating the same food for breakfast actually contributes to better decision-making," Entrepreneur further reported. Now, eating the same breakfast every day may not be what led her down the path of becoming a billionaire, but, hey, it probably didn't hurt.
Nevertheless, Jenner does run the risk of missing out on essential nutrients by sticking to the same breakfast every day. "I like to emphasize food groups instead of single foods within each group; for example, instead of choosing brown rice for every meal, consider other whole grains," Allison Knott, a registered dietitian, explained to NBC News.
Kylie Jenner orders a lot of food from Postmates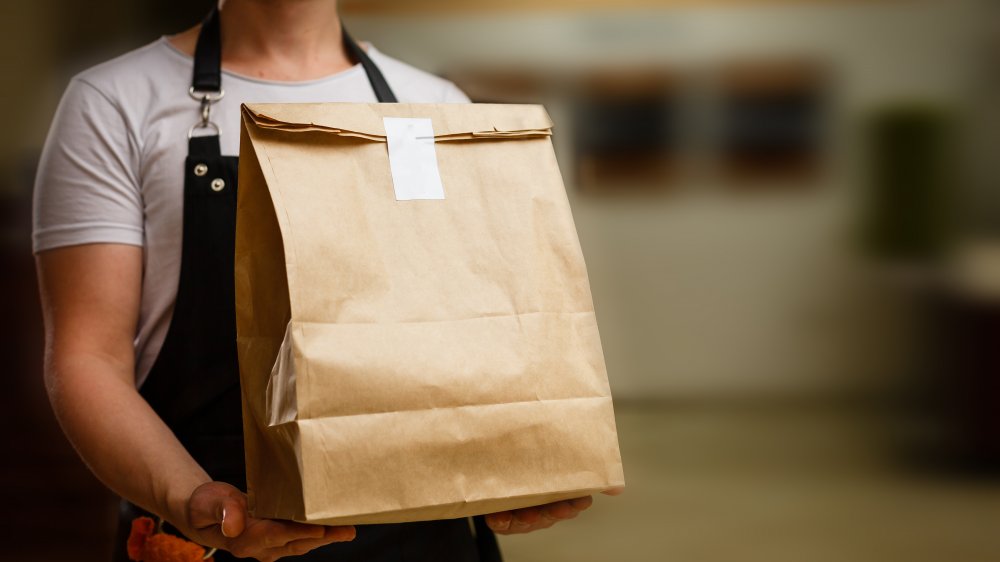 Shutterstock
If you're obsessed with Postmates, you have something in common with Kylie Jenner. In an episode of the company's series The Receipt, Postmates revealed just how often Jenner relies on the food- and goods-delivery service. "Having joined Postmates just over a year ago," the brand revealed in January 2019, "Kylie has quickly joined our top percentile of customers by using the app, on average, every other day of the year, from 65 different merchants, and for holding the unofficial record for most Postmates orders in a 10-minute window (4)." 
Unlike the majority of Postmates customers who place orders around lunch and dinner, Jenner typically places her orders on the app at 10 a.m. She also requests a wide array of foods — from bagels with cream cheese to ice cream sandwiches to pricey tequila to a single carrot. A week prior to giving birth to her daughter, Stormi, Jenner placed an order of ten chicken nuggets, a side of fries, and an Oreo McFlurry.
According to Postmates, the star has spent over $10,000 in just one year alone. Of course, that's pretty much chump change for this celeb.
Kylie Jenner typically drinks coffee in the a.m.
Kylie Jenner may start her day with an untraditional liquid like celery juice, but that doesn't mean she doesn't rely on more standard morning beverages like coffee. In a makeup tutorial she shared on YouTube in October 2019, Jenner divulged, "My favorite part about doing my makeup is it's like a therapeutic moment for me. I turn my music on. If I'm going to get ready at night, I'll have a glass of wine, or I'll have my coffee [if] I'm doing it in the morning." 
If you're wondering how Jenner takes her coffee — and we know you are — we've got the answers. In an Instagram Story (via Bravo's Style & Living), the star shared a photo of her "vanilla iced latte with oat milk" from Alfred Coffee.
If she's making coffee at home, she forgoes the oat milk and instead opts for a vanilla-flavored coconut milk collagen creamer, as evidenced by one of her Instagram Stories (via Delish).
Kylie Jenner doesn't eat nuts each day anymore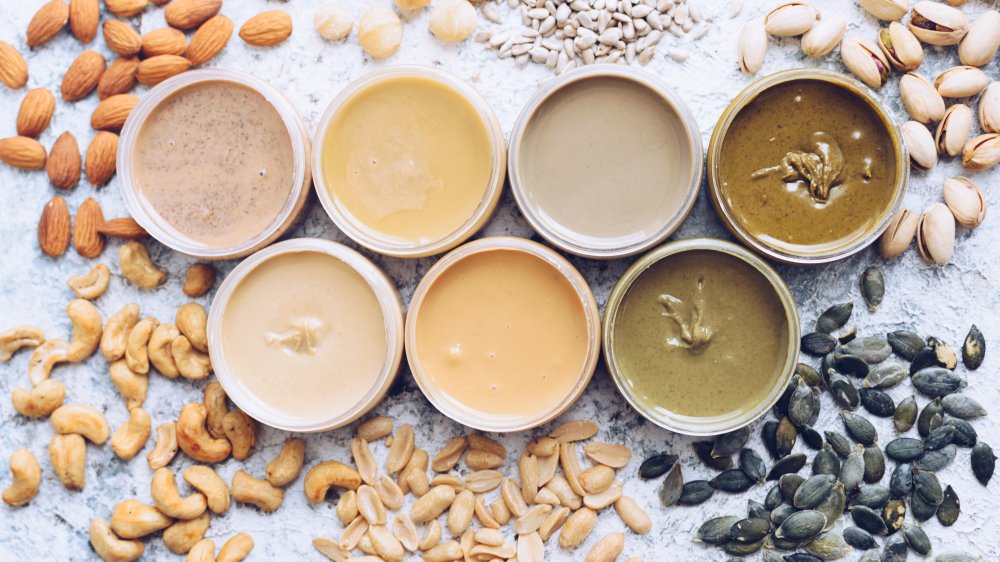 Shutterstock
"Every time I get hungry for a snack during the day, I like to have Justin's Almond Butter packets," Kylie Jenner told The New York Times back in 2015. "It's easy." Although almond butter remains a simple grab-and-go snack, Jenner doesn't eat it anymore — but it's not because her tastes have changed. Jenner explained to Harper's Bazaar's "Food Diaries," "We are a peanut-free household because Stormi is allergic." She clarified, saying, "All nuts, actually, not just peanuts."
Back in June 2019, Jenner shared an Instagram Story (via E! News) alerting fans that she had "spent the day in the hospital with my baby." She continued, writing, "She had an allergic reaction but is 100% okay now and we are home." Jenner didn't go into details at the time, but a source confirmed to E! News that is was a "food-related" allergic reaction.

Kylie Jenner typically eats one of these lunches each day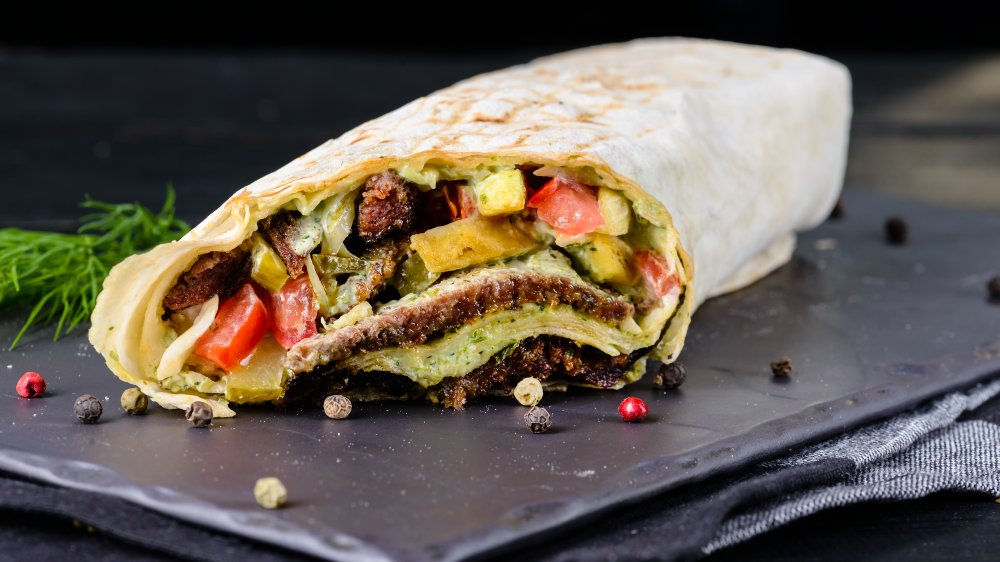 Shutterstock
Although her morning meal is pretty much the same day in and day out, Kylie Jenner's lunch varies. "A typical lunch for me — I can't eat the same thing every day — but I do love lemon chicken with vegetables," Jenner detailed to Harper's Bazaar's "Food Diaries" series. "Sometimes, I'll make myself some tacos," she continued. "Today, at the shoot, I ordered a steak burrito and some rice, some enchiladas. I was feeling Mexican food vibes today. It really just depends."
Jenner also praised the offerings at casual eatery Health Nut. She revealed she'll often order one of their salads or a "really bomb tuna sandwich with wheat bread and lettuce." As BuzzFeed revealed, the salads you routinely see on Keeping Up With the Kardashians are from Health Nut. The Jenner-Kardashian clan have been fans of the eatery for a long time.
Kylie Jenner often goes here for a cheat meal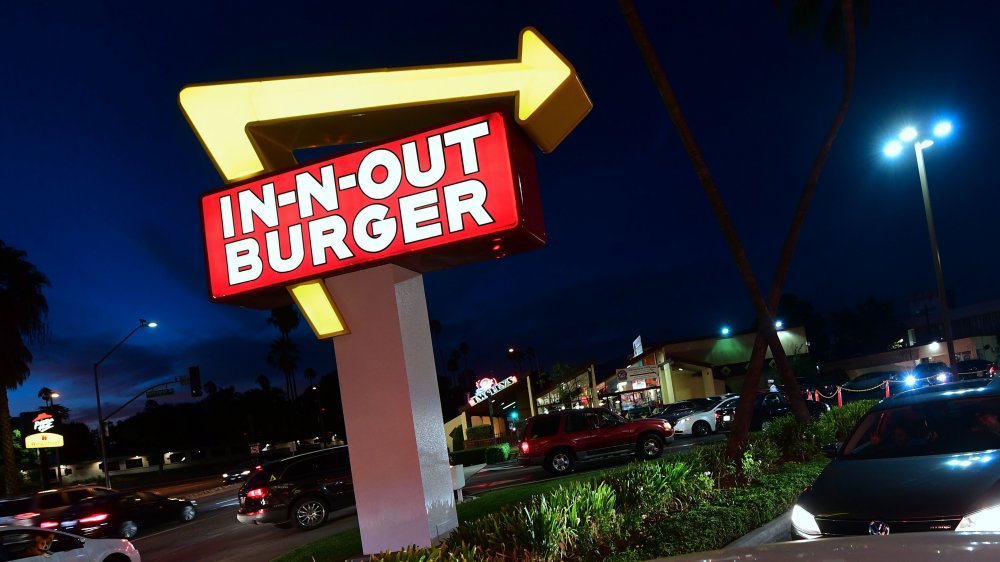 Frederic J. Brown/Getty Images
"People always find it funny that [Kendall Jenner] is on the anti-model diet," Khloé Kardashian revealed on her blog (via Brampton Guardian). "She loves burgers and pizza and goes to In-N-Out all the time. Kendall is my go-to-girl on cheat day!" Although Kendall may be Khloé's ideal cheat-day partner, Kendall isn't the only Jenner to hit up the burger joint's drive-through. 
In her YouTube video "To Our Daughter," published in February 2018, Kylie Jenner admitted to loving fast food during her pregnancy. "It's just In-N-Out these days literally tastes like, oh, it's the best thing I've had," she's recorded saying. Jenner's go-to order — "double cheeseburger and fries, well-done" — was also captured in the video.
Despite no longer being pregnant, Jenner still considers In-N-Out Burger to be her "favorite cheat meal." If you've ever been, you can probably relate to Jenner's love for this West Coast fast food chain.
Kylie Jenner usually eats these meals when traveling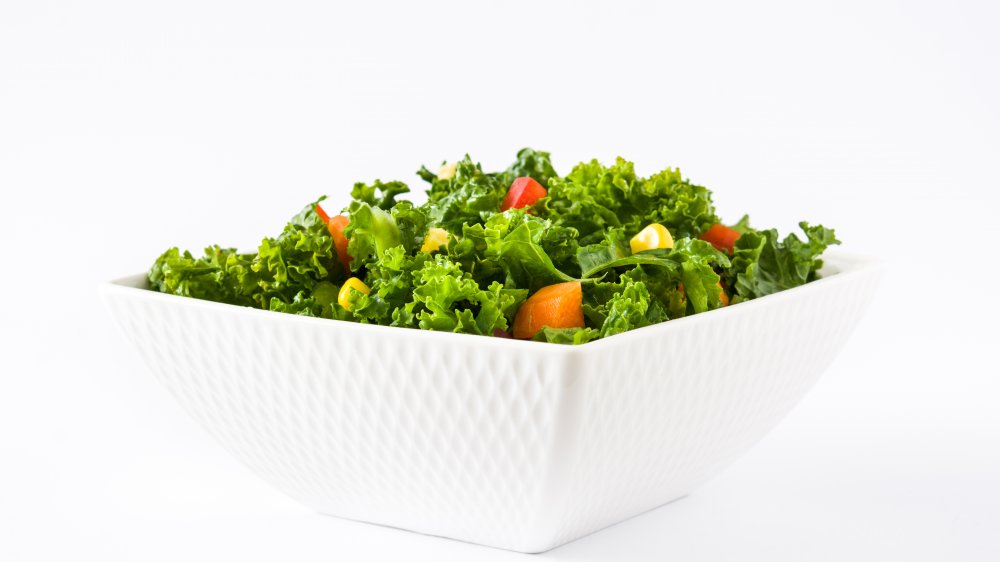 Shutterstock
Although it can be challenging to eat healthy while traveling, Kylie Jenner sticks to a pretty basic and healthy meal plan while away. "When I'm traveling, I usually always order lemon chicken and white rice and vegetables," she divulged to Harper's Bazaar's "Food Diaries." She added that she also likes to order a "kale salad — yum — kale salad with jalapeños and croutons." She noted, "That's bomb."
Jenner is definitely onto something with her travel meals. Registered dietitian Edwina Clark told Self that it's a good idea to have vegetables make up half of what you're eating, no matter where you are. 
Of course, it can be difficult to find veggie-based meals at airports, but you should have an easier time finding healthy options once you arrive at your destination. "One of the first things I do when reaching a destination is hit the local grocery store," Amy Gorin, a registered dietitian nutritionist and owner of Amy Gorin Nutrition in New York, further advised to Self.
Kylie Jenner typically eats old-school snacks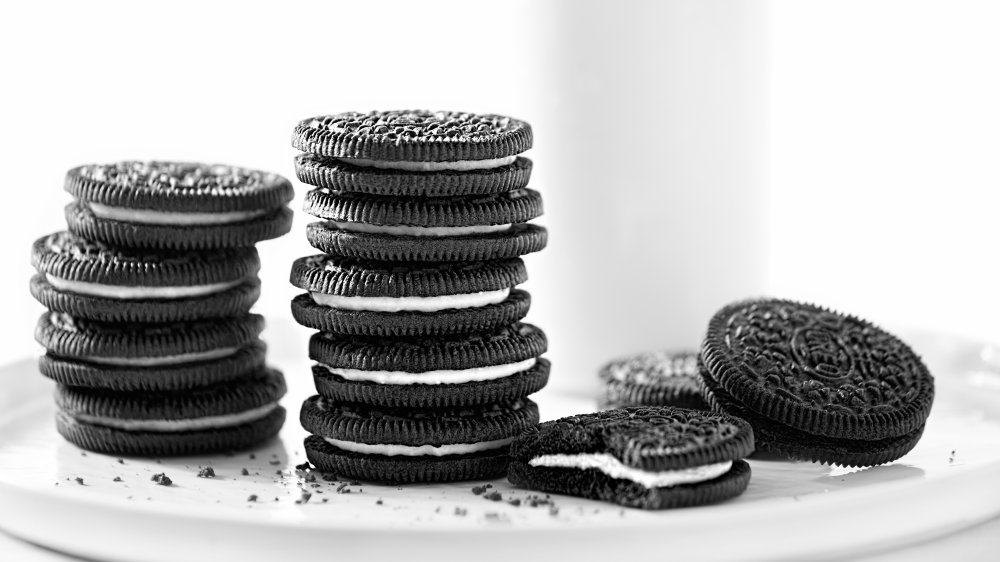 Shutterstock
"Junk food is bomb," Kylie Jenner revealed in a blog post, fittingly titled "My Favorite Snacks RN," on her site (via People). Uh, she's not wrong. "I try and eat healthy most of the time but I def love me some old-school snacks," the star added. And she's not picky about where she gets those snacks. She continued, "Vending machines make me happy!!!"
Jenner listed off her top go-to snacks, which range from Flaming Hot Cheetos to Diet Coke to Lucky Charms. Although she likes her fair share of unhealthy snacks, she enjoys healthy ones as well. In a 2018 video tour of her kitchen, Jenner shared that she likes to keep her fridge stocked with organic products, and she discussed her love of Health-Ade kombucha. Jenner also admitted that she always has a stash of grapes in her freezer. "Frozen grapes are the best," she explained.
On her kitchen counter, she features a couple non-organic snack choices — Oreos and Trader Joe's Joe-Joe's, which Jenner claims are "the best cookies ever" — in large glass jars. However, her reason for storing them on the counter may be for more of a monochromatic aesthetic. "I wanted my whole house to be black and white," she explained in the video.
Kylie Jenner doesn't typically eat dairy products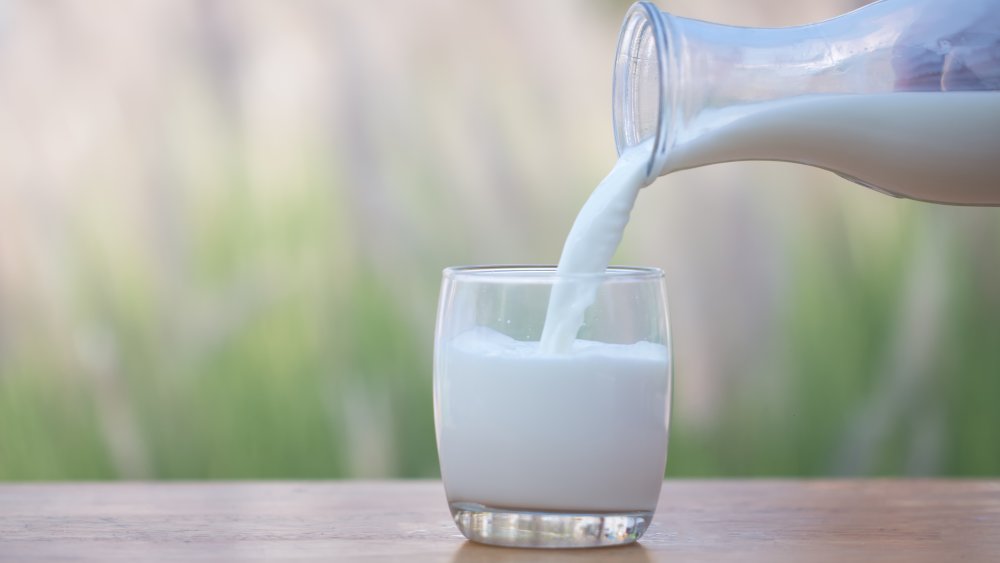 Shutterstock
With the exception of Oreos and Trader Joe's Joe-Joe's, you won't see Kylie Jenner eating many foods that contain dairy. "I ... started going to this nutritionist because I was having a bad reaction to dairy," Jenner revealed in an interview with The New York Times in September 2015. "I feel like it made me gain a lot of weight. I've now cut out dairy, and it's helping me get back in shape."
After losing 15 pounds that year, Jenner also told E! News that she had started working out more and eating a healthier diet. "Well," she clarified, "I didn't realize I was lactose intolerant. I just became lactose intolerant like, this year." She continued, saying, "And I love like, cheese and everything so I'm so mad but, I dunno, I just, it was my year to eat bad." Jenner figured that, because she was young, she didn't have to worry about what she was putting in her body. "But now, this last month, I've been working on it just for health reasons only," she explained. 
When you stop eating dairy, it is indeed possible for weight loss to follow.  
Kylie Jenner usually eats miso soup in a day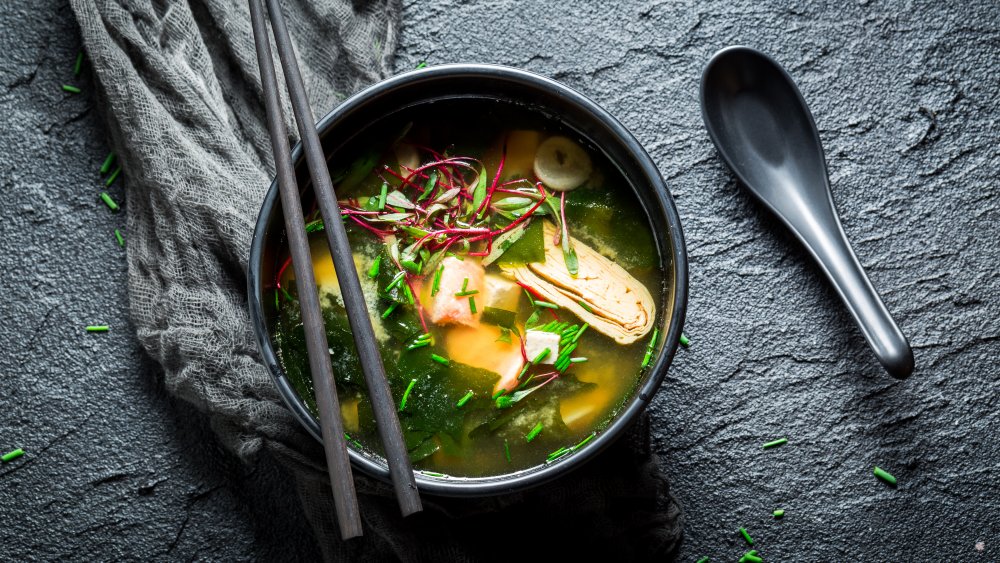 Shutterstock
It would be an understatement to say Kylie Jenner eats a lot of miso soup. According to Us Food, the Miso Ramen Bowl from JOEY was Jenner's second-most ordered meal on Postmates. "What I think really brings Kylie back to ordering from JOEY time and time again is the proprietary blend of misos we use," Ted Anderson, the concept development chef at JOEY Restaurants, revealed to the publication. "This dish is made with red, white and brown misos in addition to a special 'ramen miso,' as well as garlic, sesame seed oil and togarashi chili." Yes, please.
Us Food further explained that the dish also includes a combo of grilled chicken, grilled corn, bamboo shoots, sun noodles, and a "65-degree egg." It is perhaps not your average Postmates order, but this is Kylie Jenner we're talking about after all.
If you don't live close enough to one of the restaurants' locations but still want to try the dish, you'll be happy to know the chef provided a DIY recipe to the publication.
Kylie Jenner will often eat sushi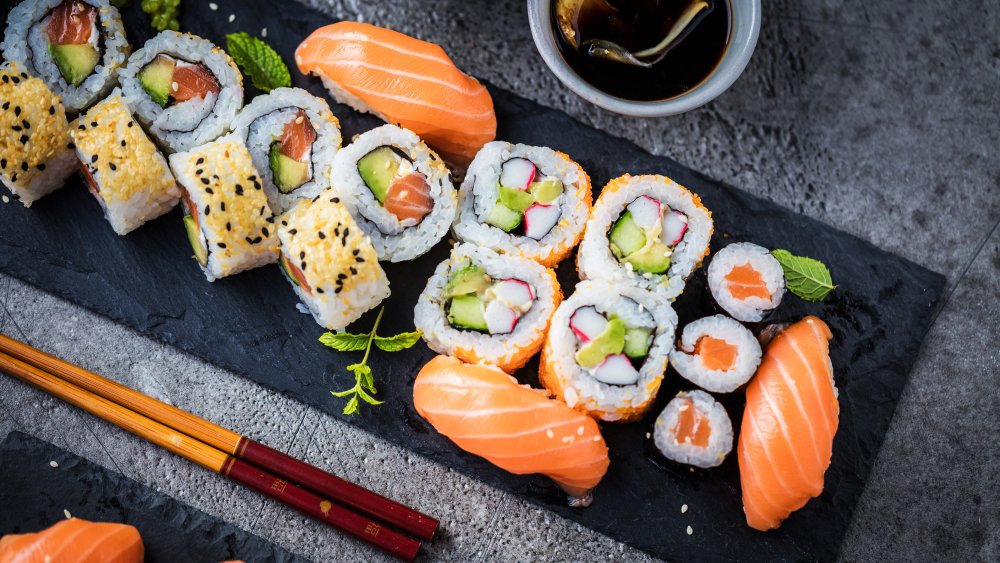 Shutterstock
Kylie Jenner is all about Japanese cuisine, including sushi. "I started eating sushi when I was in, I want to say, middle school because my best friend growing up had sushi with her family every Monday night," Jenner revealed in a YouTube vlog in May 2019. She explained that her family never ordered or went out for sushi so she hadn't been exposed to it beforehand. She started out with shrimp tempura rolls because, as she said, "I feel like sushi, if you don't grow up on it, it's kind of an acquired thing." Before long, though, she was hooked.
Jenner revealed that she's also already introduced her daughter, Stormi, to sushi, although she doesn't give her anything raw. Stormi already loves edamame, according to Jenner. "She will not stop until they're all gone," she explained. She'll also "eat a whole bowl of soy sauce rice."
Kylie Jenner typically eats this healthy snack before going to sleep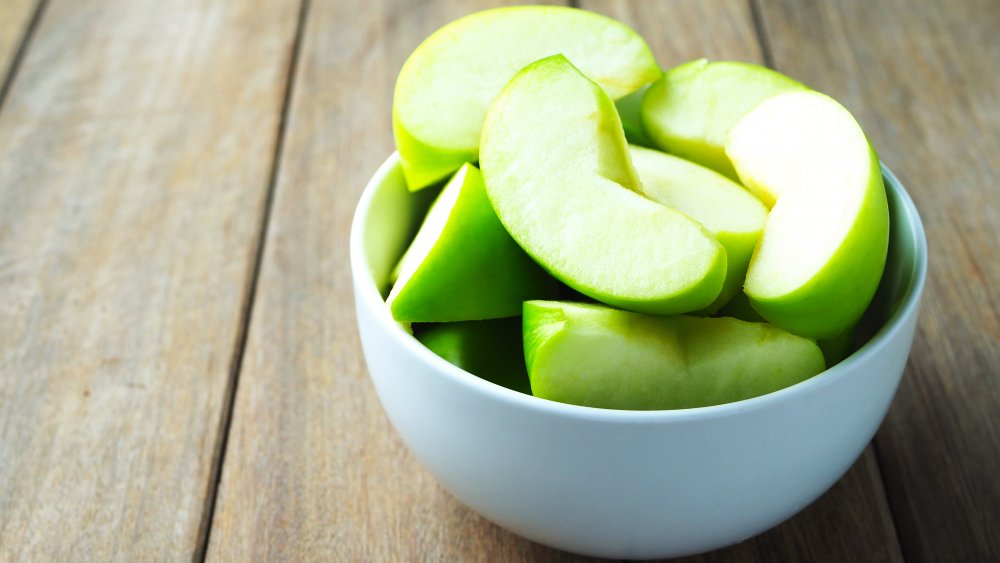 Shutterstock
"An apple a day keeps the hunger at bay" may not be a phrase you've ever heard, but it has pretty much become Kylie Jenner's motto. In an interview with Harper's Bazaar's "Food Diaries," Jenner detailed how she avoids snacking at night.
"I avoid late-night cravings because I lock myself in my bedroom and I turn on my TV," she began. "I get really comfortable, and I pre-slice an apple by my bed and, since I'm really comfortable, I'll be too lazy probably to go down to the kitchen so my only choice is this apple." Hey, whatever works, right?
It may sound unusual, but Jenner's trick to, as she says, "swerve" late-night cravings, is actually not a bad one to emulate if you struggle with overeating before bed. "Planning your meals and eating healthy snacks can reduce the chances that you will eat on impulse and make poor food choices," Healthline explained. "Having a meal plan can also reduce any anxiety about how much you are eating and help you spread your food throughout the day, keeping hunger at bay."