Are Chip And Joanna Gaines' Kids Homeschooled?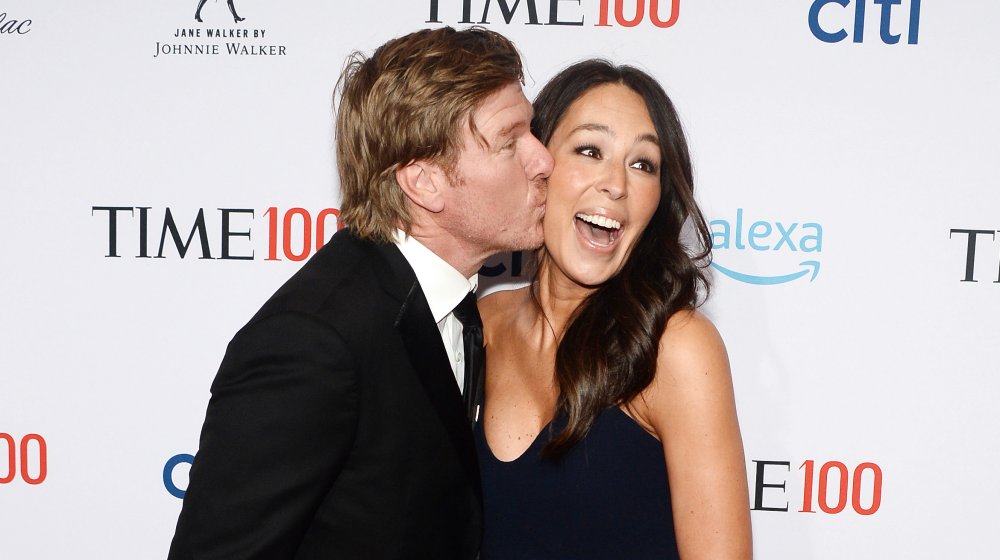 Noam Galai/Getty Images
When Chip and Joanna Gaines made the devastating decision to step away from Fixer Upper for good, the well-being of their children was a big part of why. "They're so young, and we want to give them the chance to have a normal childhood," Joanna told People at the time, explaining succinctly, "Family is the most important thing in the world."
The couple told the publication in a separate interview that their parenting style strikes the perfect balance (they hope) between strict and laid-back, with Joanna admitting, "[There are] certain things that I really care about, but I think the funny part, with Chip, is just the video games, the TV. That's where he kinda gets a little strict. It's, 'You go play outside.'"
Chip and Joanna Gaines are all about living the simple life
Entertainment Tonight notes the Gaines family lives in a 113-year-old farmhouse on 40 acres along with several goats, chickens, horses, and cattle. They don't have a TV and their children won't be getting iPhones any time soon, as Joanna explained, "We want to teach our kids that life happens outside of these devices. It's just a simple thing to go outside and connect with nature, play with your friends and get dirty."
What Chip and Joanna Gaines were like before the fame is fairly similar to how they are now: what you see is what you get. With family life as idyllic as it appears, the question of whether Chip and Joanna actually homeschool their children keeps cropping up. The ex-Fixer Upper hosts are known for keeping their family mostly under wraps, and their low-tech, "get outside and play" attitude is well known. Likewise, their strong Christian faith would also lend itself well to a homeschool environment.
Several things point to Chip and Joanna Gaines homeschooling their kids
This doesn't necessarily mean their children don't attend local schools, but it's worth noting, as per Romper, the Gaines' belong to the Antioch Community Church, whose website notes the majority of members homeschool their kids due to a belief that God will lead the family towards the schooling that's best for them. 
In a YouTube video shared by her Joanna's alma mater, Baylor University, she spoke at length about the role God has played in her life, so clearly religion is a core element of her life. "I was... pregnant with my second child, and I really felt like God was saying 'hey, I want you home, I want you raising these babies at home at this age,'" she says in the clip — could that attitude extend to education?
The Gaines' might not have time to tutor their kids, however, as they've got their Magnolia empire to run, as well as a collection at Target, and Joanna's children's clothing line in partnership with Matilda Jane. But their children showed up on Fixer Upper so often, it seems highly likely they're homeschooled.