How To Get Married At The Same Venue As The Love Is Blind Couples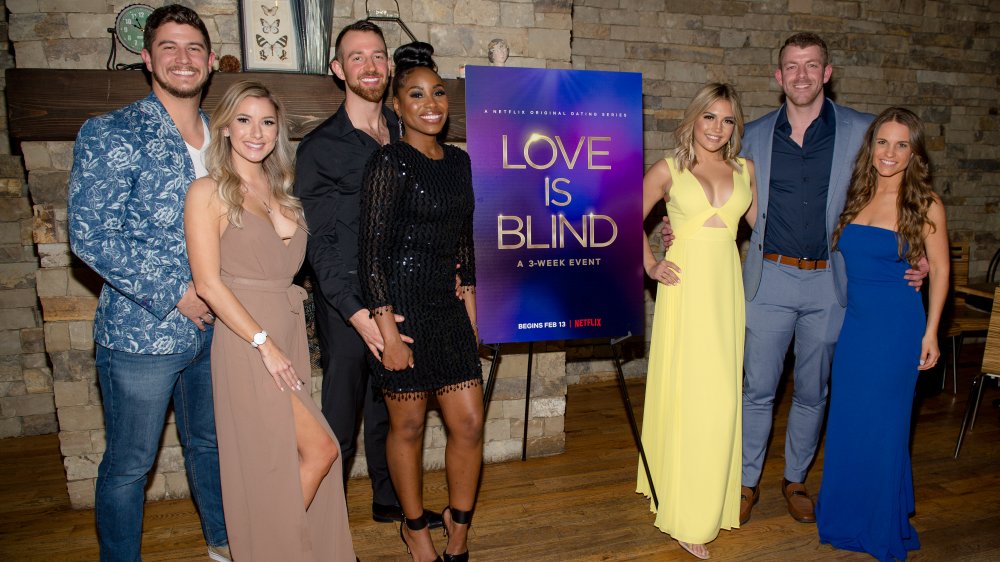 Marcus Ingram/Getty Images
Love is Blind is the Netflix surprise super-hit that had fans cooing over the cuteness and hiding behind their hands during the more awkward moments. We've also all collectively wondered whether Love is Blind is real or scripted, and it turns out it's all too real. The season finale brought to a close a debut loaded with must-watch moments, but anybody who's obsessed enough with the show might be looking to follow it all the way down the aisle.
And you can. The wedding venues featured on the show are both in Atlanta and are easily accessible for the right price. If you'd like to get married where the Love is Blind couples made it official, get ready, because your own fairy-tale might be about to come true, too.
The Estate provides classic glamour
According to Decider, there are two Love is Blind wedding venues to choose from. The Estate, where four of the weddings took place, is an 18th century home in the Buckhead forest. Elsewhere, Mark and Jessica's ceremony took place at Flourish, a decidedly more modern space. Both venues are operated by local event planning company Legendary Events.
The Estate is a 14,000 square foot classic antebellum house originally built in 1797 that was disassembled and rebuilt at some stage over the years. Its stunning location hosts both indoor and outdoor ceremonies. According to Here Comes the Guide, it'll set you back about $45,000 to get hitched there (Women's Health advises a Saturday wedding will set you back somewhere around $30,000), but the venue does come with in-house catering and can hold up to 220 guests for an indoor ceremony.
Flourish is a more modern wedding venue
Flourish, on the other hand, is an event space rather than a historical location. The location boasts several different rooms, including a ballroom, open-air courtyard, and even a VIP room. According to Here Comes The Guide, package prices also start at around $45,000, depending on date and time. However, Flourish can hold up to 400 guests for an indoor ceremony, so it's a much larger space than The Estate.
According to Hello!, the Love is Blind weddings all took place on a Thursday, which means they were slightly cheaper. There was also a Netflix discount at play. We don't know exactly how much, but creator Chris Coelen told Bustle, "Of course production supplies some of the basics but because these are their real weddings, it's up to them as to how to spend their money."