What To Do If You Accidentally Cut Your Bangs Too Short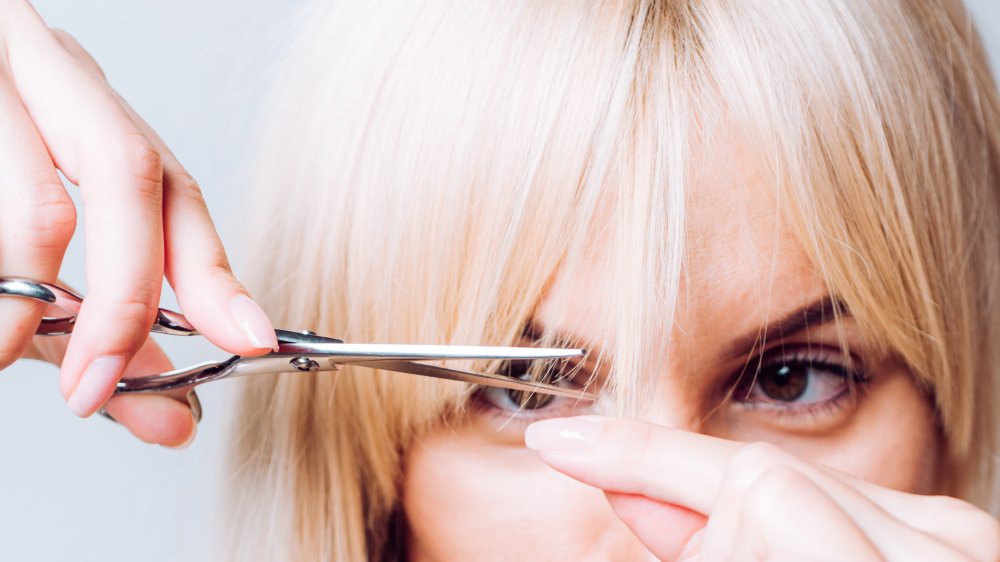 Shutterstock
Getting bangs is a big commitment. And whether it's your first time or fifteenth time, when you hear the final snip it's always slightly anxiety-inducing, which is totally understandable when you (or your hairdresser) accidentally cut your bangs too short. Luckily, there are a few things you can do while you grow them out. 
Professional stylist and colorist Everson Lima of Hopscotch Salon in Greenwich, Connecticut, told Today that the easiest thing to do when you have fringe you don't like is reaching for some product. "Products can really help to curb fly-aways and give your hair a little tension..." Lima said of bangs that fall in your eyes. However, the same holds true for any bangs you want out of the way. She went on to say, "Use a round brush and drive your hair backwards and to the side. A tiny bit of wax will help the bangs 'melt' into the rest of your hair." Another easy option is a headband, especially in 2020, when hair accessories are trending.
Use hair accessories to style your bangs how you like
Shutterstock
Another trend you could jump on is hairpins or even bobby pins. "This isn't just for someone who hates their bangs, either," freelance hairstylist Frankie LoPriore told Today. "A ton of people rock pins, even if they have longer hair. So go for it." You can use pins to do a whole range of hairstyles, whether it's pinning your bangs to the side or straight back if they're long enough. "If they're not too short, you can create a side braid and have it curve back above your temple," LoPriore added.
Alternatively, you might want to head into a salon and get them restyled. "It's all about the transition to side-swept bangs and reshaping everything in the front," Julien Farel, founder of the Julien Farel salon, told Women's Health. Once they start to regrow, Ric Pipino, a celebrity stylist and Alterna Haircare's vice president of Global Creative, suggests simply changing your part to a side part. "This can camouflage the growing-out process," he told Women's Health. Then you play the waiting game until they're at a length you're comfortable with.