The Stunning Transformation Of Lily-Rose Depp
Lily-Rose Depp was always destined to be a star. As the daughter of two famous and beautiful celebs, the one and only Johnny Depp and French singer and model Vanessa Paradis, Depp may give off an air of untouchable, irrevocable coolness, but deep down she's still just a regular 20-something — albeit a rich and famous one.
Depp's career is in its infancy, but the star's growing slate of acting roles — predominantly in left-field independent movies rather than big-budget blockbusters — and modeling gigs has ensured everybody knows who owns that face. Depp may be young, but she's already bagged a Cesar award nomination (the French equivalent to an Oscar) and is in a relationship with a high-profile costar. It's clear this is one young lady whose story is only just beginning. And yet, there's already so much to uncover about her. This is the stunning transformation of Lily-Rose Depp.
Lily-Rose Depp had a very supportive upbringing
Unlike many of her contemporaries, Lily-Rose Depp spent many of her formative years in Europe, where her mother, Vanessa Paradis, instilled in her progeny the importance of being true to oneself and being confident above all else. The iconic actress was speaking from experience of course, having raised eyebrows following the release of her 1987 song "Joe le Taxi," in which a youngster cavorts with an older man, which was followed up by a now-infamous sultry Chanel commercial several years later in which Paradis appeared as a Lolita-style pin-up, according to The Face.
"People were truly horrible to her. It was a different time," Depp reflected in conversation with the publication. Showing wisdom far beyond her years, the actress and model opined about how much of a "trailblazer" her mother was, acknowledging that, back in the day, ​"women weren't as celebrated for being comfortable in their sexuality."
Asked whether she'd ever consider following in Paradis' boundary-pushing footsteps, Depp mused, "I'm French." By her own admission, Depp grew up utterly supported — "by a French mother who taught me that there was nothing shameful about your body." So, why not?
Lily-Rose Depp has a long history with Chanel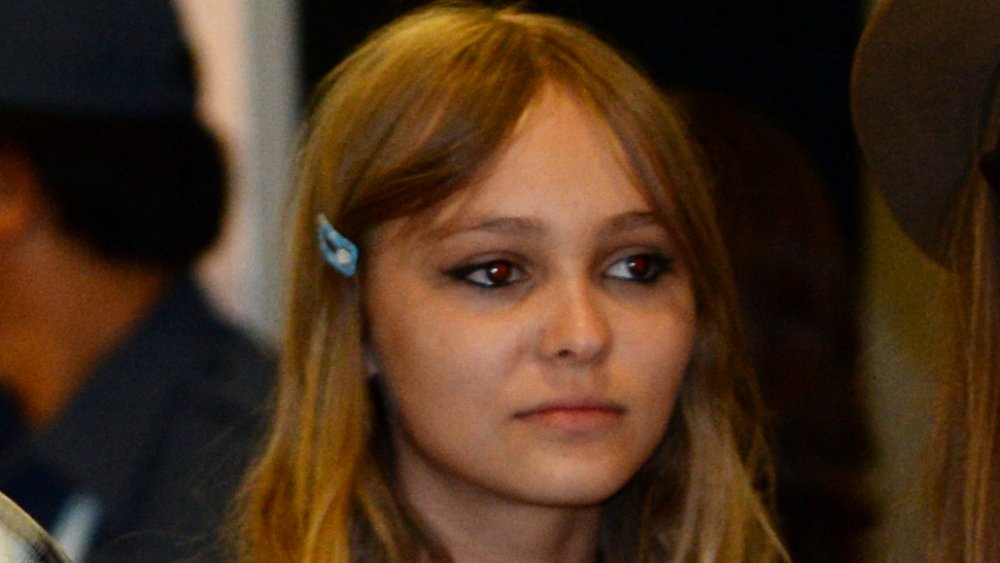 Toshifumi Kitamura/Getty Images
Most of us have embarrassing baby photos we hope will never see the light of day, but Lily-Rose Depp has one that could easily end up in a fashion magazine — and purely on its own merits. The Face makes reference to an old shot of the lady in question wearing little more than a diaper and a pair of her mother's Chanel heels, posing up a storm and looking as effortlessly cool as she does today. It's no wonder Depp would eventually end up on the radar of iconic Chanel designer Karl Lagerfeld.
In the early '90s, young Depp often accompanied her mother to fittings at the fashion house, describing the experience to Vogue Australia as "so exciting and magical." Lagerfeld himself, meanwhile, was "so sweet, down to earth and really caring," according to Depp. The model continues to have a fondness for the French label, telling The Face she even spritzes on some No. 5 perfume just to wear around the house.
Lily-Rose Depp found a special home with Karl Lagerfeld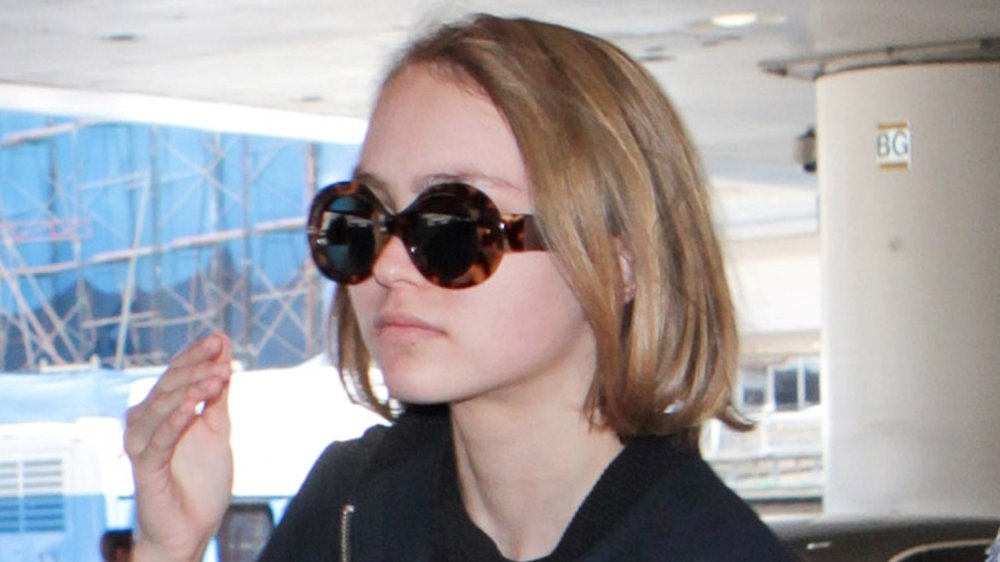 BACKGRID
When the call to work for Chanel finally came, Lily-Rose Depp's grandmother, Corinne, worked as the intermediary just as she had for Paradis. It was 2015, and Depp, hardly a known entity at that point, was elated and surprised she was chosen. "I called the team that I now know pretty well, that I love so much. I talked to them, talked to Karl, and it was just a really special moment for me," she gushed to The Face. Having admired the luxury brand, and particularly Lagerfeld, for so long, being asked to front a campaign felt like a homecoming to the young model.
She told Vogue Hong Kong, "Chanel feels like a family in a way that no other working relationship ever has. I've known the whole team since I was little and to be able to work with them now is a huge point of pride for me. The work is great, but the people behind it make it really special." Depp credited her relationship with the late Lagerfeld for essentially kick-starting her career.
Lily-Rose Depp values normalcy over popularity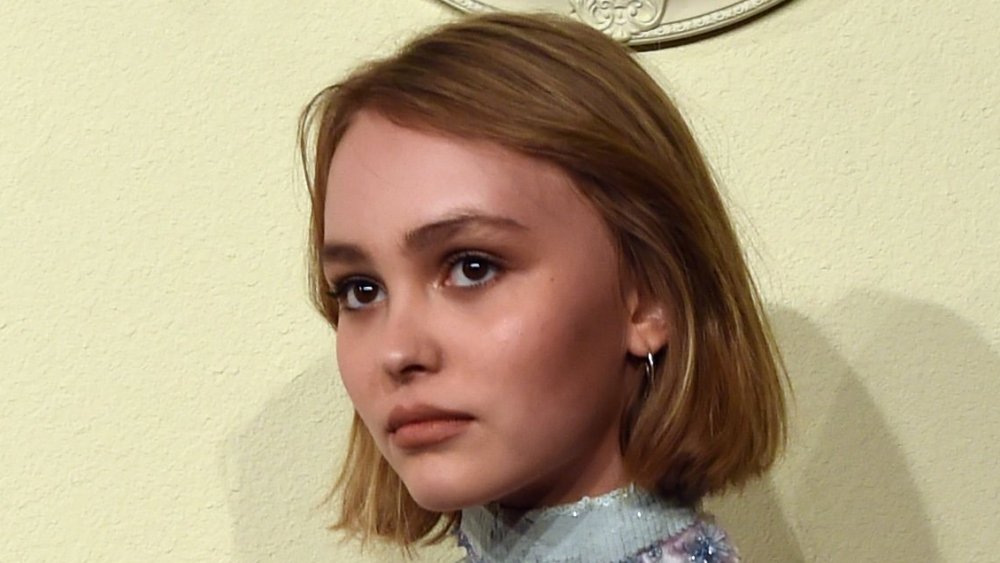 Timothy A. Clary/Getty Images
Despite growing up with two massive celebrities as parents, Lily-Rose Depp enjoyed a relatively normal upbringing. As she told Vogue Australia, it was entirely by design as neither her father nor Paradis had any interest in foisting the spotlight upon their daughter. "My parents have always wanted me to have as normal of a life as possible and have really taught me to value privacy and your personal life," she explained proudly.
Given the difficult time her mother in particular had with the press, Depp learned early on that fame is a double-edged sword. Although she's active on Instagram and is frequently snapped by the paparazzi, the French-American understands there are some things worth keeping only for herself.
"There's definitely something to be said about not giving everything away," she argued, acknowledging the struggle of growing up with cameras following everywhere she goes. At the end of the day, Depp said it's all about "knowing what I am okay with sharing and knowing what I want for myself."
Lily-Rose Depp is actually a homebody
Given her age, Lily-Rose Depp has spent much of her life online. But, despite how much she enjoys allowing fans a window into her life, the actress and model is quick to clarify that her Instagram feed doesn't show the whole picture. As she explained in an interview with Hello!, "People have the impression they know who I am. But I am someone who is very secretive, very discreet."
Depp went on to explain that, far from partying every night or showing up on every red carpet in town, she actually prefers staying in and just hanging out with the people closest to her. "I'm a homebody, I don't go out much," she admitted, noting that the older she gets, the more she'd rather keep to herself than share everything with millions of strangers. Besides, as she told Vogue Australia, "I like Instagram, but I don't think it's really healthy for me to be constantly on social media. And that's for the best."
Lily-Rose Depp acquired a taste for acting in Tusk
She may be have one of the most recognizable faces in young Hollywood, but Lily-Rose Depp didn't always envision herself gracing the silver screen. In fact, her very first role, which was in Kevin Smith's hugely underrated biological horror comedy Tusk, happened by chance. Smith's daughter, Harley Quinn Smith, had a small role in the film and suggested Depp — her real-life BFF — play her on-screen pal.
"First, I didn't think my parents were going to let me ... When I first heard about it I was like, 'That sounds so cool, I wish I could do it,'" Depp recalled when speaking to Interview. But then her parents said yes. "It was super last minute but that's what made it so much fun," she further revealed.
The two ladies stole the show as snarky convenience store clerks — echoing director Smith's own breakout movie, Clerks, filmed and set at the convenience store where he worked at the time — who begrudgingly help out doomed lead Justin Long. The actresses even went on to appear in their own spin-off, Yoga Hosers. Luckily, Depp's first experience with the acting life was a good one — and she was hooked.
Lily-Rose Depp was schooled on set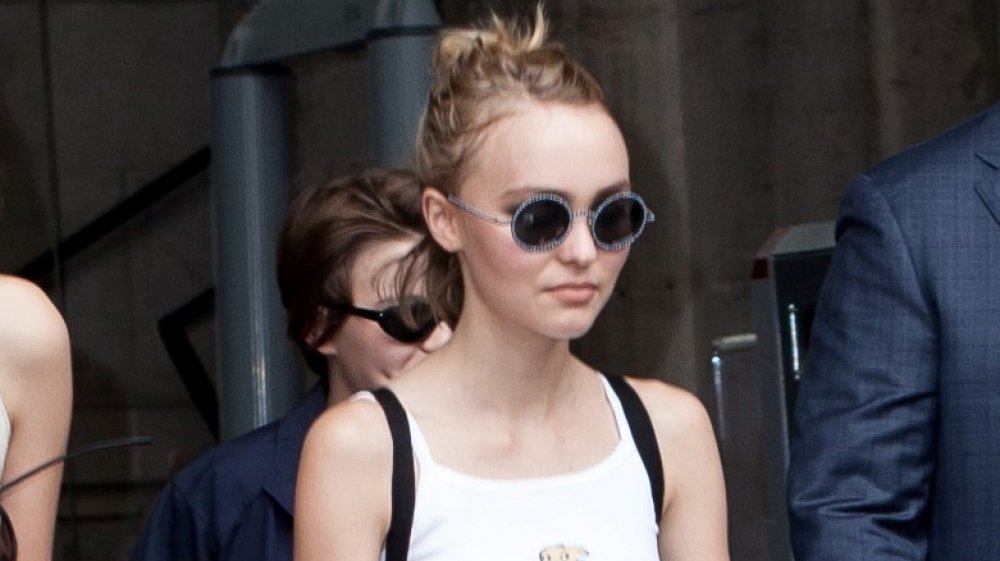 BACKGRID
Lily-Rose Depp's lifelong friendship with Haley Quinn Smith began in high school but by the time Tusk rolled around, they were no longer able to be study buddies. The flick shot during summer break, but because of the young ladies' differing schedules, both ended up being taught on set, yet separately.
Smith had a tutor that taught her in the young star's trailer between scenes. For Depp, it was slightly different. "When we were shooting, my school hadn't started back up yet, we were still on summer break," she explained to Interview magazine. However, rather than getting an opportunity to relax, the hours of study still had to be accounted for somehow. "When they would give me my school time, they would literally send me to my trailer for three hours and say, 'Sorry.' I got to read my summer reading book," she shrugged off the slight inconvenience on an otherwise dream job.
Lily-Rose Depp honors her mother's grungy-chic legacy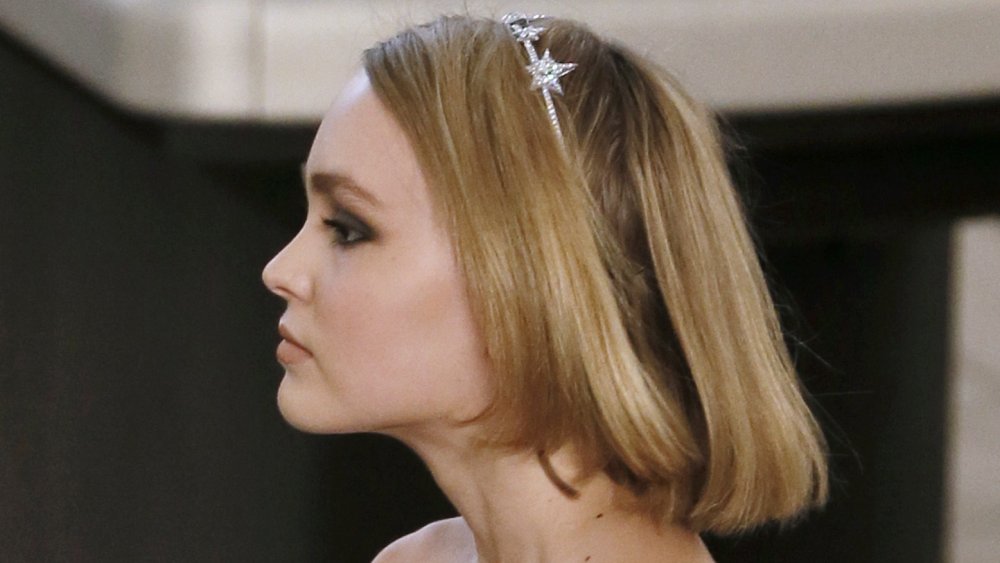 Francois Guillot/Getty Images
Vanessa Paradis is an icon and nobody may be more aware of that than her daughter Lily-Rose Depp. Aside from honoring her mother's legacy by being unashamed of her own skin, Depp quite literally followed in Paradis' footsteps in a stunningly chic photoshoot for CR Fashion Book. Photographer Steven Klein took shots of an 18-year-old Depp evocative of the same photos he captured of her mother when she was a similar age. In an accompanying interview with Natalie Portman, Depp's co-star in the movie Planetarium, she discussed paying homage to her mother's ultra cool legacy by recreating her "amazing photographs."
On working with editor-in-chief Carine Roitfeld, who also styled her first Chanel shoot, Depp further gushed, "I got to show a little more skin and be a little more sexy. I had just turned 18, so I was ready to up the ante." And, on her personal connection to this particular '90s-style photo-shoot (the theme was 1999, which coincidentally is also the year Depp was born), the model advised, "We shot in front of a mirror with the pictures [of Paradis] taped to it. I have a similar grungy look."
Lily-Rose Depp fell for her costar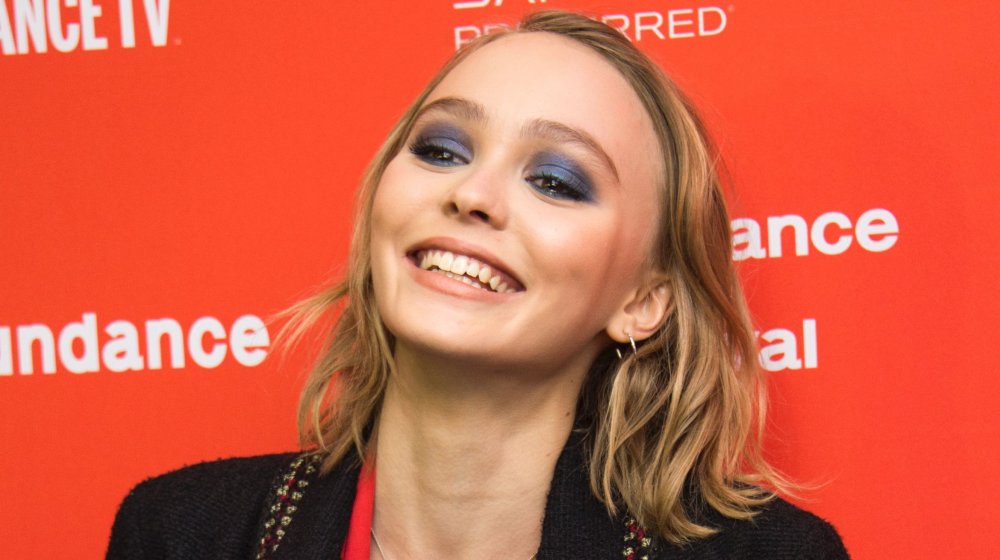 Valerie Macon/Getty Images
The self-confessed homebody isn't interested in courting the limelight or staying out all night — a detail Natalie Portman said would make her "very happy if I were your mother" — but she's still a young woman and, in keeping with the rest of the female population of planet Earth, Lily-Rose Depp fell head over heels for Timothée Chalamet. Unlike the rest of us, however, she actually went out with him IRL. Swoon. The couple's relationship was kept under wraps for the most part, but, according to reports, Depp and Chalamet started seeing each other in October 2018.
Although it's unknown whether they'll ever tell us what really went on between them, Depp did give some insight into working with Chalamet after they starred together in Netflix The King. She told Vogue UK that her co-star was "wonderful" and described his performance as "incredible." She enthused, "Timothée brings an emotional vulnerability to everything he does, almost without even trying. That's his gift. ... Nobody could have taken on the role like he did." She also described working with Chalamet as "nerve-wracking" to Entertainment Tonight because of his immense talent.
By April 2020, however, the two had split, according to Us Weekly.
Lily-Rose Depp is learning to look more outside of herself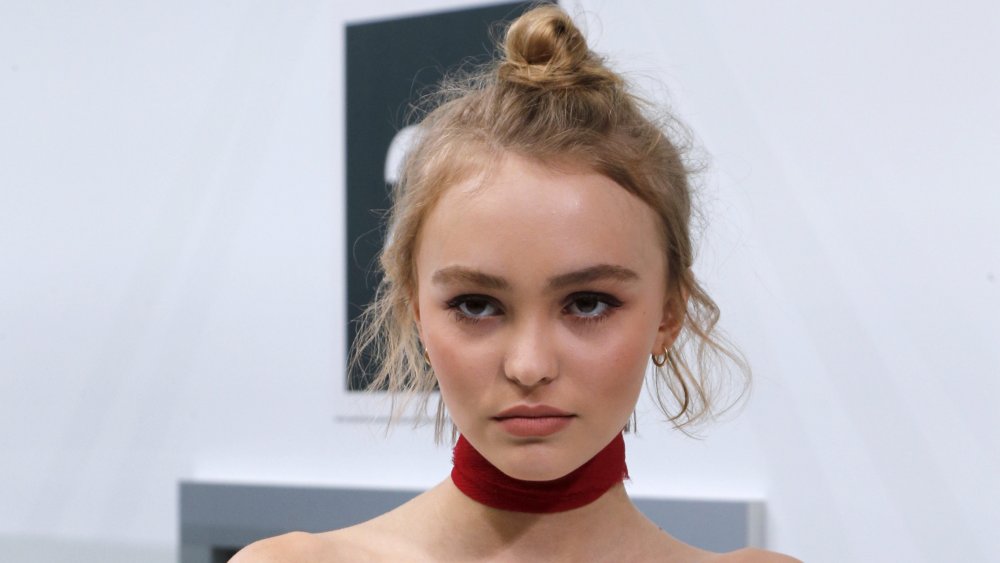 Francois Guillot/Getty Images
Being beautiful and talented — not to mention boasting equally gorgeous and skilled parents — has helped Lily-Rose Depp become a hugely sought after face in the modeling world. Despite being a model, though, she's not overly concerned with looking perfect — at least not on-screen. This has more to do with giving herself over fully to the character, the starlet revealed to W magazine.
In fact, the one place Depp feels truly calm is on a movie set. "When I'm acting, I'm not thinking about myself. Because I'm not there," she explained. Depp learns a lot from the characters she plays too. Depp described the character she played in the French film A Faithful Man as "so sure of herself and just goes for what she wants ... it's kind of impossible not to have that affect you personally." Depp also connected with her character Catherine de Valois in The King, whom Depp considers an under-the-radar feminist.
Lily-Rose Depp chooses her roles wisely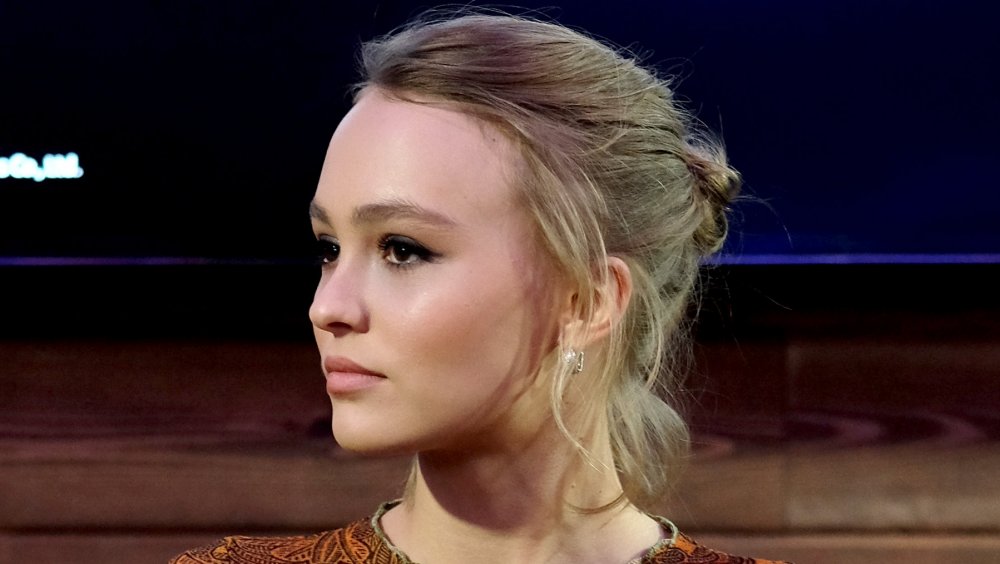 Neilson Barnard/Getty Images
Lily-Rose Depp is very choosy about projects. Although her slate seems suitably packed at any given time, she's acutely aware of how quickly things can change in Hollywood. Although she admitted to being plagued with doubts to Hello! magazine, Depp reasoned, "I don't see any solution other than to just do it." She's eager to work as much as possible and obviously the experience of being on set with the likes of Timothée Chalamet and Natalie Portman sweetens the deal, but, more than anything else, Depp is intent on choosing parts that speak to her in a very profound way.
"In each case, I loved the script and had a connection to the roles," she explained. The actress and model acknowledged that she purposely chose smaller, independent movies at first because, "I put so much pressure on myself and nothing falls from heaven, no matter what people might think." She found it more comfortable to figure out who she was as an actress outside of the blockbuster mold, where there's more money at stake, yes, but also more judgment with which to contend.
Lily-Rose Depp feels connected to both France and the United States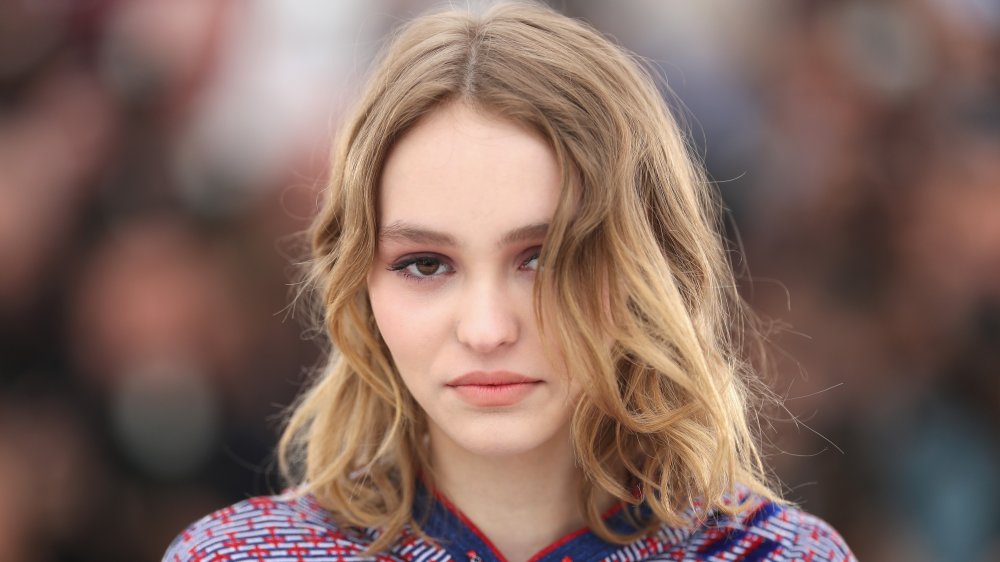 Pascal Le Segretain/Getty Images
Lily-Rose Depp is edgily exotic in a way many of her contemporaries could only hope to be simply because the actress and model straddles the line as both European and American. Speaking to Natalie Portman for CR Fashion Book, the young actress admitted to favoring French productions, arguing, "French scripts have a certain sensibility to them, with the writing style and the depth that the characters have."
Depp finds more material that sparks her imagination across the pond and also feels the culture is stronger there overall. On whether she feels more American or French, though, Depp actually splits the difference, admitting, "I feel pretty connected to both cultures. I can seem fully French when I'm in France or totally like a Valley girl when I'm in L.A."
The actress does, however, flounder in one respect. "When I talk fast in French I tend to stumble on my words a lot, so I have to work on that," she fretted about a leading role for which she had to speak entirely en français. With the political climate in the states, Depp is also finding it harder "to sit down and point out all the things that I love about America."
Lily-Rose Depp refuses to rely on her famous name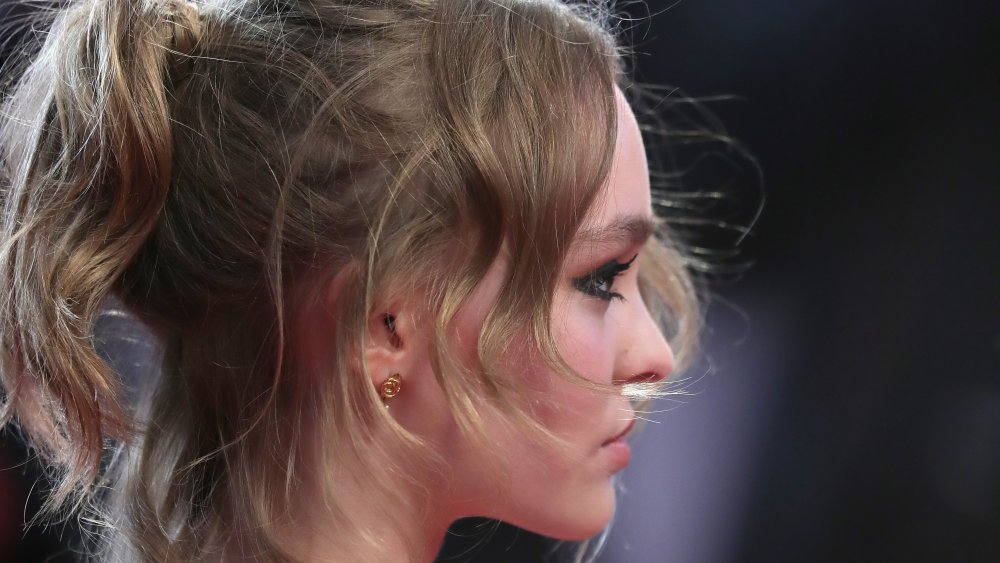 Neilson Barnard/Getty Images
Anyone seeking fame would probably find it easier if their last name were Depp, but Lily-Rose Depp doesn't view her career as a totally free ride. "A lot of people think I'm only acting because of my dad, that I have not had to work as hard to be seen or recognized in the industry, so I think because of that it makes me want to work twice as hard to prove to everyone that I'm not just doing this because it's easy to do. I'm not just doing it because it runs in the family," the star revealed to Natalie Portman in an interview for CR Fashion Book.
Depp admitted to W magazine that having a famous last name does "make it easier to get your name out there," but that in itself presents added challenges. "Honestly, to me there's also something even a little bit harder about it, because the expectations are so insanely high," she continued. While it would be easy to say she had it made, stepping out from under her parents' shadow must've been complicated.
Lily-Rose Depp knows the importance of being smart and kind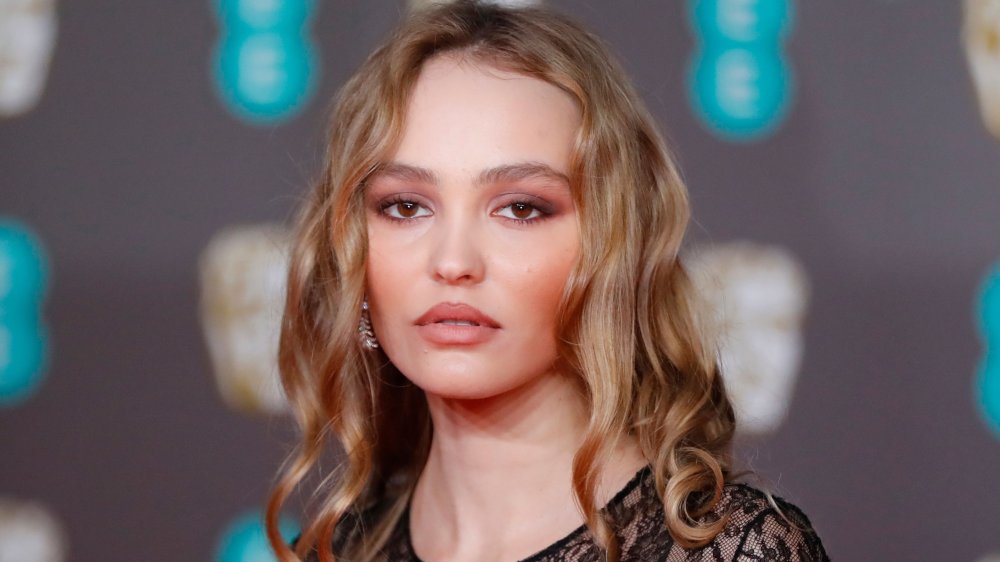 Tolga Akmen/Getty Images
Lily-Rose Depp found family early on, became the face of Chanel, and has a low-key yet high-profile rumored relationship with Timmy Chalamet, but the model-actress isn't relying entirely on her looks to get by. In conversation with, coincidentally enough, The Face, she divulged she'd hired an acting coach so she could better hone her craft, knowing her high cheekbones are only getting her so far. Depp also admitted, "I tend to put a lot of importance on my appearance in terms of self-worth and everything. A lot of times, how I feel about myself is heavily related to what I look like as a person."
Acknowledging that this isn't the best head-space, particularly for a young woman with "tons of insecurities, just like everybody else," Depp revealed growing up has taught her to focus more on who she is on the inside. "Being a smart person and a kind person is more important than being a beautiful person," she stated emphatically, again with a wisdom that's far beyond her years.