Here's How Much The Surgeries On My 600-Lb Life Cost
Hit TLC series "My 600-Lb. Life" features morbidly obese patients as they navigate the difficult and dangerous process of extreme weight loss with the help of pioneering bariatric surgeon Dr. Nowzaradan. Surgeries that carry this much risk are often difficult for low-income patients to obtain on their own, as the high costs and medical insurance approvals that go along with such procedures can be challenging to navigate. Thankfully, the surgeries are covered by the reality show, as TVOvermind explains. Additionally, contestants who appear on the show are eligible for cash compensation. Per TVOvermind, contestants receive $1,500 just for showing up, along with a $2,500 payout that enables them to relocate closer to the office of Dr. Now (as his patients call him) in Houston, Texas.
These payments may not seem like they add up to much, but the overall value offered is a once-in-a-lifetime deal. Multiple studies reveal that morbidly obese people typically pay 42% more for medical care and 77% more for drugs than people of a healthy weight, via Dr. Arif Ahmad MD. Many small business insurance plans won't even cover bariatric surgery, so those without this support can foot a bill of up to $20,000-$30,000, as recorded by the National Institute of Diabetes and Digestive and Kidney Diseases. A gastric bypass surgery commonly costs around $23,000, per Dr. Arif Ahmad MD. This means that savings for show participants can total in the tens of thousands — and potentially even higher, when considering the associated costs beyond bariatric surgery.
Costs don't stop after surgery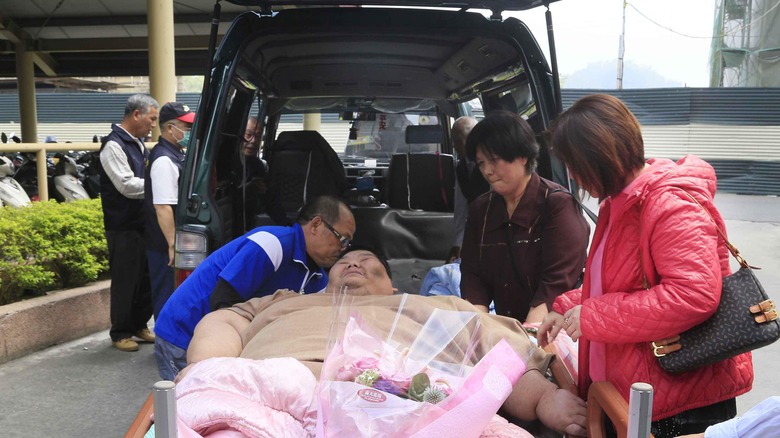 Tpg/Getty Images
Beyond bariatric surgery, patients still need to treat additional medical issues that may be ongoing during this time. For example, some patients can experience complications, such as internal bleeding or infections, which increase the overall medical cost of hospital stays, per UPMC. More serious complications like hernias, dilation of the esophagus, or obstruction of the stomach and bowels can even require additional surgeries, according to the outlet. 
As Consumer Health Ratings notes, the average cost of a hospital stay is $13,300 when adjusted for inflation in 2021. While that number refers to the average person, the patients on "My 600-Lb. Life" are anything but average. According to Consumer Health Ratings, pressure ulcers are a common complaint among obese patients, and can average $26,144 per hospital stay. Extreme complications such as septicemia can cost $25,800. If a patient experiences these complications outside of the show's 1-year filming window, they may be liable for significant amounts, even with insurance. There is also the cost of out-patient therapy, as many who appear on the show need both physical and mental support. Per Thervo, physical therapy sessions cost around $125 each before insurance. Thervo also reports that mental health therapists may charge as much as $250 an hour, with most sessions costing between $60-$125. That said, it's difficult to put a price tag on quality and longevity of life. While "My 600-Lb. Life" offers great value in support for extreme weight loss, it can't manage to cover everything.
Bariatric surgery is only the first step for patients on My 600-Lb. Life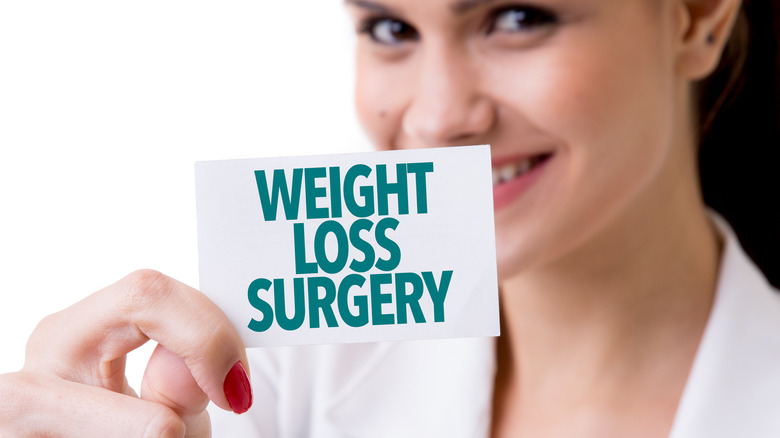 Brasil Creativo/Shutterstock
Most patients who experience a change in shape as significant as the contestants on "My 600-Lb. Life" will have extra skin that likely warrants eventual removal. As this is considered a cosmetic procedure, TVOvermind states it is not covered in the appearance contract. The American Society of Plastic Surgeons lists average fees for three common procedures for skin removal. A thigh lift costs $4,863, a tummy tuck (abdominoplasty) costs $5,798, and an upper arm lift (brachioplasty) costs $4,257.
The costs can definitely add up, especially when taking into account the fact that weight loss surgery likely means a whole new wardrobe. As Financial Diet reported, one standard-level dieter did the math on the cost of upgrading her wardrobe after only 40 pounds of weight loss. Adding just sixteen new tops to her closet meant that Jenn Bollenbacher spent $355.70, with the average clothing item costing her $29.64. The total, combined with an additional $123.72 for bottoms, $41.97 for matching accessories, and $94.95 for shoes rounded up to a grand total of $616.34. Participants on "My 600-Lb. Life" will lose much more than just 40 pounds!
Even with support form the show, these costs can be prohibitive, yet they may help prevent expensive medical issues down the road and avoid hefty prescription costs, helping to save money in the long term. If patients on the show do their research and budget carefully, with luck then can end up losing weight with minimal monetary loss.