The Untold Truth Of Etsy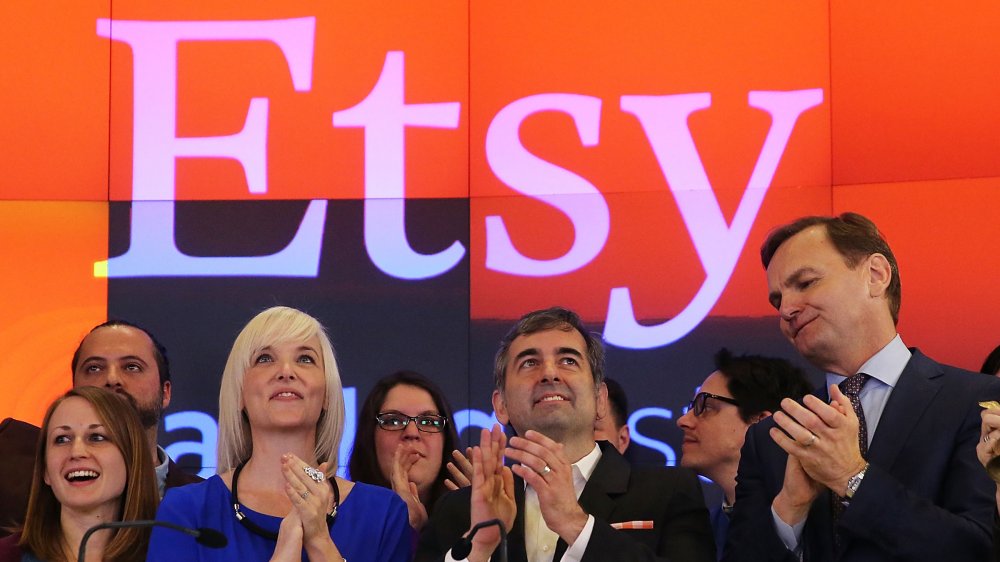 Spencer Platt/Getty Images
Online marketplace Etsy says its mission is to "keep commerce human." Founded in 2005 by three pals looking to create an online community to sell their handcrafted goods, Etsy has grown from a tiny startup to a mega-successful company worth billions of dollars — and the company is seemingly only growing more and more successful.
According to Statista.com, as of 2019, more than 2.5 million sellers were using Etsy to sell their handcrafted goods and unique vintage finds to Etsy's vast community of buyers. Etsy has become a go-to website for folks looking to find one-of-a-kind gifts and there really isn't much Etsy doesn't offer. To put it simply: If you can think of it, chances are you can definitely buy it on Etsy — no matter how odd. 
While Etsy has become famous for its array of custom gifts and cool finds and thus become a household name since opening its virtual doors, many people aren't as well-acquainted with the history behind the popular company. From its humble beginnings to multiple controversial moments throughout the years, here's a look at the untold truth of Etsy. 
Etsy was started by a group of crafty friends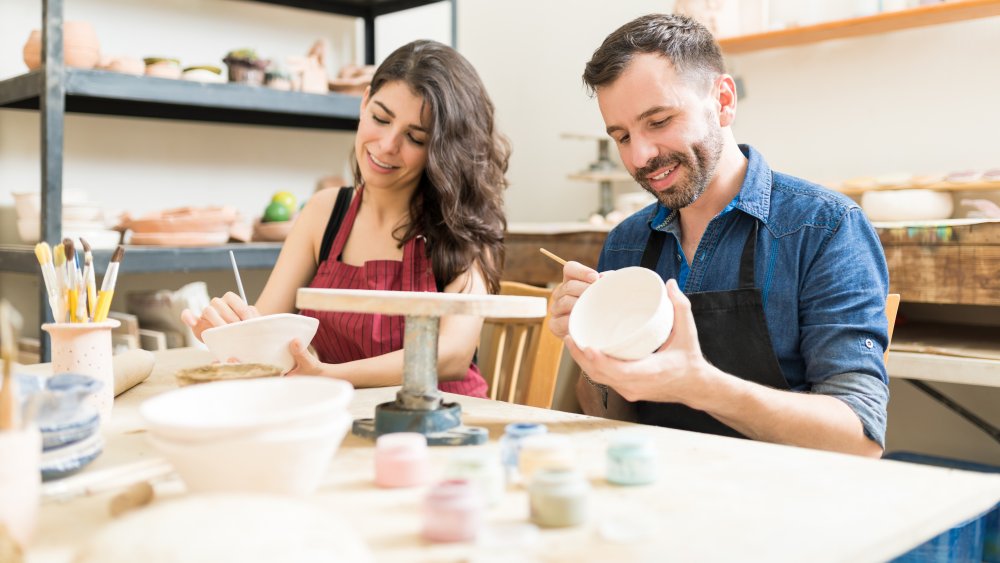 Shutterstock
Etsy has seen a surge in popularity with the rise of social media platforms such as Instagram and Pinterest, but the e-commerce website was actually created at the height of the Myspace era.
In 2005, bookseller and construction worker Rob Kalin found himself searching for a way to sell his handcrafted furniture online, Vox detailed. As luck would have it, two of Kalin's close friends — Chris Maguire and Haim Schoppik — were also interested in selling handmade goods online. As Kalin tells it, he quickly became inspired to create an online shop in which he and his pals could sell their handmade creations, helping them to become "the protagonists of their own lives." 
In an interview with Vox, Kalin explained his desire to create an online marketplace for handmade goods was partly influenced by his friendship with Jean Railla, creator of the online community called Get Crafty. According to a now defunct post on Railla's website, she and Kalin met while she was promoting her 2004 book, Get Crafty: Hip Home Ec, and Kalin soon asked her to serve as a consultant for the launch of Etsy.com.
Etsy began in a Brooklyn apartment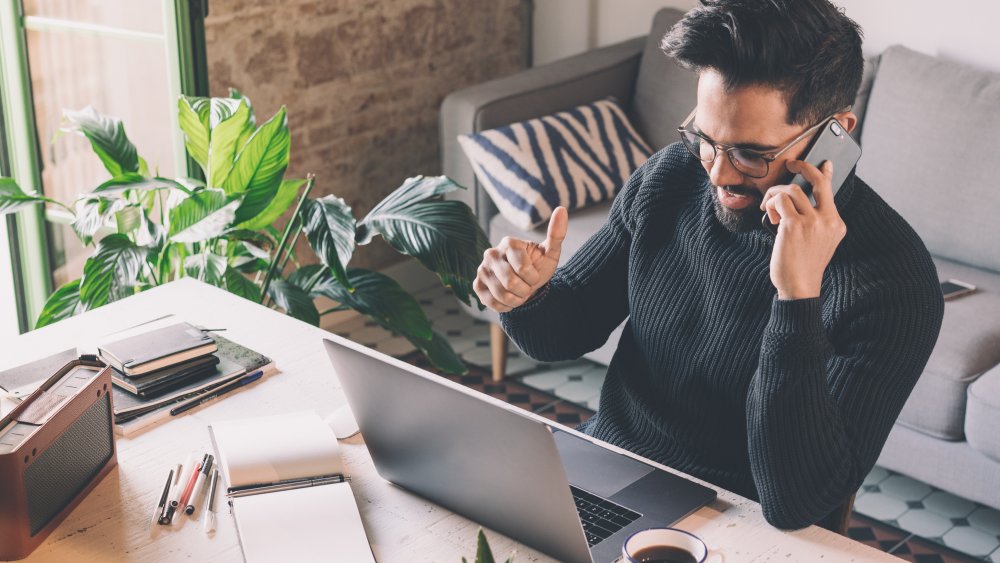 Shutterstock
At the time of this writing, the Etsy headquarters is located in Brooklyn, New York. With its super cool, hipster-chic reputation for being akin to some of the best thrift stores in the country, the New York City borough seems like a no-brainer to house the popular e-commerce website's head office. Yet and still, Etsy's home base resides in Brooklyn for a much more sentimental reason.
According to Etsy's website, its "relatively humble roots" were first planted in an apartment in Fort Greene, a neighborhood located within a northwestern section of Brooklyn. As noted by The New York Times, that Brooklyn apartment belonged to Rob Kalin, the founder of the popular website for selling homemade and vintage goods. Etsy has no plans to leave its city home, either.
In a 2014 post on Etsy's blog, then-CEO Chad Dickerson announced the company's commitment to growing in Brooklyn, writing, "We'll remain firmly planted in Brooklyn, where so many independent, creative businesses are flourishing." Dickerson continued, writing, "We'll continue to influence and be influenced by the mix of industries here, from media to fashion to a burgeoning manufacturing renaissance."
Etsy's founder used a children's book to explain the company's vision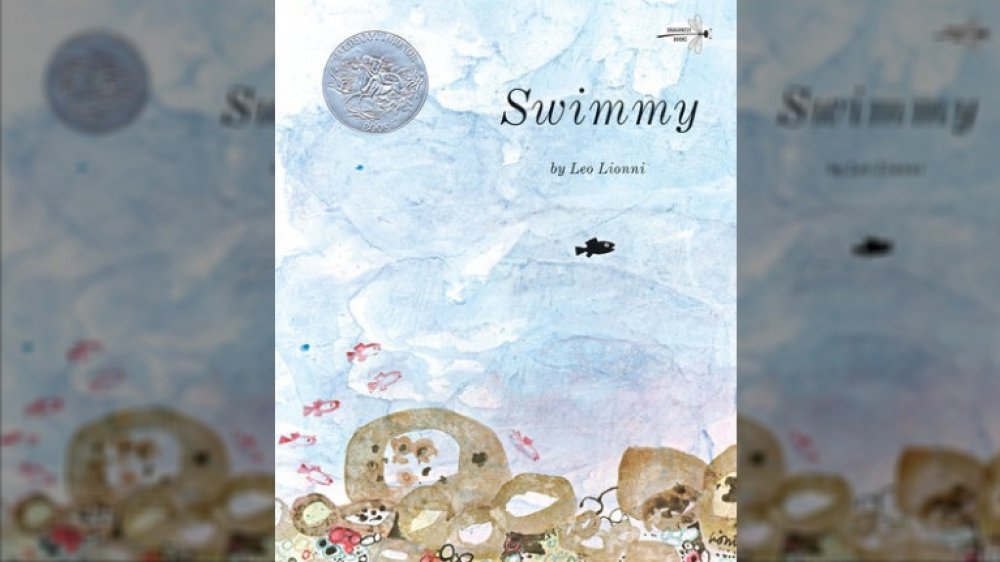 Penguin Random House
After being inspired by his own and his friends' entrepreneurial spirit and creating Etsy in his tiny Brooklyn apartment, Rob Kalin was determined to make the website flourish. And flourish it did. 
In 2008, Etsy's monthly sales totaled around $4.3 million and the website was garnering around 230 million page views per month, according to Inc. In fact, Etsy had become so successful so quickly after being founded in 2005 that venture capitalist Jim Breyer led a $27 million investment into the company. This major investment prompted Kalin to reach out to Etsy's community of buyers and sellers directly to reiterate the company's overall vision by reading from a children's book titled Swimmy. 
Written by Leo Lionni, Swimmy tells the tale of a school of smaller fish who find strength and power in their numbers. Kalin recorded himself reading the book aloud and posted the video on Etsy's blog in January 2008, writing, "We do not want Etsy itself to be a big tuna fish." He continued, explaining to readers, "Those tuna are the big companies that all us small businesses are teaming up against."
Here's how Etsy got its name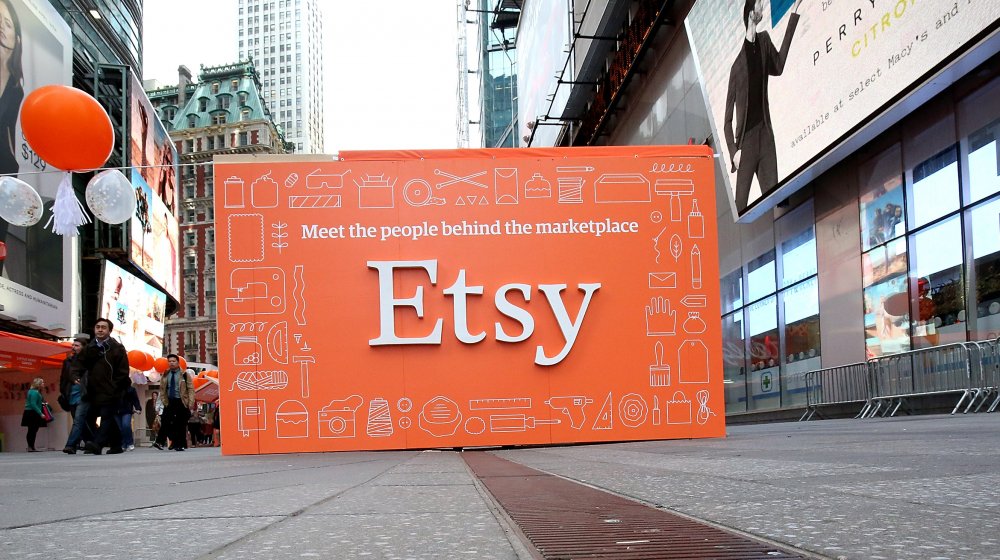 Paul Zimmerman/Getty Images
Since it was first founded in 2005, Etsy has grown to become a major e-commerce website in addition to a household name. While most people know what Etsy is used for, many probably haven't given much thought as to how the company got its catchy name. 
According to Rewind & Capture, Etsy once teased that the origin of the website's unique name would forever remain a mystery. Etsy is quoted as having once stated, "The true origin of the word 'Etsy' is a mystery known only to our founders. If someone asks you where the name came from, just make something up. That's what we do."
However, in a 2010 Reader's Digest interview (via Rewind & Capture), Etsy founder Rob Kalin seemed to finally reveal the real inspiration behind his mega-successful company's name, saying, "I wanted a nonsense word because I wanted to build the brand from scratch." The founder continued, explaining, "I was watching [director Federico] Fellini's [movie] 8 ½ and writing down what I was hearing. In Italian, you say 'etsi' a lot. It means 'oh, yes.' And in Latin, it means 'and if.'" And so Etsy was born.
Etsy provides low-income entrepreneurs a head start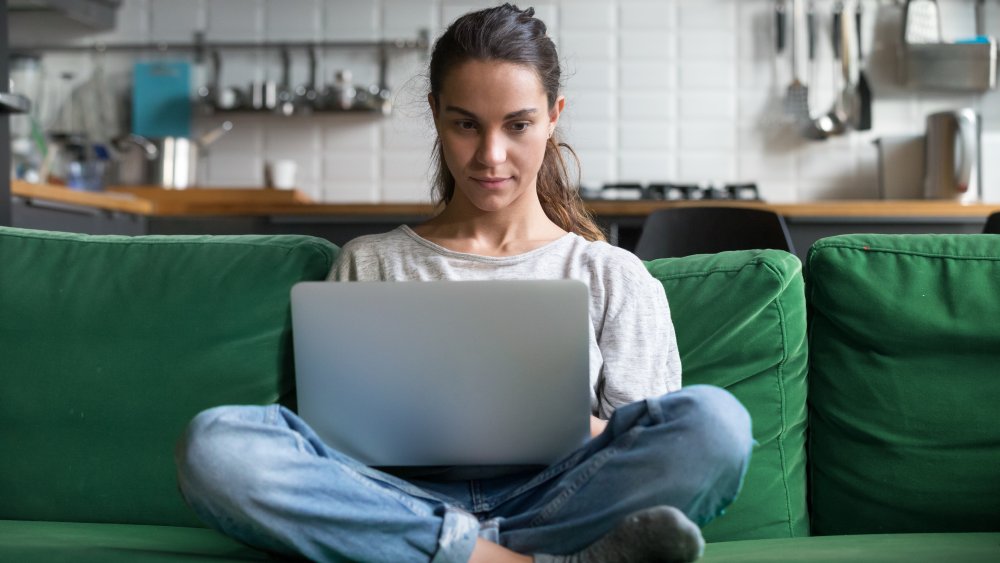 Shutterstock
In 2013, Etsy's then-CEO Chad Dickerson revealed his plans for the marketplace to lead the charge in creating its very own economic system. He told Entrepreneur, "An Etsy economy is a people-powered economy with person-to-person commerce," Dickerson revealed. "It's the feel of a farmer's market instead of a supermarket."
This "people-powered economy" has proven useful for countless entrepreneurs around the world. Etsy's platform especially lends itself to being utilized by low-income, entrepreneurial-minded people looking to take control of their lives and finances by starting a business and reaching customers they may have never met otherwise. 
In March 2013, Larry Morrissey, then-mayor of Rockford, Illinois, announced his plans to partner with Etsy in an effort to teach low-income individuals living in public-housing as well as high school students the entrepreneurial skills needed to form a successful small business on Etsy. According to Entrepreneur, those who participated in the program were given the opportunity to use Etsy's website as a "living lab," in which they made and sold their own products under the guidance of an instructor before branching out to launch their very own Etsy shops.
Some Etsy sellers have been noticed by big companies
While every Etsy shop begins as a small business, the efforts and products of some popular Etsy sellers have been noticed by much larger companies. 
As noted by Entrepreneur, Etsy seller Irina Adam and her organic skincare products went virtually unnoticed for years, until a buyer from the mega-popular retail store Anthropologie spooted one of her beauty products — a botanical lip balm — while browsing Etsy's front page. Thanks to the support from Anthropologie, Adam's clean beauty business, Phoenix Botanicals, has been featured in several publications and introduced to new customers all over the globe. 
Sarah Woodson, owner of Downing Pottery, had an experience similar to Adam's. While Woodson's small pottery business grew slowly over a number of years, it didn't really take off until February 2013 when Etsy contacted her about selling her popular mugs as the website's "first local seller" in its partnership with Nordstrom. "There isn't really a downside to selling your items on Etsy," Woodson told Entrepreneur. She continued, saying, "Some people feel that it's gotten too big, and it's easy to get lost in the mix, but I haven't found that."
Etsy's free shipping push didn't go over well with sellers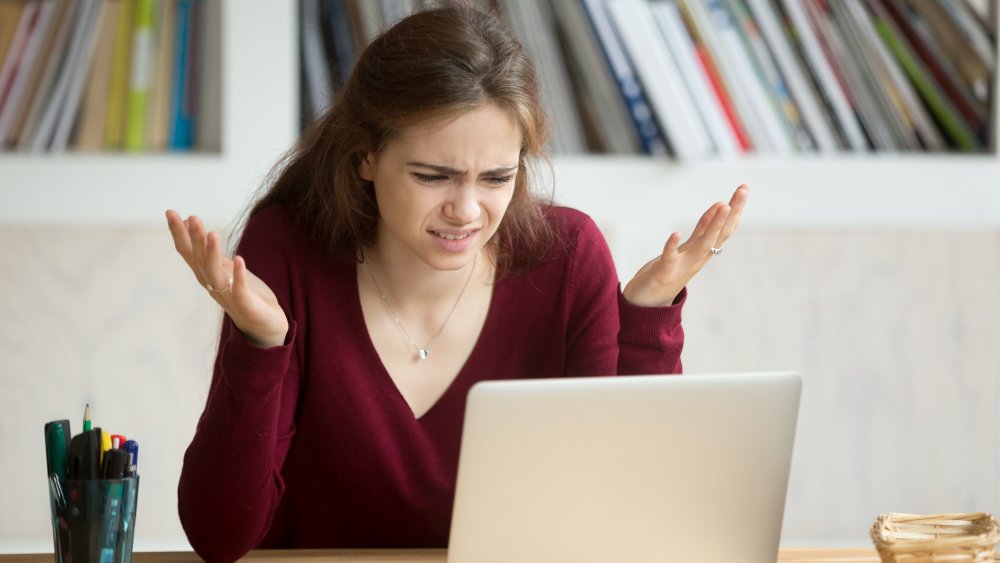 Shutterstock
On July 9, 2019, Josh Silverman, who was named Etsy's new CEO in May 2017, wrote a letter in which he announced Etsy's plans to give priority placement in United States search results to sellers who included the price of shipping within the total price of their product. 
"Time and again buyers tell us that having to pay an additional shipping cost is what keeps them from shopping on Etsy more often," Silverman wrote. The CEO continued, writing to sellers, "It's become commonplace for online sellers to include shipping costs in the item price, so we're launching tools to make it easy for you to do just that."
However, the push for free shipping didn't quite sit well with many of Etsy's sellers. "It's sad that it's making sellers follow what big corporate giants can afford," one seller tweeted about the change. Even some buyers took issue with Etsy's shipping cost change, with one Etsy customer posting to Twitter, "I don't care about free shipping. I use Etsy to find unique, handmade items ... I don't want them to prioritize free shipping shops!" 
Most of the sellers on Etsy are women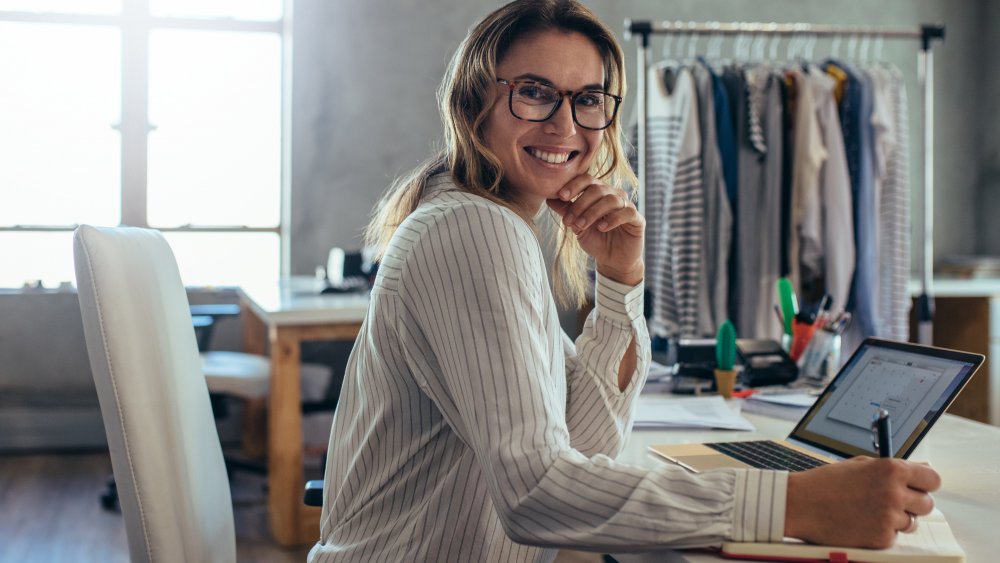 Shutterstock
Despite being founded by a man, a 2015 report (via Fortune) revealed the overwhelming majority of Etsy's seller community was made up of women. In fact, 86 percent of Etsy's sellers were women, according to the 2015 report. And, according to Vox, a whopping 90% of the seller community consisted of women back when Etsy was first founded.
This is not the case for many businesses. As Fortune highlighted, only around one-third of small businesses throughout the United States in 2015 were owned by women. So, what sets Etsy's small businesses apart from the others? Well, according to Vox, the people buying from Etsy have a lot in common with the individuals selling on Etsy. After all, women are twice as likely to buy handmade goods online than are men.
According to CNBC Markets, Etsy is also one of the few tech-based companies with gender parity. As noted by the publication, half of Etsy's workforce, board, and leadership team is made up of women. Put simply: Etsy is a company largely run by women, used mostly by female entrepreneurs, to sell to a mostly female consumer base. 
Some Etsy sellers feel the site's success hurt its indie brand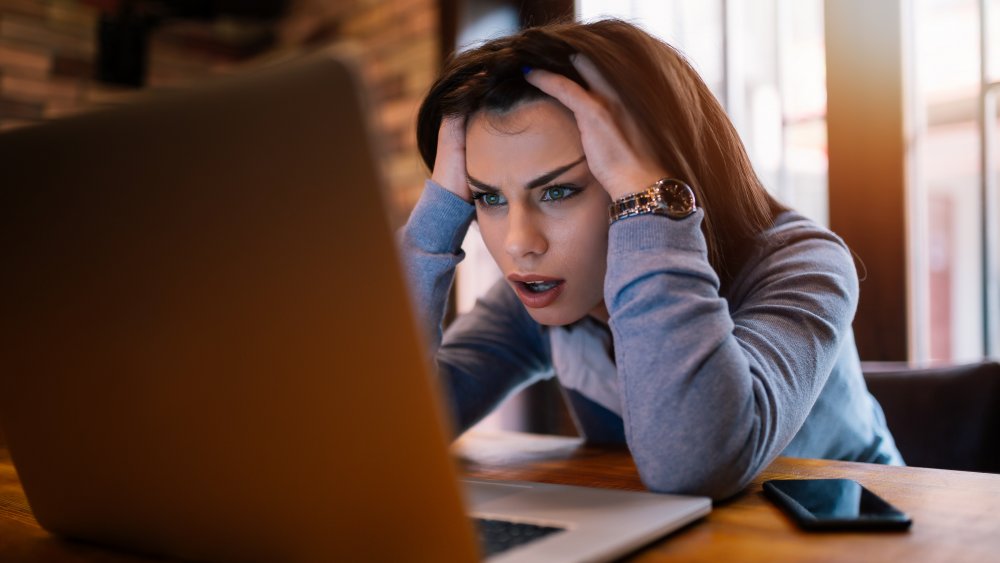 Shutterstock
Etsy may have started off in a tiny Brooklyn apartment as a collaboration  between friends looking to sell their handcrafted goods online. But, as Etsy surged in popularity and grew into a machine of its own, many buyers and sellers who were initially attracted to the website for its hip, underground feel found themselves disappointed in the direction the company seemed to be heading. 
In 2013, Etsy's then-CEO Chad Dickerson lifted a previous ban that prohibited sellers from outsourcing production of their goods and by 2015, there were already over 5,000 cases of Etsy sellers outsourcing manufacturing of goods, according to The New York Times. Critics of this move argued that the new manufacturing rules would allow an influx of poorly-made, mass-produced trinkets to be sold on the site rather than carefully crafted, quality-made, artisan goods. 
Longtime Etsy seller Grace Dobush announced in 2015 she was leaving the e-commerce site for good, citing these new manufacturing regulations as the reason why. "As Etsy has gotten bigger, it's gotten more like eBay," Dobush told The New York Times.
Etsy has allowed many sellers to quit their 9 to 5 jobs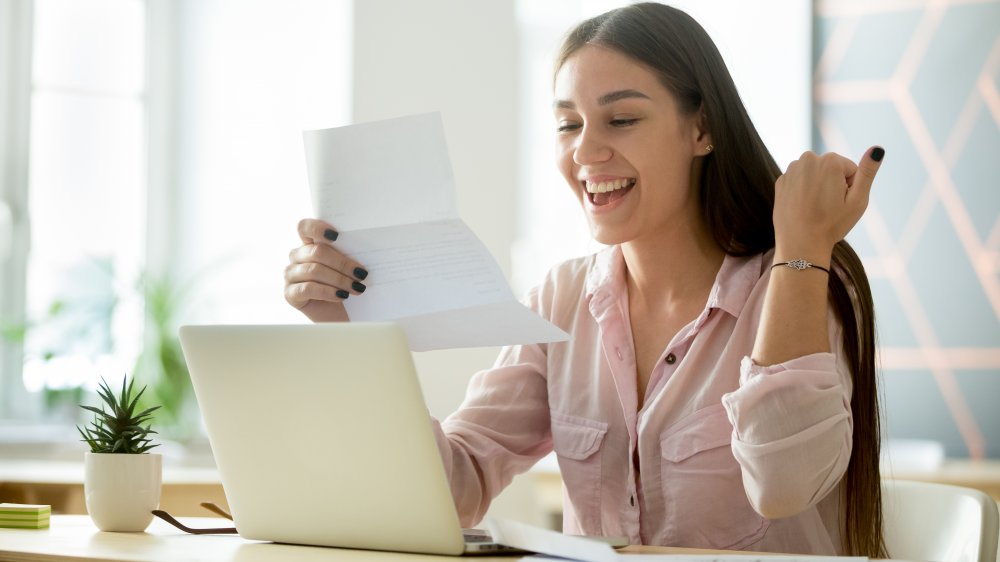 Shutterstock
Etsy has allowed many an entrepreneur to quit their day job and pursue their passion full-time. Amy Yee, founder of Maeven Vintage, first started selling her vintage finds on eBay. However, following the 2008 financial crisis, the fashion-obsessed entrepreneur made the arguably risky decision to quit her day job and delve into Etsy.
Since selling her first clothing item on the e-commerce site (a "YSL black shirt dress"), Yee told HuffPost in 2018 that she'd had over 3,500 sales and makes enough money from her Etsy shop to pay herself a full-time salary. "As long as I'm selling vintage, I'll be on Etsy," Yee told the publication. She continued, saying, "It's where my customers are and it's been one of my most successful selling platforms."
Erin True of Urban Wood Goods found similar success. She created her Etsy store on a whim after reading an article about items made from reclaimed wood. "I was really intrigued by this idea," she told HuffPost. Thus began her side hustle and, eight years later, she was successfully heading a company with 19 full-time employees and making thousands upon thousands of sales.
One Etsy seller made more money than some surgeons
While many Etsy sellers have been able to quit their day jobs and make a full-time salary through their Etsy shops, not many can say they rake in more money per year than, say, an orthopedic surgeon. However, Etsy seller Alicia Shaffer certainly can. 
In a February 2015 Fast Company profile, Shaffer revealed her clothing company, Three Bird Nest, raked in a whopping $80,000 per month, meaning the mother of three saw an annual revenue of $960,000. While Shaffer's company did have an independent website, a large part of her sales were made through Three Bird Nest's Etsy shop. 
Despite Shaffer's mega-success selling on Etsy, the business owner announced in August 2015 that she'd made the decision to pull her shop from the site, writing in a blog post, "Etsy success story Three Bird Nest announced its decision to depart from the Etsy Marketplace, effective immediately." The post continued, explaining, "The decision was made by Three Bird Nest in 2015 to leave Etsy in order to better focus on their customers through their own boutique website [and] wholesale channels."
Etsy is a dream workplace for employees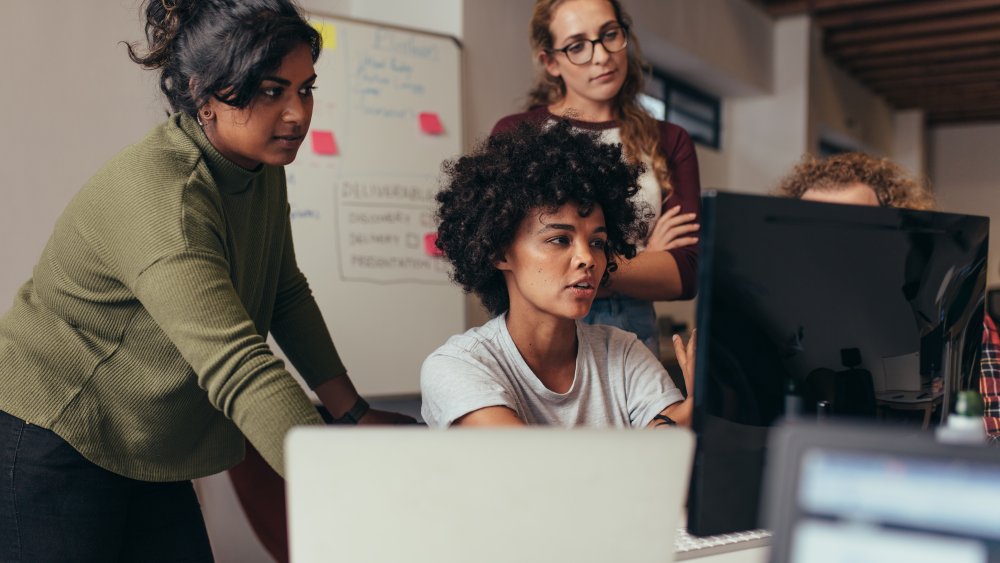 Shutterstock
Etsy's community is mostly made up of sellers — people who handcraft goods and/or source unique, vintage finds — and buyers — people who purchase said handcrafted goods and unique, vintage finds. However, Etsy also employs a team of people who work behind the scenes, making sure the website's buyer-and-seller based community runs as smoothly as possible. And, if behind-the-scenes glimpses at Etsy's workplace are any indication, being an Etsy employee seems very much like a dream job. 
According to a late 2018 Forbes profile, Etsy's Brooklyn headquarters was designed to "inspire creative thinking." As noted by Forbes, the company's headquarters boasts indoor and outdoor meeting spaces as well as workshops used for employee "crafternoon" sessions. Oh, and it's even dog-friendly.
Raina Moskowitz, Etsy's Senior Vice President of People, Strategy, and Services, told Forbes, "In our latest results, we saw that the overwhelming majority of our employees are not only proud to work for Etsy, but would also recommend us as a great place to work." He continued, saying, "That's a huge indicator of our employees being engaged and fulfilled in the workplace and it's not something we take lightly."
Etsy has been accused of trying to silence this popular business
In September 2018, Etsy came under fire for allegedly trying to silence a minority business owner by suddenly shuttering her popular Etsy apparel shop. 
Olatiwa Karade, the African-American woman behind the Etsy shop Splendid Rain Co. — popular among buyers for its controversial "clothing for activists" –  took to her brand's Instagram to reveal Etsy had closed her online store. "[Etsy] removed Splendid Rain Co. from their site," Karade posted to Instagram, alongside a screenshot of text which read, "Etsy has been intent on making this hard for me since I received so much attention. Not only have I received none of the free advertising that my fellow shops get, as I was told I'm too controversial, but I've been watched like a hawk."
Replying to Karade's announcement, one follower said, "I won't be buying s*** on [Etsy's] app until they fix this and apologize to you." After an onslaught of backlash, Karade's Splendid Rain Co. shop was up and running on Etsy the day after she revealed its removal from the site (via Yahoo!). Regardless, the business relocated to its own domain.
Etsy's mandatory advertisement fees caused major controversy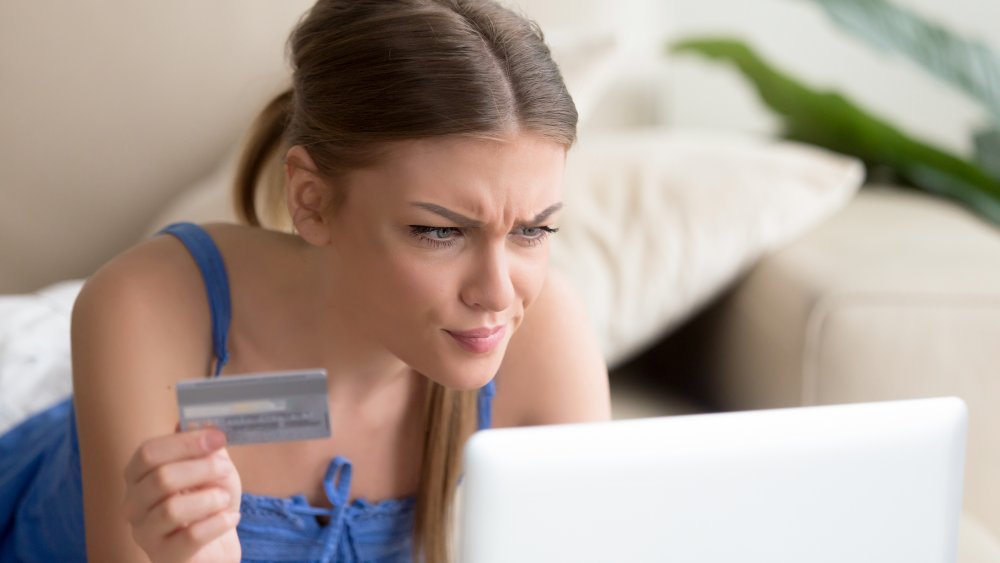 Shutterstock
Etsy found itself the object of sellers' disdain once again in February 2020 when the company announced new updates to its advertising model. In a February 26, 2020 blog post titled "Introducing Etsy's Risk-Free Advertising Service," Etsy announced the introduction of "Offsite Ads."
Addressing the new Offsite Ads model, Etsy's blog post explained to sellers, "When a shopper clicks on one of those online ads for your products and purchases from your shop within 30 days, you'll pay an advertising fee." To make matters worse, Etsy automatically enrolled each of its sellers into the Offsite Ads program, making it an "opt-out" service, rather than an optional "opt-in" service.
Unsurprisingly, sellers were livid at the thought of being forced to pay an advertising fee. One Etsy seller took to Twitter to express their disappointment, writing, "I'm so disappointed by [Etsy's] new ads policies." The Twitter user continued, writing, "Automatically enrolling shop owners into paying for ads is a predatory tactic. I'll be working on building my standalone e-commerce site."