Here's How Many Kids Rihanna Wants
Paras Griffin/Getty Images
Rihanna wants to start a family within the next 10 years whether or not she's in a relationship. The Fenty Beauty founder opened up about her plans for motherhood in a candid chat for her cover shoot of British Vogue's May issue. "I know I will want to live differently," the business mogul told the magazine when asked about her plans for the next decade.
The Barbados native then revealed, "I'll have kids — three or four of 'em." Rihanna and her billionaire boyfriend Hassan Jameel split after nearly three years of dating, People confirmed in January. Regardless of whether or not she gets into a new relationship, Rihanna is determined to have kids.
British Vogue asked the singer if she would be open to being a single mother and she responded, "Hell, yeah." She continued, "I feel like society makes me want to feel like, 'Oh, you got it wrong ...' They diminish you as a mother if there's not a dad in your kids' lives. But the only thing that matters is happiness — that's the only healthy relationship between a parent and a child. That's the only thing that can raise a child, truly, is love."
This isn't the first time Rihanna has been open about her desire to have kids. In June 2019, she told Interview Magazine she wants children "more than anything in life." In November 2019, as the cover star of American Vogue, she told the magazine she wants kids "without a doubt."
Rihanna has been known to fuel pregnancy rumors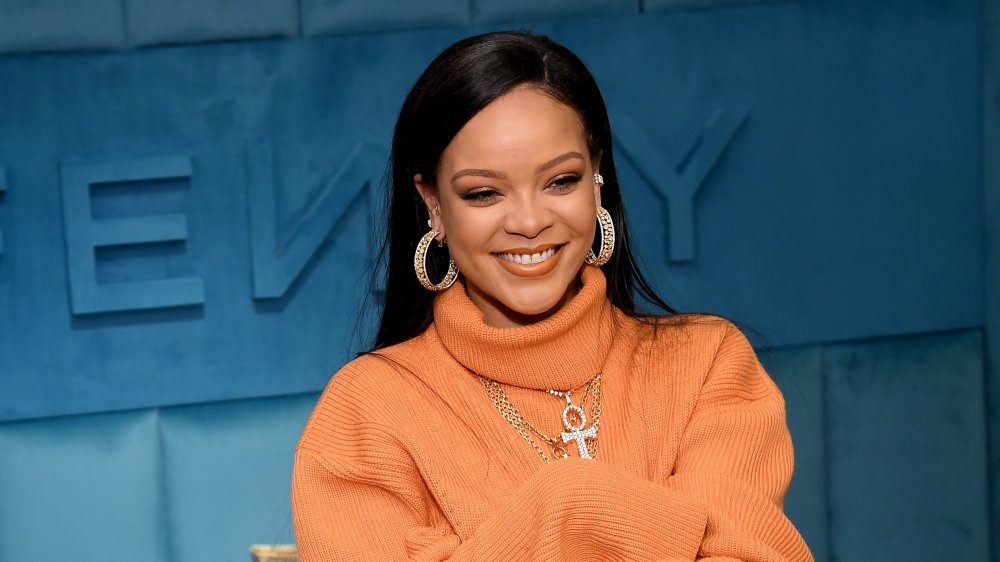 Dimitrios Kambouris/Getty Images
Rihanna's fans, known as the Navy, began speculating last summer that the Savage X Fenty founder was pregnant based on her comments in an interview with Essence. "I'm a black woman. I came from a black woman, who came from a black woman, who came from a black woman and I'm going to give birth to a black woman," she said. Many fans fixated on the last line of her sentence and assumed she was pregnant and far along enough to know the baby's gender.
Later in the year she spoke to Vogue Editor-in-Chief Anna Wintour and joked about all of the rumors about her becoming a mother. Rihanna referenced her ex-boyfriend Drake's song and said it was "God's plan" when Wintour asked about the timeline of when the singer wants to have kids. The business mogul chuckled and added, "Looking forward to all of the pregnancy rumors after this interview."