Long Island Medium: Here's How Much Theresa Caputo Is Really Worth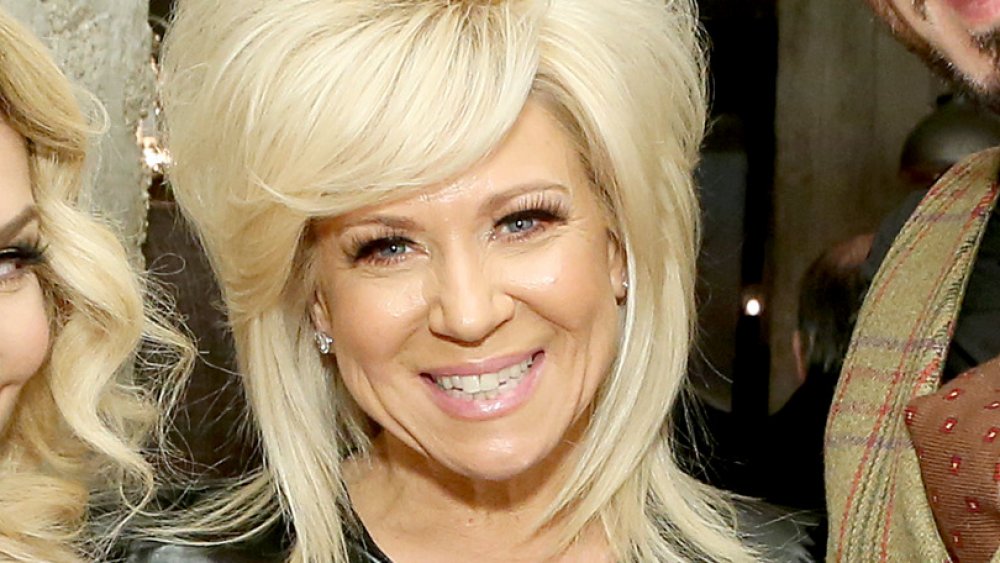 Monica Schipper/Getty Images
We may receive a commission on purchases made from links.
Long Island Medium's Theresa Caputo and her immovable bouffant have been a reality television staple for the best part of a decade. Her hit TLC show debuted back in 2011, but it feels like Caputo's been around forever. The New York-based certified medium, who claims to be able to speak to those who have passed over to the beyond, has made more than a decent living by doing readings and giving families hope that their dearly departed loved ones might not really be gone forever. Many have, understandably, questioned her gifts over the years.
These days, with her celebrity still very much intact, Caputo is making more money off her name (and dubious gifts) than ever before, through tours, books, and, of course, personal one-on-one readings for which you'll have to wait years to even be considered. For someone who's known she had a talent since a very young age, it makes complete sense the Long Island Medium star has earned a pretty penny over the course of her career — there's no doubting that.
Theresa Caputo is more than just the Long Island Medium
Caputo understands that she's a brand first and foremost. Her website, which states that she's been seeing spirits since the age of 4, is loaded with links to all of the best Long Island Medium-related merchandise, including hats, T-shirts, mugs, and hoodies. There are also plenty of show dates for her nationwide tour, which is titled Theresa Caputo Live! The Experience. Tickets range from around $40 to over $300, and attendees can expect to see her many gifts in action.
Elsewhere, the reality star and medium is also a New York Times bestselling author. She's released three books: Good Grief: Heal Your Soul, Honor Your Loved Ones, and Learn to Live Again; There's More to Life Than This: Healing Messages, Remarkable Stories, and Insight About the Other Side from the Long Island Medium; and You Can't Make This Stuff Up: Life-Changing Lessons from Heaven. Her fourth book, Good Mourning, is due out in October 2020, and there will likely be more to follow.
But Theresa Caputo makes good money as the Long Island Medium
As for those all-important private readings, you'll need to sign up for the waiting list if you want one. According to Caputo's site, there was already a two-year wait before the show started airing. You may get picked from the waiting list depending on where you live and whether you'd be comfortable being filmed for TV. Caputo confirmed that clients can expect to pay anything from $50 to $175 for a reading, shooting down the idea she charges hundreds of dollars a pop, and she shared that the money is donated to charities that are close to her heart. So the reality star isn't actually profiting from these readings.
Still, regardless of the charitable aspect of her work, there's no doubt Caputo makes good money off the back of her hugely popular show. Celebrity Net Worth puts her worth at $3 million to date.