Jane Fonda's TikTok Workouts Are Just What You Need Right Now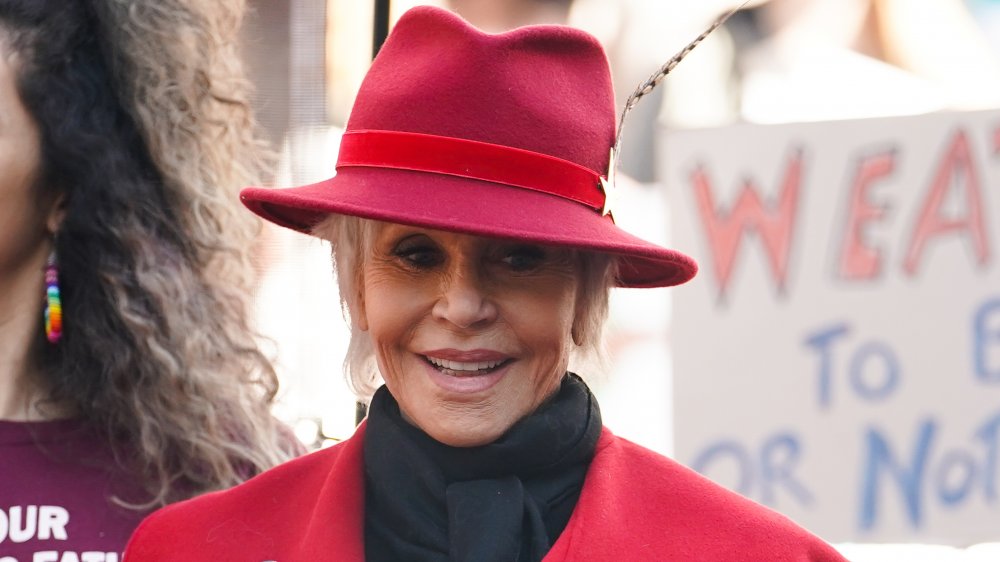 Rachel Luna/Getty Images
Like so many of us during quarantine, Jane Fonda has downloaded TikTok. In her first video, she showed off some workout moves. "My name is Jane Fonda, and I'm going to bring back the Jane Fonda Workout during this home sequestration, so come on and do it with me," said Fonda (via Today).
Don't break out your yoga mats just yet, though. Just as the workout was starting off with some leg lifts, the video cut to Fonda in the iconic red coat that she has sported on what she calls Fire Drill Fridays — peaceful protests staged by Fonda to protest climate change (per W). Fonda has been arrested while wearing the coat more than once, and now she's sporting it during her "home sequestration."
Fonda then invited her fans to work out with her... sort of. While she may not be able to protest in person, Fonda isn't letting the coronavirus pandemic stop her from raising awareness about climate change. "You know what, there are too many workouts happening right now on television and on computers," said the activist. "What I would like you to do with me is to work out with me for the planet."
Jane Fonda invited people to join her virtual Fire Drill Fridays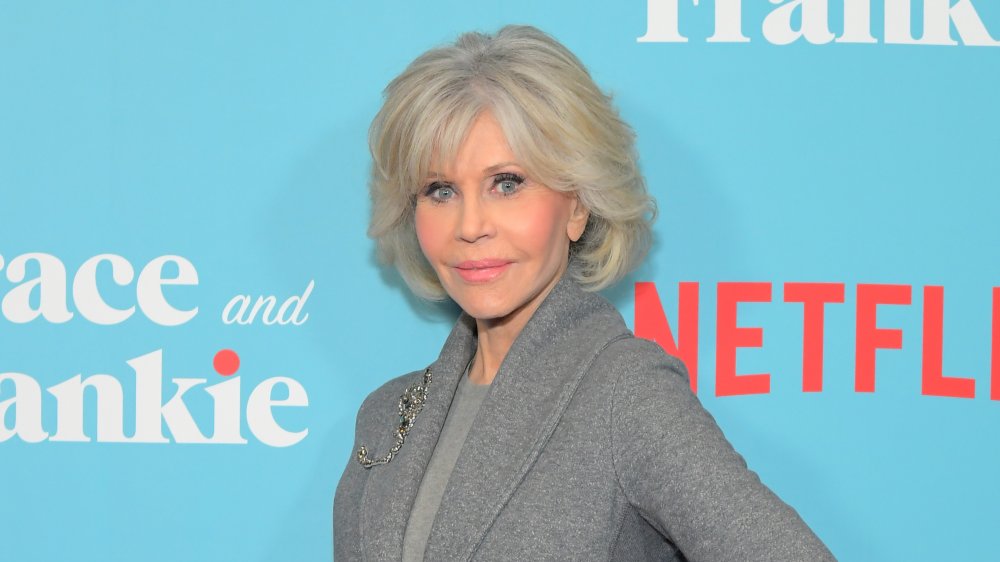 Charley Gallay/Getty Images
Fonda announced that her Fire Drill Fridays will now be taking place virtually, on the first Friday of every month. If you missed the first virtual Fire Drill Friday, you can check it out on Fonda's Instagram account. The first Fire Drill featured speakers from several organizations including Sunrise Movement and International Indigenous Youth Council.
"We do not have the luxury of fighting COVID-19 and the climate crisis separately," wrote the Grace and Frankie star in the caption of the video. "We DO, however have the power to come together in this moment of disruption and create the new, green world we have been dreaming of — one that puts people and planet over corporate greed and profit at all cost."
Fonda closed with a plea to people to take action, even while social distancing. "We might be alone at home, but we are in this TOGETHER!" she said. "Thank you for weathering the technical difficulties today and staying home and taking action with us in the virtual streets! We couldn't do it without you."