The Truth About Bruce Willis And Demi Moore's Relationship
The coronavirus pandemic is pushing a lot of limits to the brink, but it's also bringing some people together. Bruce Willis and Demi Moore are proving that even though they're no longer together, they're willing to do whatever it takes for their kids.
A photo shared on Instagram by their daughter, Tallulah Willis, shows the family quarantining together in matching PJs — right down to the family dog, who is shown sleeping on the sofa. The photo shows both Willis and Moore with their daughter Scout in the background, along with Tallulah's boyfriend, Dillon Buss.
"Chaotic neutral," read the caption.
Tallulah revealed in the comments of the photo that the family has been quarantined together for weeks. "Hi!" she wrote (via Us Weekly). "We made the choice to quarantine together and have been together for 27 days taking every precaution. Please stay inside and wash your hands!"
As noted by Us Weekly, Willis and Moore got married in 1987 and have three daughters together: Rumer (also not pictured in the photo), Scout, and Tallulah. They filed for separation in June 1998 and finalized their divorce two years later. The former couple decided to keep their friendship strong for the sake of their children.
Bruce Willis and Demi Moore still care deeply for each other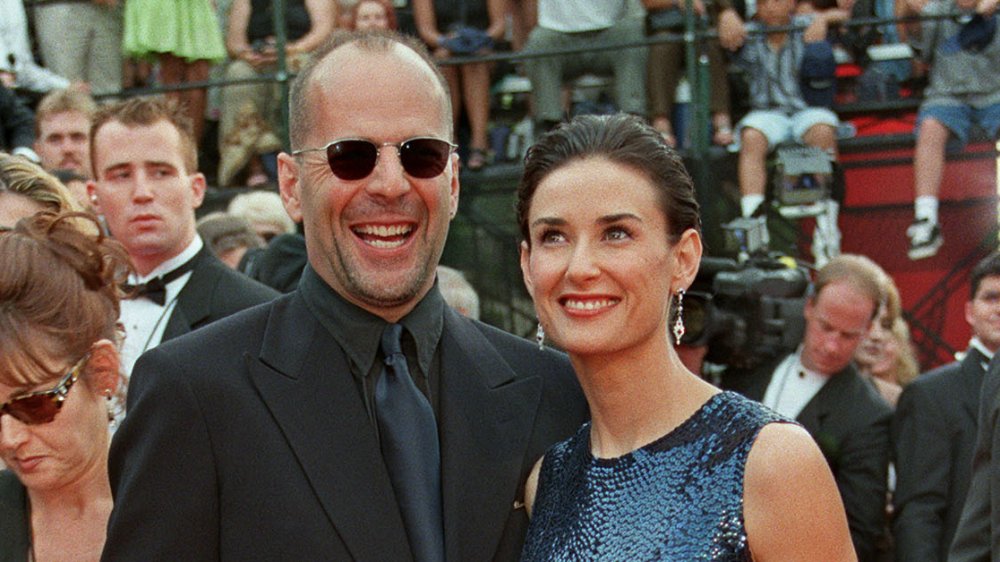 Kim Kulish/Getty Images
In a 2000 interview with Rolling Stone, Willis said that he didn't know what had gone wrong with their marriage. "I still love Demi," he said. "We're very close. We have three children whom we will continue to raise together, and we're probably as close now as we ever were. We realize we have a lifelong commitment to our kids. Our friendship continues. The institution has been set aside."
Moore has also talked about the affection she still has for her ex-husband, opening up about the breakup in her 2019 memoir Inside Out (via MSN). While she admitted that the divorce "wasn't easy at first," the pair "managed to move the heart of our relationship, the heart of what created our family, into something new that gave the girls a loving, supportive environment with both parents."
She added, "We felt more connected than we did before the divorce."