The Truth About Shania Twain's Ex-Husband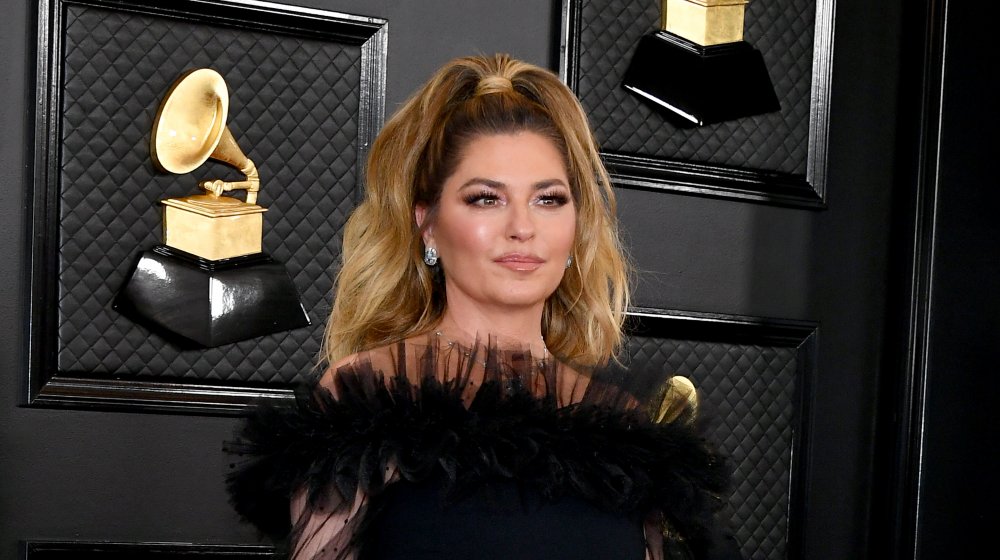 Amy Sussman/Getty Images
Shania Twain and her ex-husband, Robert John "Mutt" Lange, had a whirlwind relationship from the time they got married in 1993 to the time they divorced in 2010. Over the course of their marriage, they collaborated on several of Twain's hit singles, rose to the heights of their career, and welcomed their son, Eja, in 2001. Their relationship ended in 2008 after Twain found out Lange was having an affair.
Before the drama of their relationship made headlines, Twain and Lange had a sweet love story. He was a South African record producer and songwriter, who became a fan of Twain's after her debut album was released in April 1993. According to CMT, Lange called the country singer's record label and asked for her phone number. Shortly after their phone calls, they met at Fan Fair and got married in December 1993.
Lange helped write and produce three of Shania's albums from 1995 to 2004. The albums included The Woman In Me, Come On Over, and Up!. In an interview with The Guardian, Twain called Lange "extremely influential" to her career. "As a producer, he is very much a director as well; very hands-on and very talented. So, he was driving the direction of the sound. He didn't drive the direction of my voice and never tried to change me," she added. "He was never part of the creative development in that sense. He drove the instrument choices, the sound, the groove. He was a bass player as a musician and he was very driven by the rhythm."
Mutt Lange married his mistress, who was Shania Twain's former assistant
The producer has also worked with Lady Gaga, Muse, Maroon 5, AC/DC, and more (via Country Fan Cast). He continues to work as a writer and a producer in the music business, but Lange never worked with Twain again after their divorce.
Lange cheated on Twain with her former friend and assistant Marie-Ann Thiébaud. The couple went on to get married, live together in Switzerland, and have a daughter named Johanna (via WRYK). In a shocking twist, Twain ended up getting married to Thiébaud's ex-husband Frédéric.
In a scathing interview on Watch What Happens Live with Andy Cohen, Twain referred to Marie-Ann as "the other woman," and said, "I wish I'd never met you. I think there are just some people in life you would say I wish I hadn't met that person or I would have been better off not knowing that person" (via E! News). She continued, "I can't say I would be better off [if he hadn't cheated] because I think I learned a lot from all of that. I don't regret it."
Twain and Lange had a messy divorce, but they still manage to coparent their son, the singer told the New York Post.