The Reason Brazilian Blowouts Can Actually Harm Your Hair
It's marketed and sold as a natural way to take the wave and frizz out of your hair. The Brazilian Blowout uses a liquid keratin formula that attaches itself to each strand of your hair, creating a protective layer that banishes frizz, seals the cuticle, and protects your hair from any damage. The 60 to 90 minute treatment came from Brazil, and is said to use fruits and plants that are native to the region. New York hair stylist Jennifer Matos told InStyle, "It works on just about every type and texture, even fine hair. Especially in the summer when humidity affects everyone, it can be game-changing, and your hair will be much easier to manage." If you don't use any shampoos that contain sulfates or chorine, a Brazilian Blowout should last between three to four months.
But while a Brazilian Blowout could be the answer to a girl's frizz-free life, researchers say you need to read the fine print on the treatment before giving it a go.
A Brazilian Blowout involves many chemicals that we shouldn't be using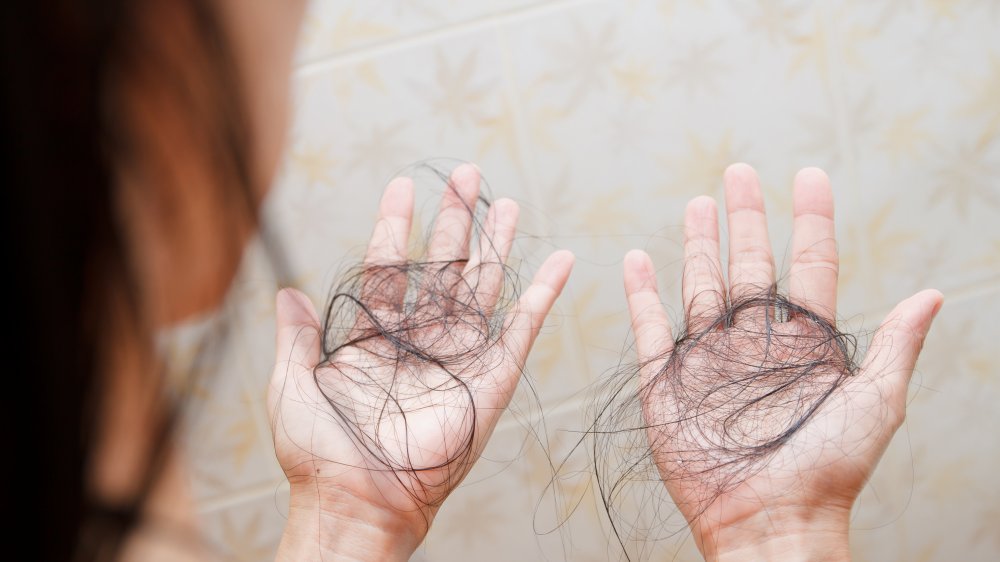 Shutterstock
Healthline reports that the keratin which is key to a Brazilian Blowout comes from animal protein, and to help it bond with your hair, certain chemicals have to be added to it, including formalin or formaldehyde, methanol, methylene glycol, methylene oxide, and paraform. Because of these ingredients, your post-Brazilian Blowout experience could include side effects like headaches, dizziness, breathing problems, nausea, vomiting, and chest pain. Asthma sufferers are seen to be more susceptible to problems, because the chemicals are sealed in with heat-emitting tools like a blow-dryer or hair straightener, and that heat allows the chemicals to be released into the air. 
The chemicals could also cause long-term problems to your tresses from breakage and brittle hair to actual hair loss and patchiness, all of which seem like a very high price to pay for straighter hair.
Instead of a Brazilian Blowout, haircare experts who have spoken to Cosmopolitan suggest looking for sulfate-free shampoos, hair washes with glycerin, and a good conditioner — just stay away from your roots and give the conditioner five minutes to work its magic before rinsing it out.