The Truth About Sister Wives Star Meri Brown's Catfish Scandal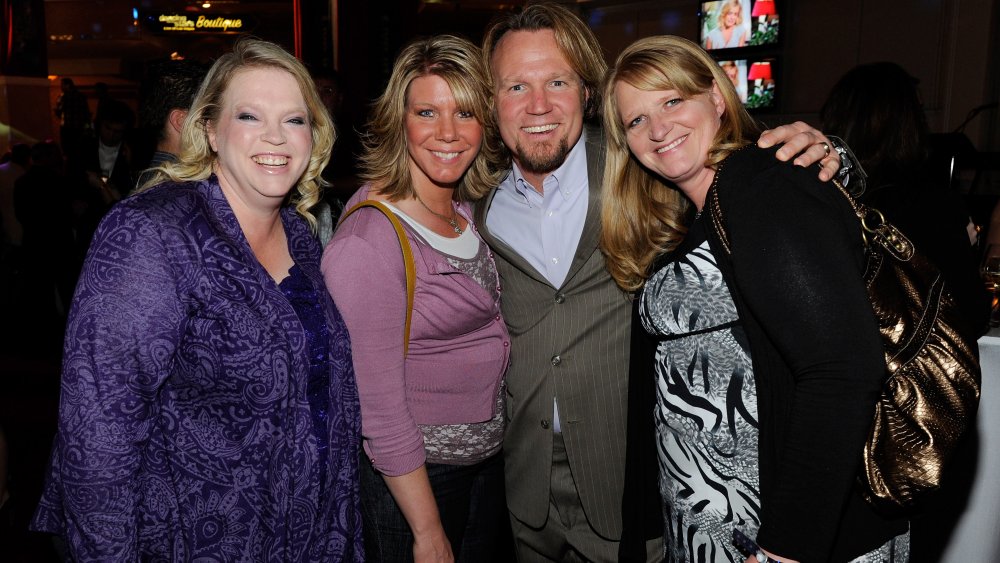 Ethan Miller/Getty Images
Back in 2015, the world of Sister Wives was shaken to its very core by a shocking revelation that could have played out on an entirely different reality show. Meri Brown found herself caught up in a catfishing scandal, proving once and for all that Nev Schulman (best known as the creator of the doc Catfish and an MTV series of the same name) is a necessary evil. The drama unfolded over several seasons of the hit show, but even now, years later, it's still kind of hard to parse what actually happened between Meri and the man she knew as "Sam Cooper."
Who was Sam? We now know that he was actually she, and her name is Jackie Overton. How did she entrap Meri and keep her hooked for so long? And where is the ruthless catfish now? One thing's for certain, this is a saga so convoluted even Nev and a crew from MTV couldn't get to the bottom of it.
Meri Brown was targeted on social media
Meri's relationship with "Sam" began on Twitter, not long after she divorced husband Kody Brown so he could marry his fourth wife, Robyn. Six months of seemingly romantic online communication later, Meri was shocked to discover "Sam" was actually a woman named Jackie Overton. According to In Touch magazine, Overton is a known scammer. Sam was a character she created to manipulate Meri. His persona? A businessman in his early forties who was, essentially, perfect for the lonely woman confused about her ongoing relationship with Kody.
In fact, Meri was so enamored with Sam she even sent him NFSW pics, which Overton later leaked publicly after the Sister Wives star ended their relationship. The master con artist also leaked private voicemails, via her blog, written under the Sam alias. She even subsequently wrote two books entitled Almost Meri'ed and Almost Defame'ed, also under the name Sam Cooper, to tell all about her experiences.
Her catfish continues to thrive
Meri spoke out on Season 7 of the hit TLC show about how badly being catfished affected her relationship with Kody, admitting, "This catfish was just planting things in my head and telling me how horrible my family was and specifically how horrible Kody was." She went on to explain the lies coerced her into pushing Kody away, because she was so angry at him. They reportedly still discuss it in their marriage counseling sessions. Meri, however, never copped to the relationship with "Sam" being romantic, reasoning that she just needed a friend.
According to Cheat Sheet, several other victims came forward to share their stories of being catfished by Overton once Meri's troubles became public. A woman named Kristie even revealed on Sister Wives that she'd hired a private investigator to try to expose Overton. "Sam" still operates his blog, in spite of being outed. Likewise, the Twitter account the scammer used to seduce Meri remains intact, with over 100,000 followers at the time of writing.