The True Cost Of The Bachelor That No One Really Talks About
Going on The Bachelor is a huge gamble due to the time spent away from home. Many viewers forget that most contestants have to leave their job because of the uncertain time that they'll be gone, but they also still have to pay for their living expenses and other bills that aren't put on hold simply because they're gone. "I'm not working, but I still have to pay rent and all my living expenses," Bekah Martinez told Glamour. Additionally, the number one cost that contestants rarely talk about is related to wardrobe and cosmetics.
According to E! News, "Women will spend anywhere from $1,800 to $8,000 before they hit the road to the mansion," whereas male contestants, by comparison, can expect to "shell out between $300 and $5,300." Bekah also told Glamour the only free things provided were "little things, like face wash, face wipes, body lotion, shampoo, and conditioner," as well as food, which was always available.
"They don't want to give you any kind of hints about where you'll be going, so they tell you to pack everything — bikinis, snow gear, just whatever you might possibly need," she added. "And then, of course, there are the formal gowns."
Save up before you sign yourself up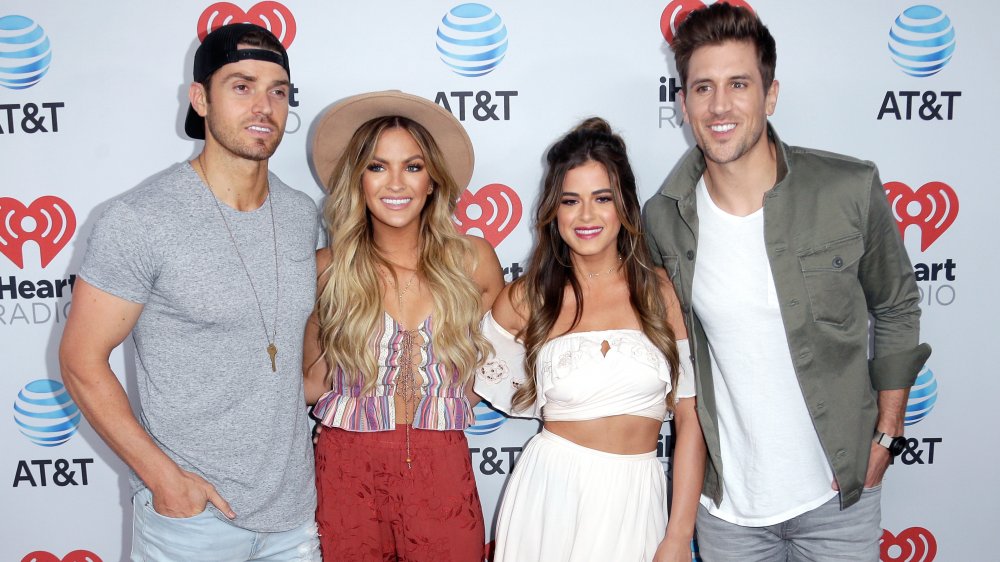 Bob Levey/Getty Images
Bekah told Glamour she ended up borrowing basics and gowns from family, friends, and the mother of the kids she nannied, who worked in a fashion showroom. "There was no way I could spend a few grand on clothes," she said. The former Bachelor contestant did splurge around $700-$800 on shoes, but added, "When I got back to Los Angeles, I was so broke I returned everything that still had tags on."
While Bekah's spending was on the lower end of the female contestants, E! News noted that some women spent a lot of money on highlights, manicures, spray tans and more. Former contestant Sarah Herron told the outlet she spent $5,000 for wardrobe and toiletries.
The Bachelorette contestant Luke Pell revealed he spent the same amount for four to five new suits for the rose ceremonies. Although, he told E! News, "The one cost that was the most taxing for me was being away from my business for such an extended period of time."