The Untold Truth Of Income Property
Launched in 2008, HGTV's Income Property has a unique yet simple premise. Host Scott McGillivray provides assistance to first-time homebuyers to renovate part of their home into an income-generating rental suite. The homeowners don't just turn over the keys to McGillivray and his crew, though; the affable host gives them options from which to choose, ranging from various decor possibilities to which part of their home they want to transform into a rental unit. 
"In a way, I've made a career out of sweat equity, and I've enjoyed sharing what I've learned in the process," McGillivray said in an interview with Forbes. "My shows focus on buying fixer-upper properties — first, because they're a great value, and second, because customizing a home to your exact specifications is really rewarding." He continued, "Buying a house that needs work can be one of the best ways to stretch your budget. Why pay for someone else's upgrade?"
Despite being one of the network's most enduringly popular series, there's much that fans may not know about this HGTV hit. Read on to learn the untold truth of Income Property. 
The inspiring reason Scott McGillivray started Income Property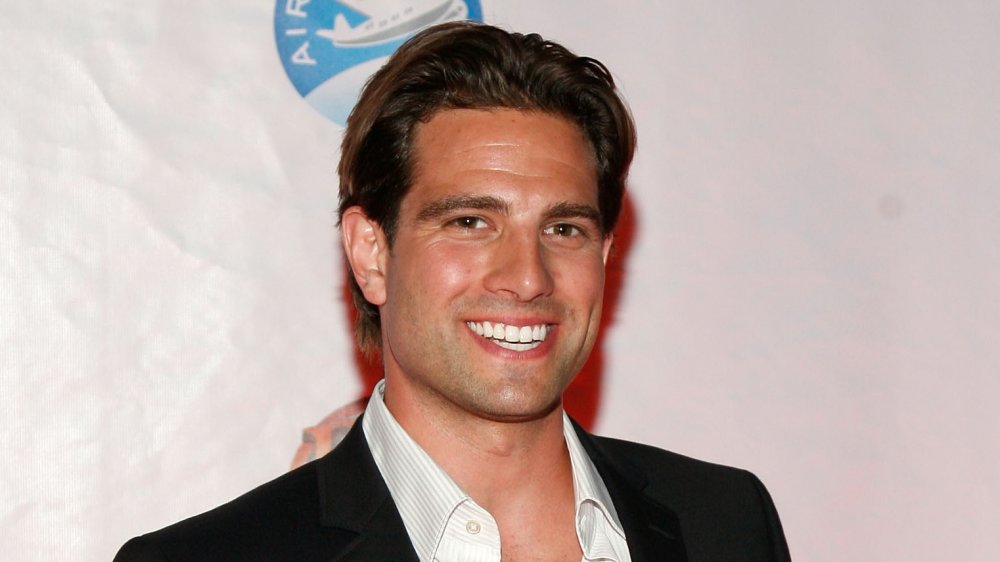 Malcolm Taylor/Getty Images
When he started HGTV's Income Property, Scott McGillivray saw a way to encourage others to do what he'd been doing: buying distressed properties, renovating them, and then renting them out to ensure a long-term profit stream as a landlord. "It's one of those shows where people still have a lot of questions because unlike a lot of shows that maybe just renovate and then walk away, we're really helping people start a bit of a business," McGillivray told Canada's National Post.
For McGillivray, that business began when he was still in college after he and a friend pooled their student loan money and bought a house. They renovated the place themselves and then rented rooms to other students to cover their mortgage payments. 
One of the biggest things McGillivray has learned after all those years as a landlord is that an income property may not make a quick buck, but it will deliver long-term dividends for those with the patience to wait it out. "You need to be realistic about how to make money in real estate. It doesn't happen instantly," he explained. "Real estate is about delayed gratification."
How Scott McGillivray's father put him on the path that led to Income Property
Undertaking home renovations isn't something that Income Property host Scott McGillivray stumbled into. His father, McGillivray revealed in an interview with Remodeling, had always been good at fixing things around the house and would even bring in some extra cash by doing contracting gigs on the side. Growing up in that environment, McGillivray explained, led him to have a natural interest in building and renovating. "I've always been into it," he said. "Even as a kid, I was into woodworking, carpentry, building furniture just as a hobby."
Speaking with The Costco Connection, McGillvray elaborated on how his dad's handiness around the home sparked his own interest in renovation and real estate. "It's rare that people get to take their hobby and make it their business," he said.
Looking back, he marveled at how far his childhood aptitude for home renovation had brought him. "You just don't know where these things will take you," he told Remodeling. "You've got to try everything and you've got to do your best and sometimes it just hits."
Why Income Property host Scott McGillivray usually wears plaid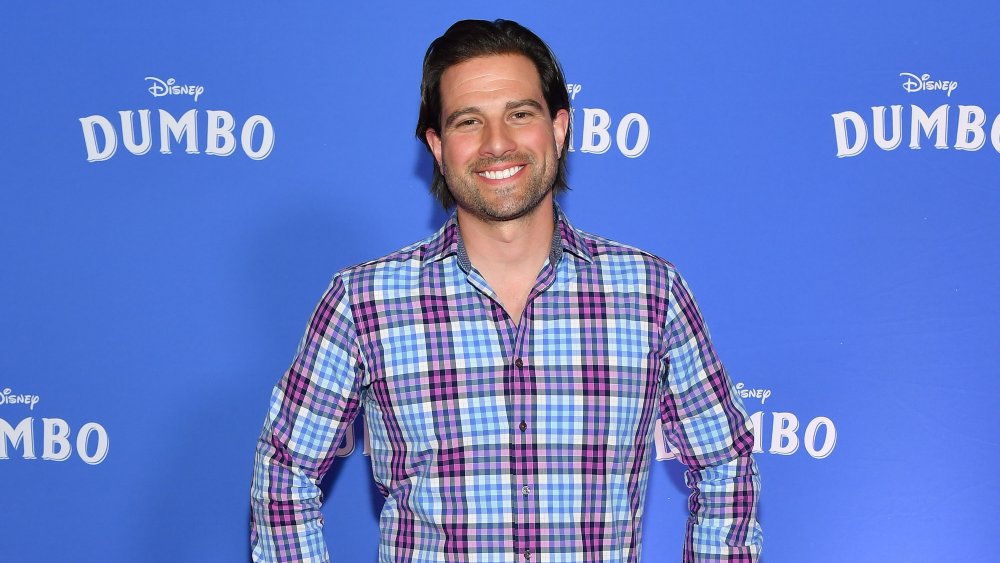 George Pimentel/Getty Images
Income Property host Scott McGillivray has built a successful brand, and part of that brand involves him wearing a plaid shirt. Speaking with Canadian Business, McGillivray discussed how plaid came to become part of his personal brand. "When I first started doing the show, there were so many people telling me what to do," he explained. "And every year it was the opposite of the year before: too many jokes, not enough jokes, too serious, not serious enough, not enough plaid, too much plaid."
What he and the series' producers ultimately discovered is that the show's viewers value consistency. Plaid, it turned out, was a big part of that. He noted that he started wearing so much plaid simply because he owned a lot of plaid shirts, but then stylists were brought in as the show's popularity grew. "And they put me in a bright yellow dress shirt," he shared. When that episode was being put together, he said the editors asked who decided to choose that shirt, presumably because it just wasn't McGillivray's style.
Income Property has been stylist-free ever since. "I play myself on TV," said McGillivray. "I consciously decided to be totally authentic rather than trying to be someone I'm not."
Income Property's host landed this coveted title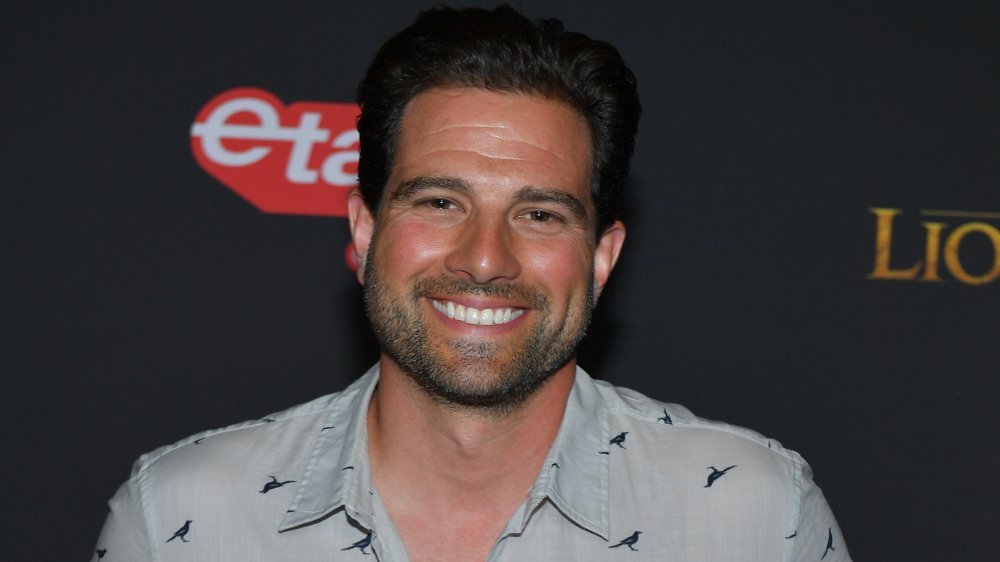 George Pimentel/Getty Images
Among the many factors that keep fans tuning into Income Property is the simple fact that Scott McGillivray is easy on the eyes. That did not escape the notice of People magazine, which named the hunky HGTV host its "Sexy Man of the Week" in the 2014 edition of its annual "Sexiest Man Alive" issue. "I can't wait to surprise my wife with the news," McGillivray told People at the time. "I have to make sure I give her the copy of the magazine before any of her girlfriends see it." Other notable men who earned the "sexiest man" title that year included Chris Pratt and Blake Shelton, with Chris Hemsworth securing the top spot.
While some may find the designation a bit on the cringeworthy side, McGillivray believes embracing the honor is simply good business. "I have fun with it," he told Canadian Business. The publication pointed out that fans (and even HGTV) had taken to using the hashtag #McGillibabe on Twitter. "It's not a horrible thing. ... obviously my PR team said, 'You have to go.' It was a huge audience, and I had to think about the fact that I have over 100 people who work for me. All of these things keep business coming in."
Scott McGillivray's top Income Property tips
Given that HGTV has aired Income Property for more than a decade, Scott McGillivray has built up a wealth of knowledge that he's happy to share. On his website, he offered five tips for prospective homebuyers looking to purchase their own income-generating property — or even just a house for their family. At the top of the list is his recommendation to set an affordable budget and then stay within it. "Your budget should reflect your life," he wrote, "not consume your life." His second tip is right in line with that, advising that homebuyers avoid looking at properties beyond their financial reach to avoid potential "financial ruin."
Further advice included being willing to put in a lowball bid (the upside, he wrote, could be a whale of a bargain) and always insisting on a home inspection.
McGillivray's final piece of advice may also be his most important. "If the home inspection proves to be scary, or if you find you've gotten into something you can't handle, don't be afraid to walk away," he explained. Even if money has already been sunk into inspections and the like, "it's better to get out early and take the loss than get stuck in something you can't handle."
Income Property isn't Scott McGillivray's only HGTV show
While Scott McGillivray is best known for his flagship series Income Property, he's also helmed other HGTV shows. There's Buyers Bootcamp, featuring McGillivray partnering with amateur investors to buy investment properties together. With his own money on the line, the hard-earned lessons McGillivray teaches his rookie partners directly affects his own bottom line. 
He has also been seen in HGTV Canada's Moving the McGillivrays, a ten-part series that followed McGillivray, wife Sabrina, and their children as they built their dream home. In addition, in spring 2020, McGillivray launched HGTV Canada's Scott's Vacation House Rules, in which he finds rundown cottages, beach houses, and other types of vacation properties and gives each of them serious renovations.
McGillivray has also branched out online with Scott's House Call, a digital series shared on Facebook and YouTube. Each episode of Scott's House Call finds him meeting with a viewer who's reached out in search of advice on one particular issue. As thanks, each person he meets with offers him a home-cooked meal. "So far I've been treated to delicacies like Dijon salmon, homemade moussaka, and some pretty awesome hamburger cupcakes," he shared on his website.
This is how many properties Income Property host Scott McGillivray owns
Since he and a friend jointly purchased their first income property as university students, Scott McGillivray has turned a clever money-making opportunity into a multi-pronged empire. A year after that purchase, he was able to buy his own home, renovating the basement as an apartment he could live in while renting out the rest of the home. According to an interview with the National Post, he lived there for eight years, ultimately moving to a larger home when he got married and Income Property had started to take off. 
During that time, he amassed more properties to renovate and rent; by 2013, McGillivray told the Post, he estimated that he owned approximately 100 properties and had about 500 tenants. While he admitted that being a landlord isn't always easy, it can definitely be lucrative — for the right type of person, that is. "In the long term you'll do well if you make the right choices," said McGillivray. "I used to say real estate investing is for everyone, but I now know it's not ... It takes the right type of person and the right type of attitude."
The three things Scott McGillivray tells anyone who's looking to buy an income property
Purchasing a home with plans of renovating and renting in the way that Scott McGillivray does it on Income Property requires a meticulous strategy, and there's not much margin for error. "It's way too expensive to learn from your own mistakes, you need to learn from others' mistakes," McGillivray explained in an interview with the Tampa Bay Times. 
McGillivray outlined the three things anyone following in his footsteps "absolutely" needs to do. "One, understand how the financing works because it can make or break you," he advised. "Two, work with a home professional, someone who knows how to renovate or a home inspector or contractor who can give you the details of a home," he added. His third piece of advice is to hire a local agent who's very familiar with the community and knows the lay of the land, someone who "understands what the local schools are like, whether or not there's a water backup problem, things you don't see online."
While prospective buyers may balk at the cost, McGillivray contended that hiring a professional is money well spent, warning, "Wait 'til you get the bill for making a mistake."
How investing in income properties has changed since Scott McGillivray started the show
Considering that Income Property's Scott McGillivray has been investing in income-generating properties since he was a university student, he's had to evolve his strategy to adapt to everything from changing market forces to technological innovations. The advent of Airbnb and similar online home-rental platforms, he told the Tampa Bay Times, has made it easier to rent out short-term accommodations and vacation properties, a far cry from when he used to take out ads in newspapers in order to find tenants. "When I got started, I used to go around to all the campuses and post rental signs on and off campus and now I just go online and list," he said.
One thing that hasn't changed over the years is the constant need for student accommodation, and he told the Times that buying an income property near a university could be a solid investment. "Student rental is definitely a very profitable form," he advised.
However, he also cautioned that, while renting to students can be lucrative, "it is also a very time-intensive type of investment," noting, "There's a lot of working involved with student rentals."
Scott McGillivray take the most pride in these Income Property homes
Since starting Income Property in 2008, Scott McGillivray has renovated a lot of properties on the show. Out of all those homes, he singled out some of his favorites for HGTV Canada's website. One particular home that stuck out to him was from the show's seventh season, which he pointed out was "one of the first dedicated investment properties we ever renovated on the show." It involved not just a basement or partial renovation but "the entire house, top to bottom, inside and out."
Another home he recalled as a favorite was one that he and the Income Property crew nicknamed the "rat house," so named for the infestation of rodents discovered in the basement. The extensive renovation, however, resulted in "something beautiful" and brought the homeowners "a really good return on their investment."
McGillivray also highlighted a renovation from the show's tenth season, which represented "a unique opportunity to work on a heritage building." That aspect, he admitted, led to some tough decisions but ultimately generated a spectacular space. "I had to make some choices I wouldn't normally make," noted McGillivray. However, he shared that "the end result was a really unique space unlike any other I've done."
Scott McGillivray has made some big bucks since starring in Income Property
As the owner of numerous income-generating properties in both the United States and his native Canada — and let's not forget his multiple HGTV series and associated media projects — Income Property's Scott McGillivray has been building up his bank account. According to Celebrity Net Worth, McGillivray, one of several HGTV stars who leads a lavish life, boasts a net worth of a cool $4 million.
As McGillivray told Canadian Business, his strategy for generating wealth has always been keeping his eye on the horizon and not resting on his laurels. "I like biting off more than I can chew," he admitted. "Once I get something to the point that it's 'operating with excellence,' as I like to call it, then I look for opportunities to expand."
It also helps, he explained, to be enthusiastic and engaged about whatever project is being undertaken while remaining "authentic" to one's core beliefs, and that's definitely the case for him. "I am off-the-hook passionate about real estate," he declared. "I live and breathe it; I've got 10 renovations on the go at any given time. Authenticity [paired with] passion really is the winning combo."

Income Property's host was once in a boy band
Most people have a shameful secret from the past, so what's Income Property host Scott McGillivray's secret? Well, it's the fact he was once in a boy band. As Starcasm reported, McGillivray wrote on his website about being a member of a boy band called Next Element, which gained some regional popularity in his hometown of Toronto. "My bandmates and I were dedicated and worked extremely hard rehearsing songs and choreography," he wrote in the since-deleted post. "We had a great opportunity to spend some time together in Nashville and perform at various theatres in the late 1990s and early 2000s."
He joked about Next Element in a 2016 April Fool's Day Twitter post, sharing a old photo of himself and the rest of the group. "Excited to share that Next Element (my old boy band) is coming out w/ a new album this fall!" he wrote in the caption. "Alright, you caught me! No Next Element reunion, but on the plus side — those frosted tips won't be making a #comeback!" he wrote in a followup post.
Some of his boy band skills have remained with him, however, as he demonstrated by performing a not-too-shabby moonwalk during a 2014 appearance on George Stroumboulopoulos Tonight.
Scott McGillivray spun off Income Property by going On Vacation
Airing on HGTV Canada, Income Property spinoff Income Property: On Vacation launched in 2016, and it placed a focus on how homeowners could improve their cottages and vacation homes to maximize the amount of money they'd be able to make from them.
According to HGTV Canada, the spinoff follows Scott McGillivray as he "guides holiday homeowners through the process of building a vacation suite and banking the rental [checks] — all while taking advantage of what the sun, surf and sand has to offer."
One family who participated in the show shared their experience with the Ottawa Citizen in 2016. Family patriarch Patrick Dennehy described how McGillvray provided a $65,000 update to his dated cottage, and he was ultimately pleased with the makeover it received. He told the newspaper that "when Scott moves in and waves his magic wand, everything flows."
Why Scott McGillivray recommends Income Property investors get friendly with neighbors
A big piece of advice that Income Property's Scott McGillivray has shared with prospective homebuyers is to speak with the people who live near the house they're looking to purchase. 
"One thing that has saved my bacon many times is talking to the neighbor about the property," McGillivray revealed to Elle Decor. He explained that neighbors are often "transparent" about properties near them. Because of that, McGillivray will see if any neighbors are outside if he's interested in a house, so that he can chat with them and get information. As he shared, getting friendly with neighbors has led him to receive some valuable intel about houses he was scoping out that hadn't been brought up by the realtor. "Once, a neighbor said, 'Oh [yeah], those guys should have fully fixed the basement after the flood last year, but I know that they just dried it out and painted the walls," McGillivray said. "That's a $20,000 tidbit of information right there."