The Best Clothing Colors For Your Skin Tone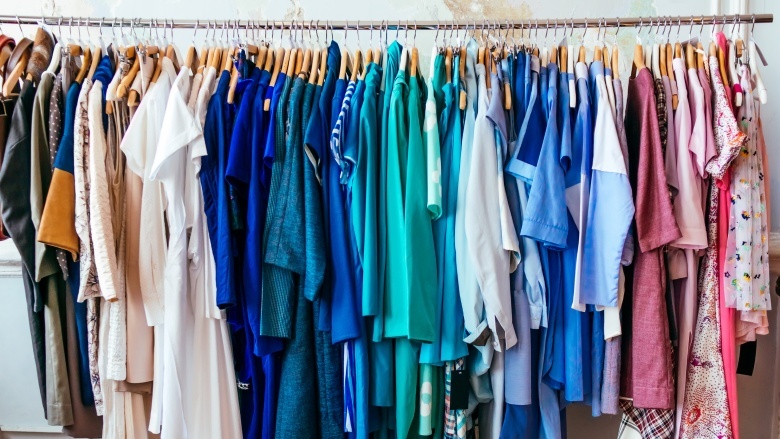 Shutterstock
You sometimes hear people talk about how blue is "their" color, or how they look awful in peach. What causes people to have flattering and clashing colors for their skin tone, and how do you determine which colors are best for you? We'll tell you how in just a moment, but try to remember that these rules aren't set in stone. If you love a color that isn't the best for you, that doesn't mean you have to stop wearing it! Consider using it as an accent color with a belt, scarf, shoes, or handbag instead of wearing it head-to-toe.
Getting ready to test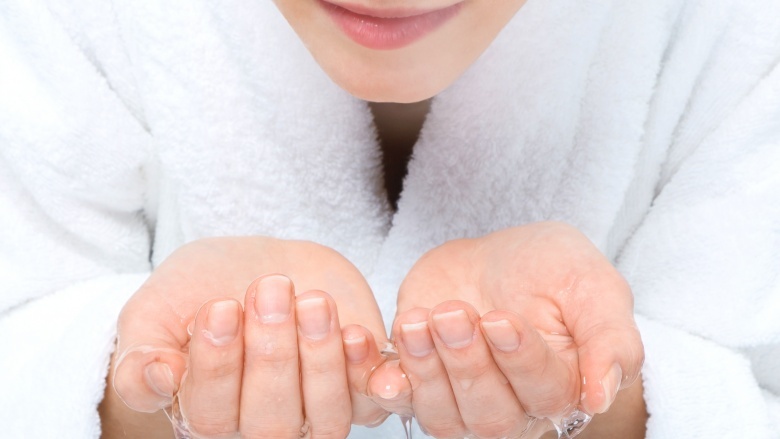 Shutterstock
To figure out your true skin tone, you need to look more than skin-deep. While the surface color of your skin can change with sun exposure, reactions to medication, or medical conditions like rosacea, your skin tone is actually determined by the undertones that come through. This confusion about undertones versus surface color is why sometimes we pick out foundation or powder that looks great in the tube but clashes horribly once we try it.
First, make sure your skin is clean and free of any cosmetics or lotions, which could affect the results. If you just washed your face, wait about 15-30 minutes until any redness from scrubbing fades. Make sure you use natural daylight to examine your skin tone, as artificial lighting can change the appearance of your skin's undertones.
Determining your skin tone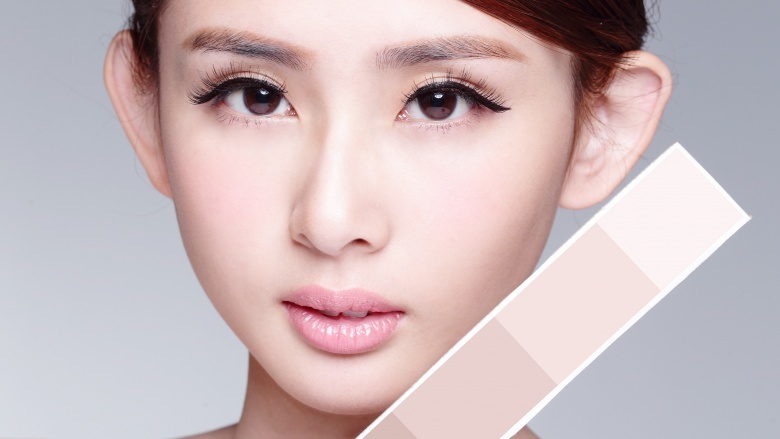 Shutterstock
The simplest test uses a plain white piece of paper. Hold the paper up to your face and compare how your skin looks in contrast to the paper. If your skin looks yellowish, greenish, or light brown, then you likely have a warm skin tone. If your skin looks pink, rosy, or blue, then you have a cool skin tone. If your skin looks gray or ashen, then you are a neutral skin tone. If you have a skin condition like acne, rosacea, or if you are extremely tanned, ask a friend to use the paper test on the crease behind your ear instead, which is less likely to be affected by these variables.
Next, flip your hand palm up and take a peek at your veins in the hand and wrist. If your veins appear to be blue or purple, you have cool skin. If they appear green, then you have warm skin. If it's hard to tell one way or the other what color they favor, then you have neutral skin.
How does your skin react to the sun? People who tan easily instead of burn usually have warm skin tones. People who burn rather than tan usually have cool skin tones, although sometimes women with dark ebony skin that doesn't burn can also have cool undertones. People who are neutral may fall into either group with regards to tanning or burning, but neutrals will not have any obvious appearance of olive, yellow, or ruddy skin.
Colors for warm skin tones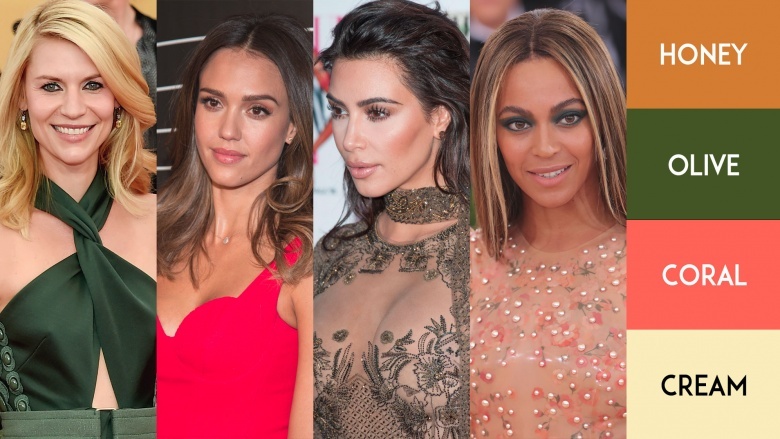 Getty Images/Claire Williams
If you've got warm skin tones, you join the likes of Claire Danes, Jessica Alba, Kim Kardashian and Beyoncé. For you, the best colors are rich reflections of nature. On the warm side of the color wheel, you should turn to red, peach, coral, orange, amber, gold, and yellow. You also should look great when you wear "warmer" versions of cool colors, like olive, moss, orchid, and violet-red. Neutrals that are best for you include taupe, cappuccino, cream, and mushroom gray. Avoid chilly colors like icy blues or jewel tones like sapphire or amethyst because they can wash you out and make your skin look gray.
Colors for cool skin tones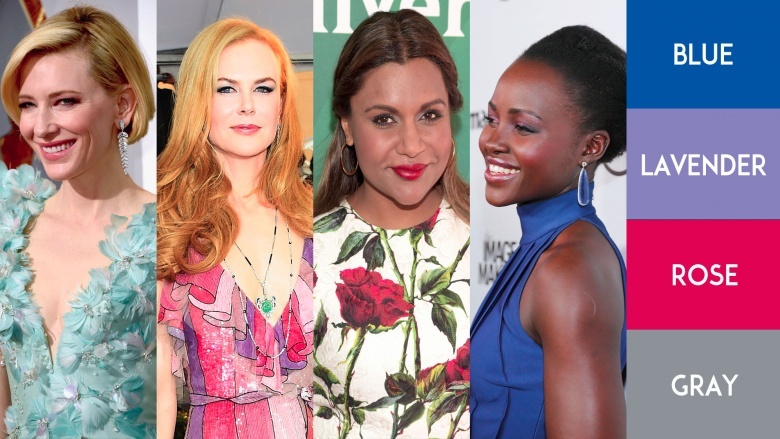 Getty Images/Claire Williams
If you have cool skin, your celebrity look-a-likes include Cate Blanchett, Nicole Kidman, Mindy Kaling, and Lupita Nyong'o. Your best colors are on the cool end of the spectrum and are inspired by both the depths of the ocean and the depths of winter. Bright blues, emeralds, and deep purples will look great, along with frosty shades of lavender, ice blue, or pink. On the warm side, you can turn to ruby, bright rosy red, or super-pale yellows. With neutrals, you can rock cool gray, bright white, and navy. Try to avoid orange, tomato red, and strong yellows, which can clash with your skin completely.
Colors for neutral skin tones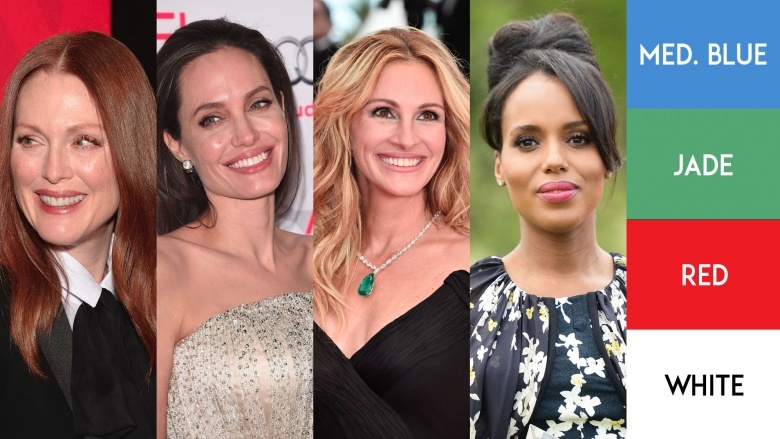 Getty Images/Claire Williams
Your neutral coloring puts you in an exclusive club with Julianne Moore, Angelina Jolie, Julia Roberts, and Kerry Washington. As a neutral, you can wear anything on the color wheel — but it's typically best to go for softened or muted versions of a color instead of the brighter ones. Choose colors like dusty pink, jade green, cornsilk yellow, or lagoon blue. For neutral colors, turn to off-whites, coffee, mid-range grays, and black. Oversaturated colors like electric blue and magenta can overwhelm your neutral skin tone, but there's one big exception to this: never be afraid to wear a bright, true red — you will look amazing.
Colors for everyone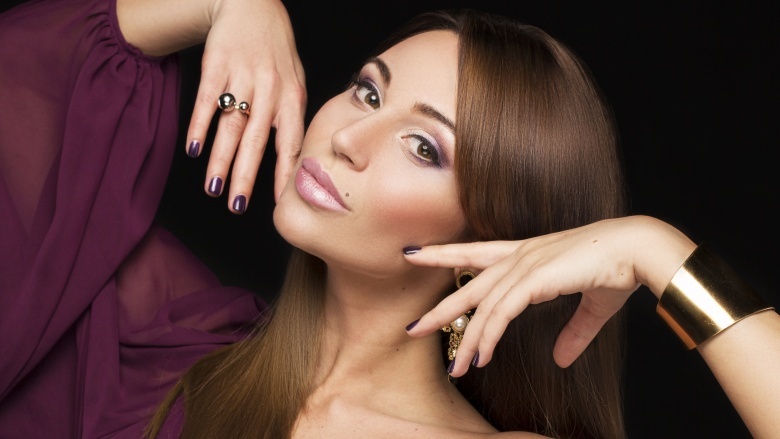 Shutterstock
There's a handful of colors that will look great on any skin tone because they provide a perfect balance of warm and cool that won't clash with your skin. Pure white goes great with everyone's skin. If you find that a white garment doesn't look quite right on you, take a look at it in natural light and make sure it doesn't actually have cool or warm undertones that might not have been as obvious on the rack. Light blush pink brightens any skin tone and brings out the natural glow of your face. Teal with a perfect mix of blue and green can be worn by anyone and is a great summer or winter shade. If you want to go dark, try eggplant purple, which acts like a neutral and accentuates your skin without overpowering it.