The Too Hot To Handle Star No One Recognized From America's Next Top Model
Netflix's Too Hot to Handle is the latest binge-watch sensation, in the wake of the phenomenon that was Love Is Blind. Because, it's not too tricky to capture the attention of everybody quarantined at home, with nothing better to do than judge sexy singletons trying to find love. The devious twist with this particular show, however, is that the hotties marooned at a stylish resort are not allowed to hook up, even if this was their main reason for going on the show in the first place (via Netflix).
Those who survive the challenge will be compensated handsomely in both money, and the all-important exposure being on a reality show like Too Hot To Handle inevitably brings with it. One cast-member who managed to stay strong, at least in comparison to the others, was drop-dead gorgeous model and self-professed deep thinker, Matthew Smith. If he looks familiar, it's not just because you've been stalking his Instagram. This isn't Smith's first reality TV rodeo, as he was formerly on America's Next Top Model.
Matthew Smith looked completely different on ANTM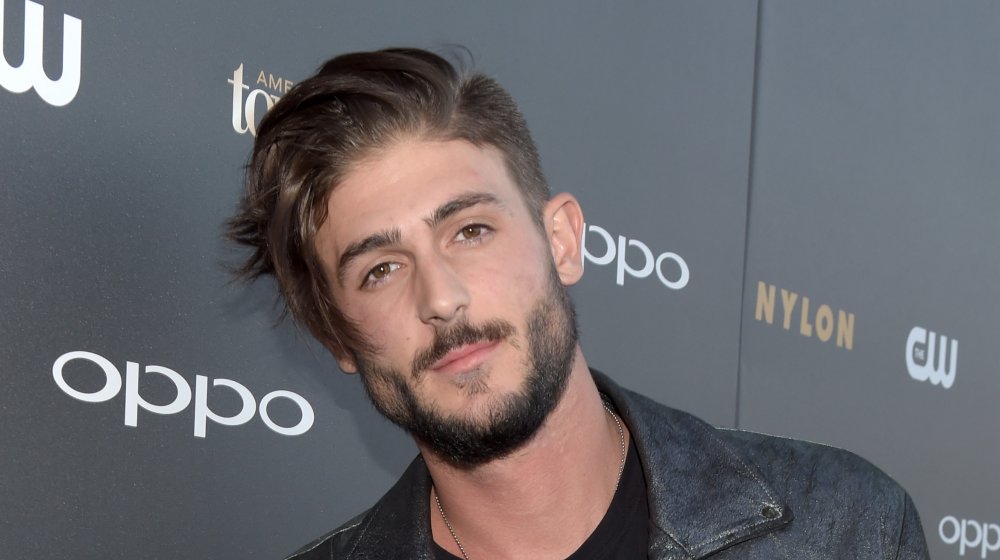 Jason Kempin/Getty Images
Too Hot To Handle saw Smith walking up to the beach wearing a seasonally-inappropriate beanie hat, and espousing how he thinks "about everything a lot," which immediately made him something of an interesting character. His luscious locks, which afford him the nickname Jesus, were distinctive, adding an air of mystery to him as well. This whole persona is in direct opposition to the first time Smith appeared on our screens, however.
As noted by Screen Rant, he previously popped up during cycle 21 of America's Next Top Model. Back then, Smith's hair was shorter, and his style was basically non-existent. In fact, the wannabe model was wildly appreciative after winning the first challenge, because choosing a look wasn't something he felt confident doing — especially after host Tyra Banks described Smith as both boring, and vanilla (two descriptors he admitted to being quite familiar with).
Matthew Smith knows exactly who he is today
During his ANTM stint, Smith was goofier, earning a reputation for his sunny outlook on life (something the more serious Too Hot to Handle variation may baulk at). He was also clean shaven, and skinnier back in the day. Since the modeling competition show, it appears that, aside from becoming a model proper, Smith has re-branded himself as the more rugged, chiseled type. He's even appeared in small roles like on The Young and the Restless and New Girl, according to his IMDB page.
Smith may not necessarily be lying about being a deep thinker, either, as he co-wrote a children's book entitled Windy back in 2016, the synopsis for which reads, "Long ago, the Earth's most beautiful creature learned the true meaning of giving. This is her story – the story of Windy." He's also the COO of multimedia company, Dream Katchers Enterprise, and dabbles in everything from skateboarding, to playing guitar in his downtime, judging by his Instagram page.