Pink Looks Way Different In Quarantine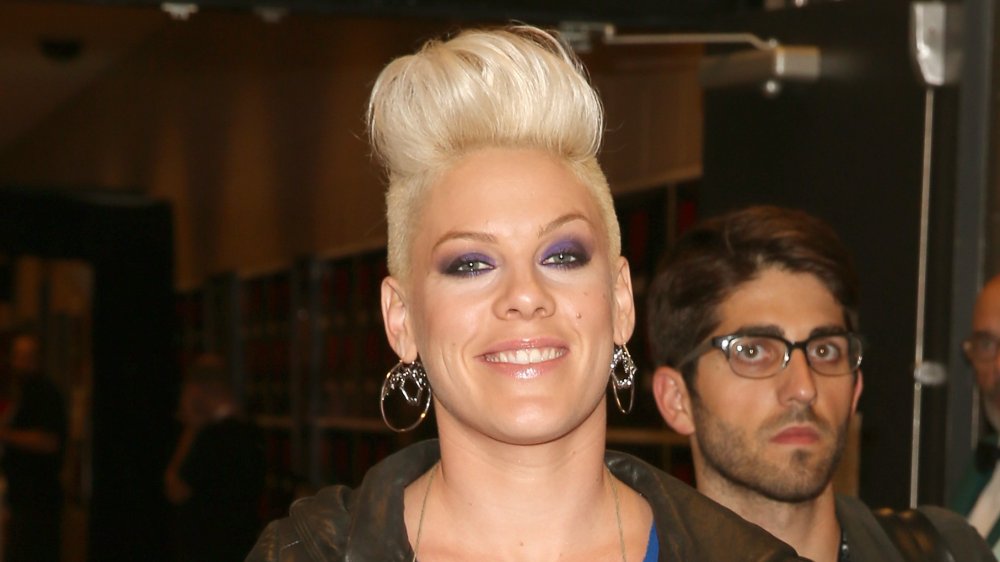 Christopher Polk/Getty Images
Like the rest of the world, singer Pink has been in isolation with her family, including her husband Carey Hart, and their kids, Willow and Jameson. The "What About Us" crooner seems grateful to be recovering after being diagnosed with COVID-19, along with Jameson, who is just 3 years old (via Today). Just three weeks ago, Pink shared an update on their health on Instagram, saying when they tested positive, writing, "My family was already sheltering at home and we continued to do so for the last two weeks following the instruction of our doctor. Just a few days ago we were re-tested and are now thankfully negative."
Pink added in her post, "This illness is serious and real." She also said, "It got really, really scary, I'm not gonna lie," according to CNN. Thankfully, after battling coronavirus, the mom of two is clearly feeling better, along with Jameson. In fact, she felt up to a date night of sorts with Carey, albeit from the safety of their own abode. And while Pink looks beautiful, she definitely appears completely different from how fans are used to seeing the punk rocker.
Pink's quarantine hair and makeup is a revelation
In a caption to her Instagram post about date night, Pink shared, "We decided to get dressed up 'black tie' tonight to stay home." She then added about Carey Hart's black tie, "way to take it literally." While the tie and no shirt look is hard to tear your eyes away from, it's equally impossible not to notice Pink's hair. Instead of bleach blonde or magenta locks, the star's mane is brunette. One presumes like everyone else, Pink hasn't been making regular visits to the salon.
The outspoken singer's makeup is also refreshingly natural, and it must be said: Pink looks gorgeous! Note to the star: No need to dye your hair or go big with makeup. The genuine vibe definitely works.
Commenters to the photo agreed. "I absolutely LOVE your hair!!!" one wrote. Another shared, "I'm also living for your hair right now." Many more fans wished the singer and Jameson well following their scary coronavirus ordeal.