The Secret Meaning Behind Queen Elizabeth's Outfit During Her COVID-19 Address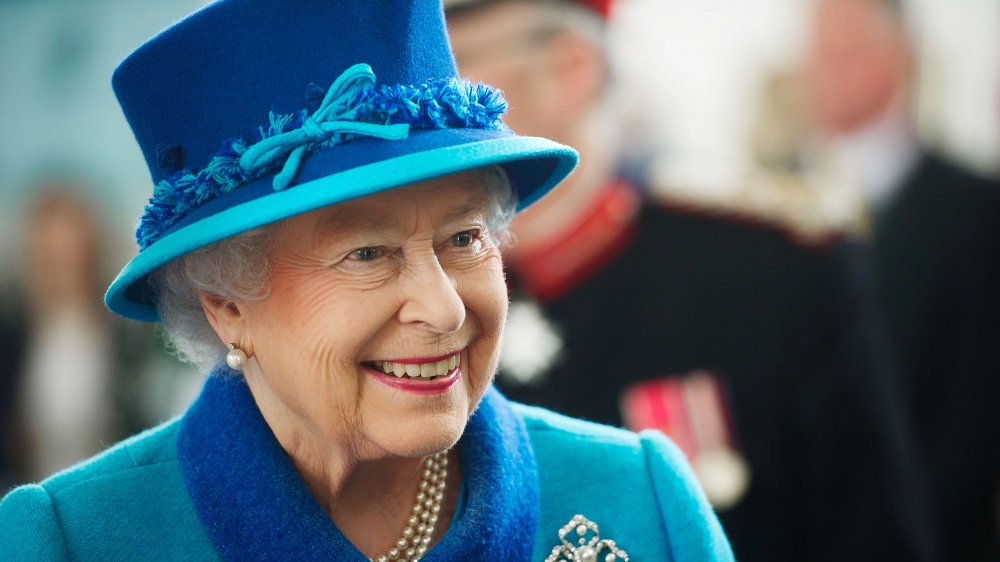 Bethany Clarke/Getty Images
Queen Elizabeth is known for fresh and bright color palettes, excellent hats and umbrellas, and (of course) beautiful accessories. Her most recent outfit hit was a flattering mono-shade get-up in Kelly green. On April 6th the Queen made a very rare appearance on television in order to address the current situation with COVID-19. In her address, she looked perfectly put together, but the ethos behind her outfit wasn't purely aesthetic. The grass green dress, pearls, and turquoise embellished brooch were all symbolic (via Pure Wow).
NHS workers often wear scrubs in a similar shade of green, so the Queen wore the shade to honor them. The color is also indicative of springtime, regrowth, and regeneration. Queen Elizabeth's brooch belonged to her grandmother, and some speculate the lovely piece of jewelry has multiple meanings. The turquoise stone is often seen as a healing and protecting stone — two attributes that are entirely appropriate and relevant to the nature of her speech. Her grandmother was also a support during the difficult times of World War I, so it's possible the brooch is a token to remind the country of its strength and ability to get through rough times. 
More meaning behind Queen Elizabeth's outfit
The Queen's brooch may hold even more meaning, as it has been a constant in the family throughout the last 100 years. In fact, Queen Elizabeth has worn this very brooch on several occasions during her reign, and some say her choice to wear it during the COVID-19 address was inspired by the idea of continuity (via Hello Magazine). 
Not surprisingly, the Queen's outfit inspired others to shop for similar pieces. Within hours of the broadcast, searches for green skyrocketed by over 50 percent, while brooch queries grew by 115 percent (via Lyst).
Meanhwhile, people have a lot of free time on their hands right now, and more free-time means more memes. The Queen's dress was not off limits to meme creators. The shade of green she chose to wear in order to show support was coincidentally the same shade as a green screen, making it easy for Photoshoppers to "enhance" her look with pattens galore (via Marie Claire).