Here's How A Visit To The Hair Salon Will Be Different Now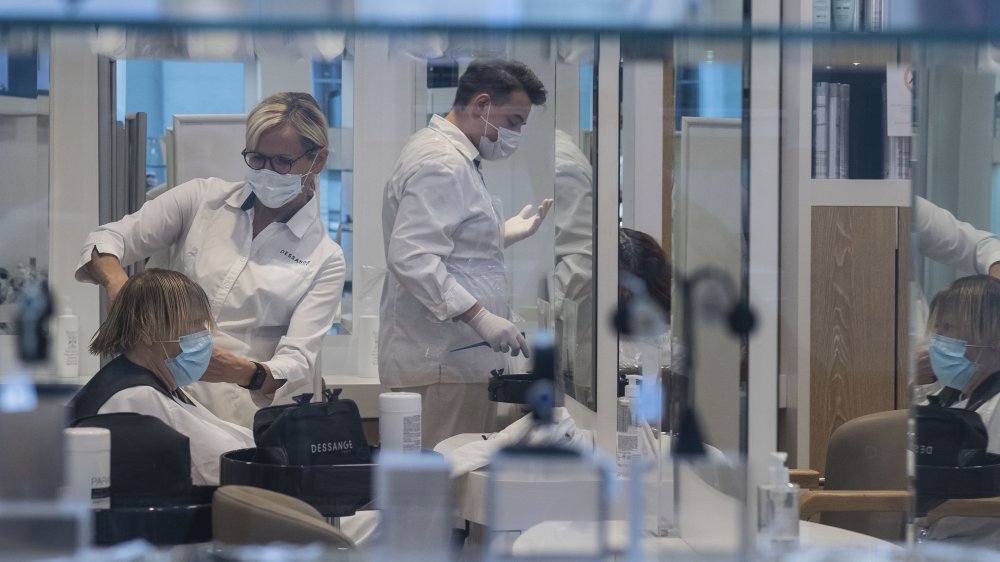 Sebastien Bozon/Getty Images
Quick: What's the first thing you plan to do as soon as quarantine and shelter-in-place orders are lifted? If you say "go to the salon," you'd be one of millions desperate for a cut, color, treatment — anything that involves you and your hairdresser getting together for an overdue catchup. But before you do that, there are more than a few things you ought to know.
Just because lockdowns have started to ease doesn't mean that the pandemic is over. In fact, data scientist Youyang Gu told CNN that as soon as states begin relaxing quarantine measures and people begin heading back to work, we'll see another rise in cases. "It will be at least two to three weeks before we see an increase in the number of infections because it takes time for individuals to infect others and for them to display symptoms," Gu said.
American hair salons already have pandemic precautions in place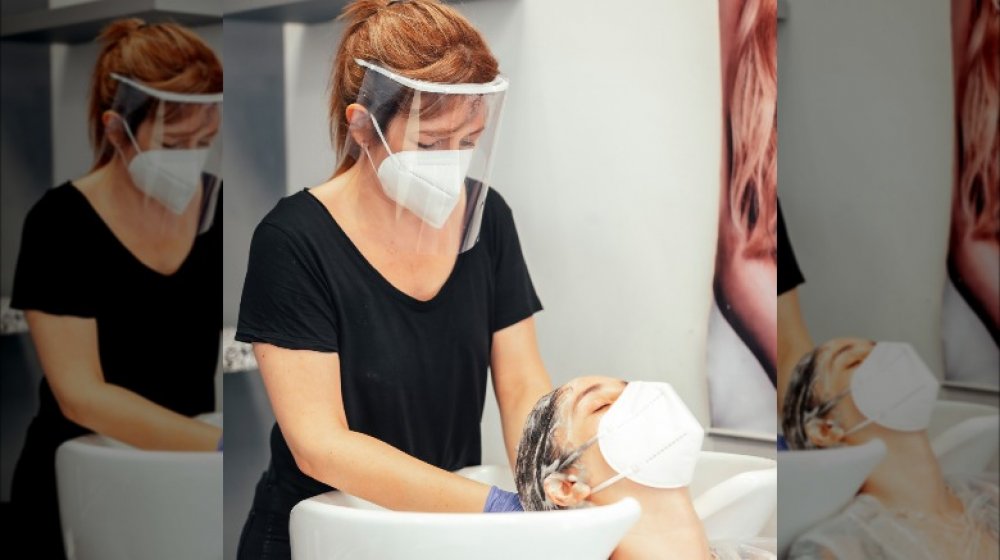 Shutterstock
With this in mind, hair salon owners and operators in states which have already reopened have introduced rules to ensure the safety of both hairdressers and their customers. Van Council, who owns a few hair salons in Georgia, said that for his salon at least, each shop is only allowed to have 50 percent of its maximum number of occupants. Every stylist will work at stations spaced at least six feet apart. Stylists will be required to wear plastic shields and masks, while clients need to undergo temperature checks before they enter the salon. There will be no blow drying, and in-salon time will be kept at a minimum (via Vogue). At another Georgia salon, clients are asked to wait outside until their stylist is ready and before they will then be allowed to enter (via ABC). Council's Georgia salons are even asking clients to give their recent medical and travel histories which are noted down because, well, you never know.
If entering into the strange new world of a post-coronavirus salon might seem weird to you, you might take comfort in the fact that the experience is just as weird for your stylist. "It's hard to work in a mask and shield. We have stylists and colorists rotating, working two days on and two days off," Council told Vogue.
Hair salons all over the world are struggling with the same problem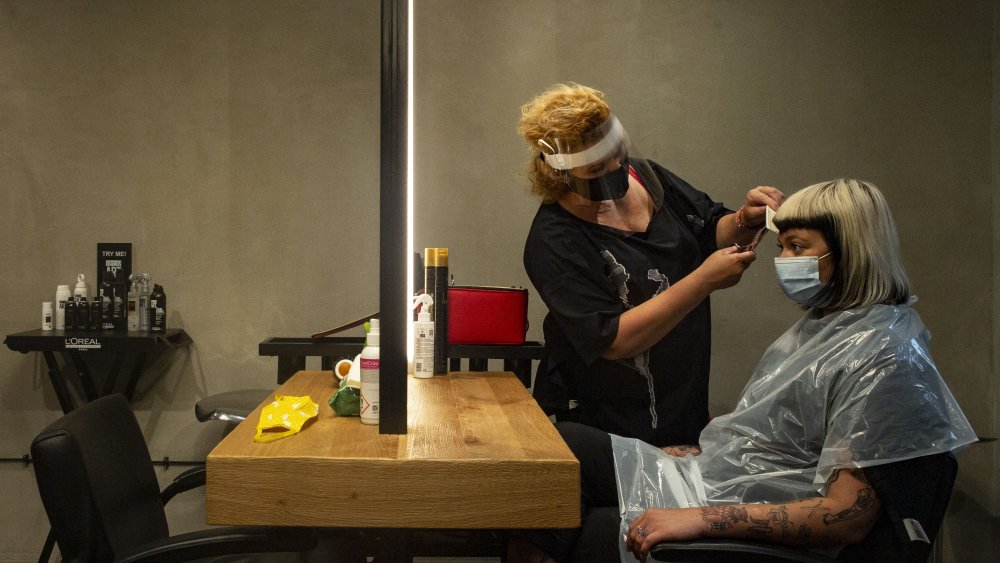 Michal Cizek/Getty Images
America's hair salons are not working in a vacuum, because their colleagues in other parts of the world are operating under similar conditions. In Japan, Masa Honda, owner of Masa Aveda salon, told Vogue that he and his staff are trying to negotiate the new normal. "Safety is our number one priority. To help clients and staff feel safe, we've made a new service routine that accounts for when a client steps into the salon until they leave, including wearing masks, checking their temperature, and doing a short health questionnaire before their visit. Since the salon is a space where many people gather, we will avoid having too many people at the same time, and things that cannot be sterilized, like magazines, will be put away."
Salon owners whose doors have opened have seen a flood of returning customers, and it may be too soon to tell if they'll be seeing any pushback from their clients over pandemic-related protocols. But just as hair stylists are happy to be working again, clients are overjoyed to be back in the hands of the folks that make them feel good (via The New York Times). Folks might start complaining about precautions at some stage, but for now, they're just grateful to be back in the stylist's chair again.