How Sarah Paulson Really Feels About Being Compared To Adele
Just a few days ago, iconic singer Adele broke the internet with her latest Instagram post. Aside from thanking fans for their recent birthday wishes and thanking healthcare workers for their commitment during the coronavirus pandemic, the post showcased her stunning transformation. Indeed, fans quickly flocked to social media to point out how much of a resemblance the British singer shared with, for example, a "God-fearing interior decorator from Des Moines."
In particular, though, the comparison was made between Adele and American actress and American Horror Story stalwart Sarah Paulson  — far from an unflattering equivalence, considering Paulson is a Golden Globe winner and demonstrably beautiful woman. The photo in question even showed Adele in a classy black dress, not unlike the kind Paulson might don for an event. Luckily, the lady herself has chimed in to let us know exactly what she thinks of being compared to one of the most successful chart-toppers of all time.
Sarah Paulson is flattered by the Adele comparisons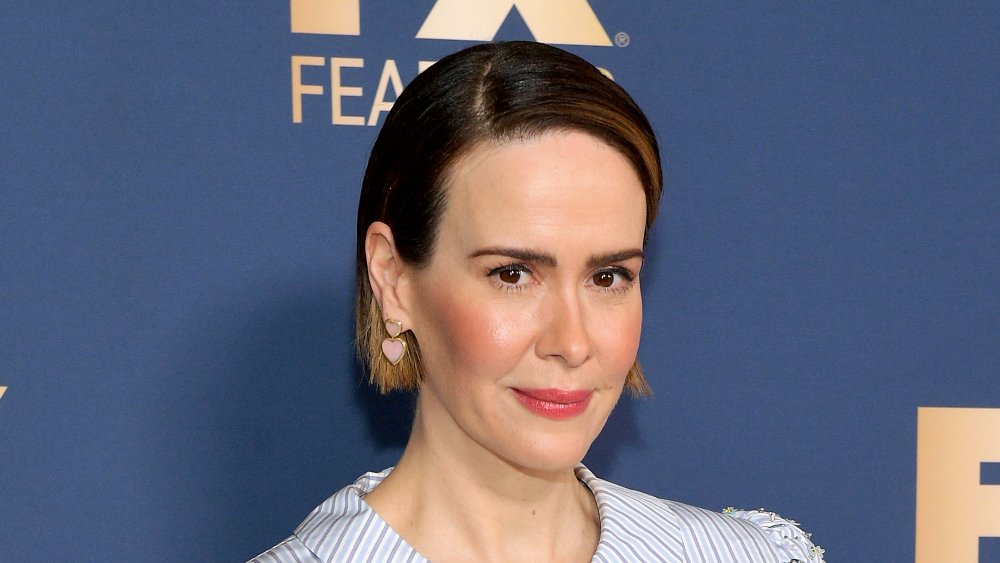 Matt Winkelmeyer/Getty Images
According to The Loop, during a recent appearance on SiriusXM's EW Live, Paulson admitted she spotted herself trending on Twitter and immediately thought the worst, only to realize it was actually for something quite flattering. "Listen, I'll take it. I mean, what I wish they were comparing was my talent to her talent and saying that mine was as great as hers, which quite honestly they can't say because no one's talent is as great as hers, which is really irritating. But I'll take looking like her," she argued. Paulson further acknowledged it isn't the first time the comparison has been made, but she's not mad about it, noting, "Man, she's a beauty."
Adele's post, which almost immediately went viral, caught the attention of several celebrities including Chrissy Teigen, who wrote simply, "I mean, are you kidding me?" and Diplo, who kept it even shorter with, "Well ok." Adele has reportedly been working with a trainer and trying to get healthy in the wake of her split from husband Simon Konecki, as reported by People. She cut a slimmer figure at Drake's recent birthday party, as Page Six noted at the time. However, the reaction to Adele's weight loss was so intense her ex-personal trainer felt the need to respond in a lengthy Instagram post, calling for everybody to leave the singer alone.