The Untold Truth Of Trading Spaces' Frank Bielec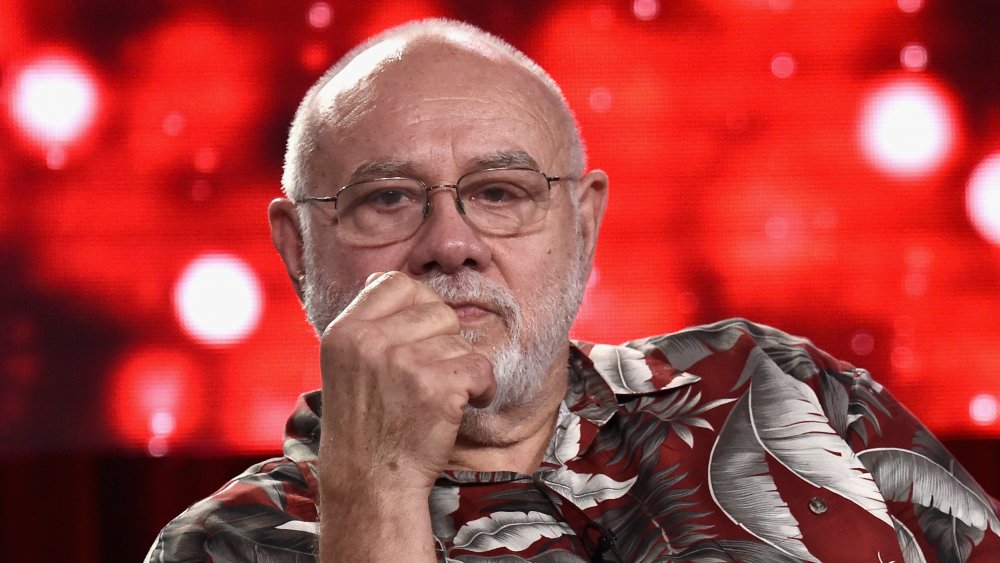 Amanda Edwards/Getty Images
Trading Spaces fans were devastated to hear of the news that one of the show's stars, Frank Bielec, passed away on May 15 at the age of 72. His wife, Judy, told TMZ that he passed away after a heart attack. 
The designer had been on the show since it first debuted in 2000 until it wrapped in 2008, and also appeared on the show's 2018 reboot. Bielec was also recently seen on a virtual Trading Spaces reunion conducted via Zoom last month (per ET).
"A sad day for the TLC family as we learn of the passing of beloved Trading Spaces designer Frank Bielec," said the network in a statement (via People). "We will miss and remember him fondly, his quirky style and wonderful sense of humor. We share our love and condolences with the entire Bielec family at this difficult time."
Trading Spaces' Frank Bielec was multi-talented
Bielec long remained one of the most beloved stars of Trading Spaces, in spite of the fact that he was once almost fired from the show because he "didn't fit the demographic." In a 2009 interview with Katy Magazine, Bielec revealed that his bosses didn't like how he dressed. "I always wore shorts and crappy clothes because I was working and it was hot," he said. "I figured if the carpenters could dress that way, I could too, but boy did we get phone calls."
Bielec was a man of many talents. In addition to showing off his design skills on Trading Spaces, he worked as an educator for years, teaching art and social studies. He also had a masters of fine arts, worked as a florist for 20 years, and was a talented artist and entrepreneur, starting cross-stitching business Mosey 'n Me with his wife, Judy, in 1989.
"People assume that Frank is just what they see on TV," Judy once told Fort Bend Lifestyles & Homes. "But he's layered and complex."
Frank Bielec's Trading Spaces co-stars are heartbroken over the loss
Bielec's fellow Trading Spaces cast members are devastated over his death. Co-star Vern Yip opened up about the loss on Twitter. "Lovely Frank Bielec passed away today from complications following a heart attack," he wrote. "Funny, wise, nice, and talented, he always lent perspective and levity to every situation. Thank you for always being kind to me. I will miss you dearly friend."
Ty Pennington also took to social media to pay homage to Bielec, calling him "One of the [best] humans I've had the good fortune to call friend" on Twitter.
Genevieve Gorder also offered up a tribute to Bielec. "As the youngest and oldest designer, we had a special bond, much like siblings and we met every time we could in the place we both felt most comfortable, talking honestly, from the heart and right next to each other in almost every photo I have from that time in life," she wrote in a heartfelt Instagram post. "Frank was like the sun and you just wanted to be next to him, his honest thoughts and warmth."