The Truth About Bethany Hamilton's Husband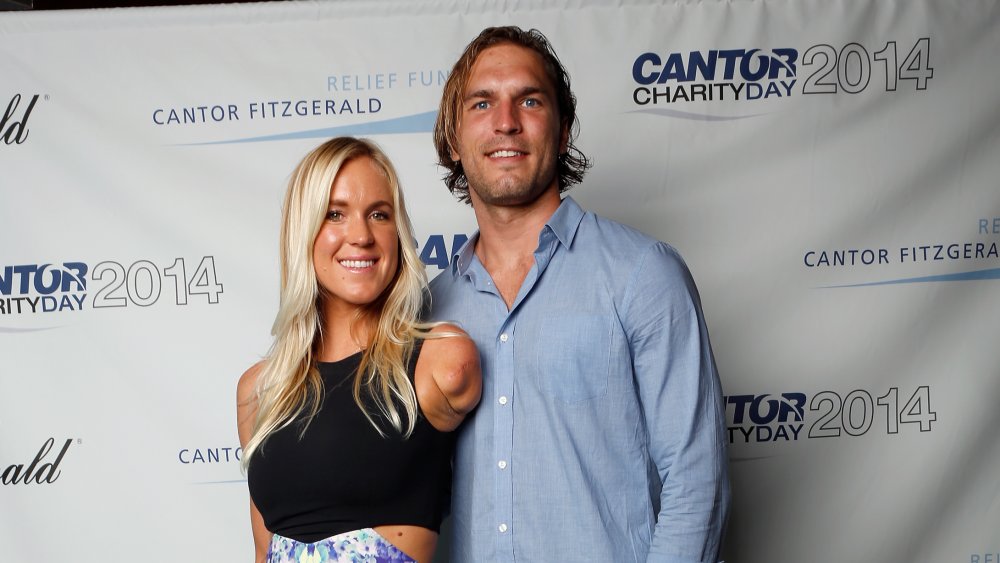 Mike Mcgregor/Getty Images
Bethany Hamilton first took the world by storm as the 13-year-old survivor of a brutal tiger shark attack that took her left arm in 2003 (via Biography). Known as the Soul Surfer to many, this experience spawned both an autobiographical book as well as a movie by the same name airing in 2011. Covering her story of injury to triumph, fans can't get enough of the girl who transformed tragedy into a 2005 national championship and a pro surfing career that began in 2007. More recently, fans may have seen Hamilton in 2019's documentary Unstoppable on Netflix. And for those that aren't in the loop — the girl who survived a shark attack is now a wife and mother! 
Hamilton is well known for her steadfast religious faith, so it's only fitting she matched up with a devoted youth minister. Hamilton married Adam Dirks (2 years her senior) in a 2013 ceremony. The then 23-year-old told People magazine, "I love surfing, but getting married doesn't even compare. This was definitely the best night of my life." This couple is clearly over the moon about each other, and we just had to know more.
Bethany Hamilton's husband loves her so much
Adam Dirks is clearly dedicated to his wife. In his 2014 biography from the competition show the couple appeared on together, The Amazing Race, his occupation is listed as, "Professional husband. Full-time support." Dirks goes further to describe what he does, sharing, "switching my life from full-time youth ministry and substitute teacher to married life has been an amazing experience. I love being with my wife as she travels so often and being her rock, support and encourager for life." Swoon!
Add father of two beautiful, young sons to his current duties. This dedicated spouse also shares a love of some important things with his famous wife — God, health, fitness, and of course, surfing. The couple can frequently be seen sharing fitness videos and healthy recipes (with their children in tow) on Instagram, and they look simply joyful while doing so. When asked about her future husband in 2012 Hamilton shared with Northern Star, "I know Adam and I are right for each other and that God has us together for Him. Neither of us is perfect, but in my eyes Adam is just right." Time would seem to agree that Dirks and Hamilton are a match.