Why Everyone Is Talking About Venus Williams' New Skincare Line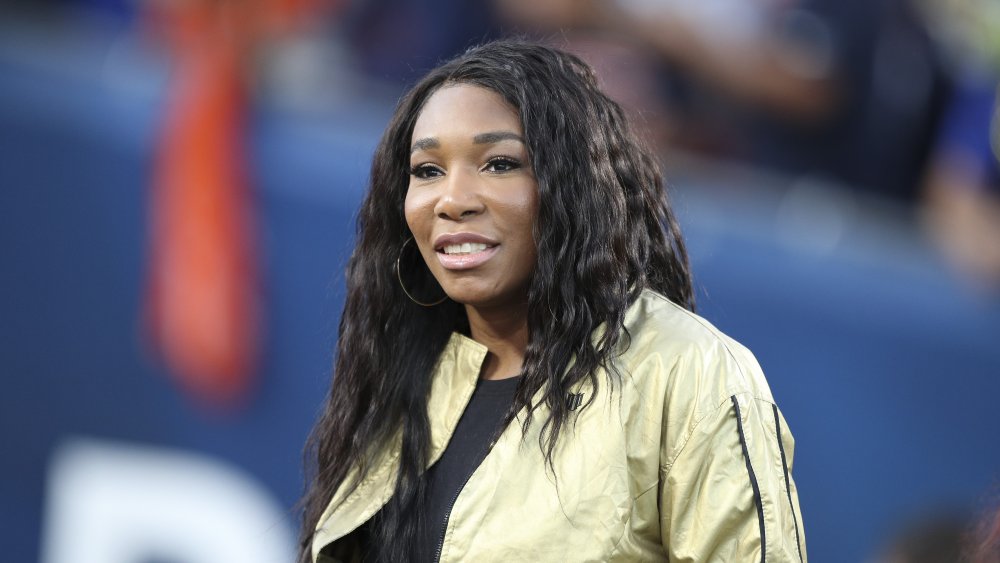 Meg Oliphant/Getty Images
No one knows sunscreen quite like Venus Williams, who has spent most of her life under the sun competing in and practicing for tennis matches (via Forbes). So it's only natural the former World Number 1 and seven-time Grand Slam singles champion is bringing two new sunscreens to market (via EleVen). Williams' new products are called On-The-Defense Sunscreen (how much do you love the name of this product?), which features SPF 30 protection and a semi-matte, non-chalky finish, and Unrivaled Sun Serum, which boasts SPF 35 protection and a demi-matte glow. The former product retails for a whooping $42 for just 1.7 ounces of mineral broad spectrum defense. The latter will set you back $50 for 1 ounce of the product.
Both sunscreens are sold in partnership with Credo, a clean beauty brand, and under the umbrella of Williams' existing EleVen activewear brand — the clothing features SPF 50 (via Vanity Fair). Williams announced the new addition to her brand on her website, saying, "EleVen by Venus is all about the relentless pursuit of your best self. Safe for our planet and perfect for people of all skin shades and types, I hope to inspire others to get outside, be active and stay healthy."
What's in Venus Williams' new sunscreens
Clearly the environment and clean beauty are extremely important causes for Williams. Her brand's website offers a deeper dive into Williams' thoughtful business philosophy: "EleVen's unrivaled reef-safe formulas offer physical protection from UVA and UVB rays that are as kind to skin as they are to the planet, with packaging made from PCR and recyclable materials whenever possible."
Williams' foray into beauty includes products that are intended for all skin types and contain 25 percent zinc oxide. According to Good Housekeeping, zinc oxide is currently considered a safe ingredient in sunscreen, and mineral sunscreen is also considered safe. Sara Dudley, CEO of The Sunscreen Company, and the formulator of Williams' collection explains what differentiates EleVen sunscreen: "Zinc oxide is considered an 'inefficient' filter in that you need to use a lot of it in order to get the full benefit of its protection from UVA and UVB. However, using that concentration makes it challenging for it to be aesthetically pleasing on the skin, lightweight and non-whitening. Both formulas use a technology called 'Index Matching' that matches the refractive index of the zinc to the emollients it's dispersed in to be transparent on all skin tones."
Venus Williams shares secrets of her beauty routine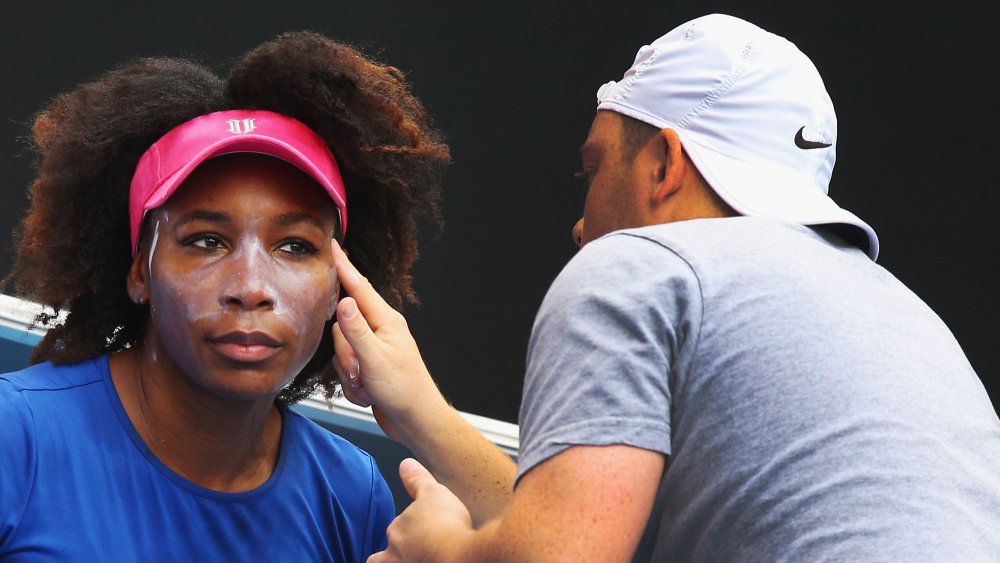 Michael Dodge/Getty Images
Williams told Forbes about the importance of using zinc oxide in her products, "A lot of times we're not looking at the ingredients. We could be doing all the right things and then we're putting something that absorbs into our skin into our bodies and it can be detrimental for [our] health. I'm very conscious of what I put on my body."
She offers this tip for using her new sunscreens — which she joked in the past, she didn't think she was wearing enough of until it looked ugly: "I like to use the serum for the face." She adds, "A little drop spreads across quite well. I wear mine under my makeup for a fresh look as opposed to matte, so these are also easy to wear." As far as the next beauty product Williams may try her hand at? The 39-year-old says she would love to do an eyeliner and swears, "I wear it on the court. It's kind of part of my outfit."