Disney's New Line Of Face Masks Has Everyone Talking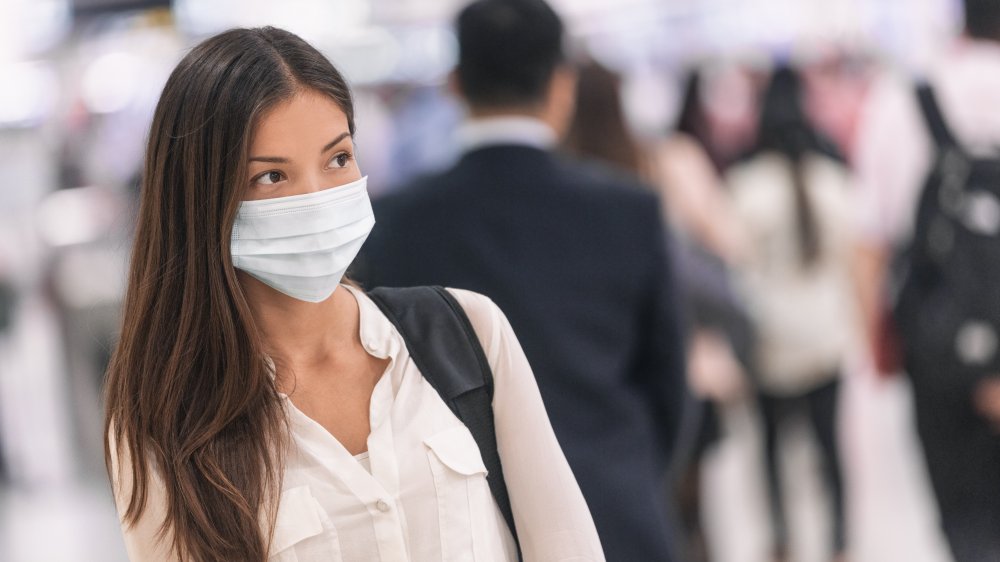 Shutterstock
Wearing a mask every time you venture outdoors might feel restricting, but thanks to inventive designers and bored innovators sitting at home with nothing else to do, there are a whole range of fun face masks to choose from, that don't make it look as though you're heading in to perform surgery, or working on a construction site.
Amid the ongoing novel coronavirus pandemic, the CDC recently recommended that everybody wears protective cloth face coverings while out in public, so it's more important than ever to do so in order to keep ourselves safe. But, if you're also looking for something a bit cooler or more stylish than the average face mask, look no further, because Disney has you covered.
The entertainment mega corporation is capitalizing on the need for face masks with its own line of fun, cute cloth coverings that are perfect for the little mermaid or lightsaber-wielding kid in your life (or, yourself).
Disney's face masks look good and do good too
CNN reports that the line features all our favorite Disney, Pixar, Marvel, and Star Wars characters from Rey to Baby Yoda, Forky to Buzz Lightyear, and even The Hulk. The masks helpfully come in packs of four, so they can easily be purchased for the whole family. Disney face masks retail at $19.99 a pack and can be pre-ordered now at shopdisney.com. Sizes come in small, medium, or large with measurements available in case you need to figure out what will suit a specific toddler or adult in your household. The masks are expected to be available by July 29th.
Disney advised in an Instagram post that they're donating one million masks to Medshare, a humanitarian organization that delivers the necessary equipment and supplies to some of the poorest and most vulnerable communities across the U.S. Likewise, up to $1 million of Disney's face mask proceeds, earned from now until September 30th, will go towards funding Medshare's important work.
"Disney is committed to serving the communities where we live and work. During these challenging times, we're using the power of our timeless stories and beloved characters to address our guests' needs for family-friendly reusable cloth face coverings, also referred to as non-medical cloth face masks," the company noted in the post. 
Here's hoping Luke Skywalker will get more men to wear a face mask.